---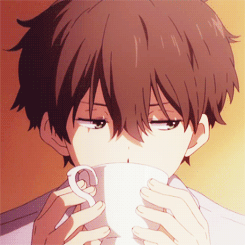 ╔
╗
"Don't judge anyone just by their looks, I'm the perfect proof for it."
[
Ambiguous | GARNiDELiA
]
Dɪᴀʟᴏɢᴜᴇ Cᴏʟᴏʀ ✦ #43CD80 || Tʜᴏᴜɢʜᴛ Cᴏʟᴏʀ ✧

#A8C5A8
╚
╝
---
---
Hazuki couldn't help but chuckled at the sight of his fellow friend blushing upon recounting the present he gave Natsuki.

"Good for you then."

Though before he could say anything else, the blonde boy noticed that the two of Satoshi's friends were approaching them. His usual excited expression disappeared and a rather concerned look was on his face.

"Well, I'm going to stay over Natsuki-chan's place tonight so we'll confide later, 'kay? See ya."

Hazuki said with a smile before making his way into his next class.

Back to Natsuki, his Asian History class wasn't as obnoxiously boring but he still managed to sleep all the way through it. In Advanced Writing, things didn't seem to be any different. He secretly glanced at Satoshi a couple of times, the boy hasn't spoken anything since last night though and it seemed that he was so concentrated in his writings and the lectures that Natsuki didn't want to interrupt him. He clearly knows that something's troubling the boy right now so it's best that he didn't dwell into it much.

Both of them parted ways and didn't interact with each other when the lunch break came. Hazuki was bugging Natsuki as usual and of course, Natsuki was being observant as ever even though he didn't show it. He figured that he better do something about all of this before the younger boy gets hurt even more. There's definitely a reason behind this, but Natsuki isn't going to reveal it anytime soon.

When he's finished with Piano class, he made his way to Basic Mathematics and sat down at his seat. He's been thinking over it during his previous class. Perhaps it is best to tell him now. Natsuki thought. Even if the boy turned to hate him after this, it will be okay, or so he thought. Before he even knows it, he's considered Satoshi to be an important part of his life after over two years knowing each other.

However, when the boy Ryou come in with Satoshi's bag, telling that he's having some 'technical problems' and he won't be in class until later. And of course, the threatening smirk from him didn't manage to get through his eyes either. Sighing, Natsuki gazed outside of the window as the teacher began to continue with his teacher. But no one notice that he was gripping his hair over his face.

As the Math period was over, Natsuki carried his bag and made his way to the Intermediate English. Hazuki was waiting for him at the entrance. However, he didn't get in.

"Hazuki, excuse Kuroha-sensei for me."

Natsuki claimed, his voice remained calm as ever, but Hazuki can clearly noticed the seriousness in it - something he hasn't seen in quite a while now, "I'm dealing with them once and for all."



"Looks like someone's just dug their own graves today, messing with Natsuki-chan, huh?"

Hazuki chuckled,

"Deal with it quickly, okay?"



Without any sign of hesitation, Natsuki calmly passed through the crowds of students and walked through the back exit of the school. He then strolled a few meters away to a rather hidden spot behind the lumps of trees and bushes. From what he and Hazuki observed, this is the favorite hanging out spot of the two boys whenever they skipped classes. Apparently they never told Satoshi about this.

Natsuki could only wondered what kind of faces would they make the moment they saw him. And immediately, he received his answer by the surprised looks of the boys.

"I figure that something ratty was going on, and it seems that I wasn't wrong at all."

He said calmly as he leaned against a tree and crossed his arms,

"Fighting and arguing are troublesome. I don't want to waste my precious energy on the likes of you two. So are you going to tell me whatever you've done to Satoshi or I have to force words out of your mouth?"



If there's a prize for someone in the world who can say things in a harsh manner with a rather eerie tone and an expression that totally contrasted with whatever he said, Natsuki would have won the first place already.

---

Yay, it's time for Natsuki to show his scary side. Don't mess with him xD