---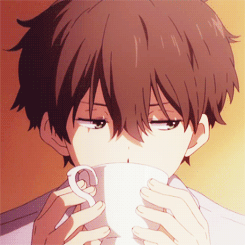 ╔
╗
"Things will have to change from now, but I'll cope with it, somehow."
[
Ambiguous | GARNiDELiA
]
Dɪᴀʟᴏɢᴜᴇ Cᴏʟᴏʀ ✦ #43CD80 || Tʜᴏᴜɢʜᴛ Cᴏʟᴏʀ ✧

#A8C5A8
╚
╝
---
---
Both Natsuki and Hazuki were prepared to take on the two if they were foolhardy enough to do that in this situation where they are clearly on the disadvantaged side, but it seems they have already known their places right now. So after giving their beaters a rather harsh glare, they turned their tails and left.

"That so much for picking on us, only to have their asses kicked, hehe. Too bad we didn't get a chance to stretch our muscles more though, hehe."

Hazuki commented as he stretched his arms. Their little 'meeting' has attracted quite some attention from everyone and even the Student Council is here.

Natsuki sighed, he knows that recently he probably had pretty much surprised everyone around school a lot already. It isn't like that he hasn't been a center of all gossips before, but he knows that sooner or later he'll have to endure a different look from others and he wasn't sure if this was good or bad. As they met up with the Council, Kokonoe asked them to send her the proofs while some others dragged the two troublemakers away.



"So, have they told you where they locked Satoshi-kun up?"

Hazuki asked as Natsuki nodded,

"Well, enjoy being a Prince Charming for now. I'll remember to bring your bags back for you guys."

He winked mischievously,

"I'm going back now or Kuroha-sensei will have my head, heh. See you back at home."

Hazuki waved to Natsuki as he made his way back to class.

Natsuki has already known the most probable place where those two could have locked his kouhai up already. So he headed to a deserted hallway from the side building of the school and peaked into every door, until he found the closet where Satoshi was being locked up in.

The closet was really dark and the first thing Natsuki saw was Satoshi curling into a ball and sitting in the corner, shivering. Calmly and carefully approached the younger boy, Natsuki sat down and pat his head. Though his face remained stoic, one could tell that he was genuienly concerned.

"Hey, Satoshi-kun. It's alright, there's nothing to be scared of now. It's over."

He said with a light smile, Natsuki then turned his back and took Satoshi on for a piggy ride, knowing that the boy probably couldn't even stand up after all of these,

"Let's get back to my apartment. Don't worry, there aren't many people around now."



And with that said, Natsuki carried Satoshi on his back all the way from school back to his apartment. True to his words, they managed to avoid most people so there isn't anything to feel awkward about, at least for Natsuki, that is. He put the younger boy down when they've reached the complex and both of them made their ways into Natsuki's apartment,

"Hazuki will bring our bags back for us after school and Kokonoe-san will excused us from our classes so we can take sometime off. Do you need anything?"