---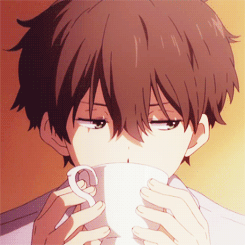 ╔
╗
"There are things that happened without knowing the reasons why."
[
Ambiguous | GARNiDELiA
]
Dɪᴀʟᴏɢᴜᴇ Cᴏʟᴏʀ ✦ #43CD80 || Tʜᴏᴜɢʜᴛ Cᴏʟᴏʀ ✧

#A8C5A8
╚
╝
---
---
Natsuki was so into the song that he could have almost forgotten about his surroundings already. Well, there are certainly a lot of things in his mind too, despite not showing it out since he's not specifically good at expressing his own thoughts by his expression. Because some would say that a best way for an artist to show his feelings and thoughts would be through their playing. And that's exactly what Natsuki was doing. The title given to this song was 'Here With You', after all. Everyone might found it a bit funny that he actually watched a slasher anime...

As the song ended, Natsuki turned his back to Satoshi who happened to sit behind him on the floor and listened to the song the whole time. He didn't know if the message he sent through his playing was received by his kouhai yet, but through the way Satoshi said, could he presumed it as a 'yes'? After all, Natsuki always like to put up a rather mysterious aura of him, not letting many people to know what's really behind his lazy antics. There's a reason behind it. There's always a reason. But would he let anyone know? Probably not.



"I see. Well, most other would say them same after I've helped them or something. Some of the girls trying to hit on me was due to my look and the way I 'act cool', but I know they wouldn't bother to see how I really was."

Natsuki said while scratching the back of his head, exerting a rather calm and gentle aura, though his expressions never changed,

"And, I didn't ask because I don't want to make you feel uncomfortable with my questioning. I've never been a nosy person, also. Everyone has their weaknesses and I just couldn't bring myself to shatter whatever was left of their pride, unless they force me too."



Then, suddenly, Natsuki approached Satoshi and leaned closer to the younger boy's face, so close that they could actually feel each other breathing and whispered something into the younger's ear...

After that moment, the door to his apartment was swung opened and a certain of cheeky boy walked in,

"Ayo, you guys missed me? Bet you d-"

Hazuki said cheerfully until he saw the scene in front of his eyes, a hint of mischief appeared in his grin,

"Ooh, I've just set my eyes away from you guys for a couple of hours and you've reached this far?"





"Whatever you think."

Natsuki replied bluntly,

"Go and make some dinner already, I'm starving."





"Hehe, I know you would say so so I bought something for you two already. Satoshi-kun, why don't you join along?"

Hazuki said while holding a bag full of foods up. He pretty much looked like a porter now, as he was carrying his, Natsuki's and Satoshi's bags.

Setting out the food in Natsuki's room, they all have quite an evening with all the talks and eating. For the first time in forever, Natsuki really did show some hints of interest while conversing with the younger boys. Well, looks like things are changing, indeed.



"All you need to know that... you're important to me."