---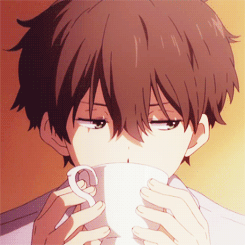 ╔
╗
"I guess tomorrow will be a different day."
[
Ambiguous | GARNiDELiA
]
Dɪᴀʟᴏɢᴜᴇ Cᴏʟᴏʀ ✦ #43CD80 || Tʜᴏᴜɢʜᴛ Cᴏʟᴏʀ ✧

#A8C5A8
╚
╝
---
---
Hazuki has bought all sorts of food from takoyaki, yakisoba, sushi, etc and some soft drinks for them three. As they went on with their small party, it seemed that none of them really did remember the time and what else they supposed to do any more. Well, who needs a whole lot of 'friends' who didn't know you existed when you've already a gal or two whom you can share anything with and converse freely? Natsuki was secretly grateful that at least he still has two of them.

They began to eat when it's only 5:30 PM and now the moon is already shining brightly on the sky. They've completely forgotten that they still had another day at school before weekend. This is pretty much the first time ever Natsuki got a chance to speak with others about different subjects rather than just literature and school work. And this is a good chance for Hazuki's talkative side to shine too, as the blonde boy kept telling all sorts of stories. Moments like these were really peaceful and they couldn't have asked for more.

When the foods are all eaten and scattering around the place where they sat are plastic covers and empty cans, Natsuki sighed as his stomach is so full that he probably couldn't eat anything else for three days. The same also goes to Hazuki as he grinned mischievously as usual.

"Well, let's clean things up. You surely couldn't be that lazy not to take care of your own sleeping pace, huh?"

Hazuki snickered.



"You don't have to say, I may not enjoy taking out the trashes, but I don't fancy sleeping on top of a pile of rubbish."

Natsuki shrugged. As they both stood up, they noticed that Satoshi was sleeping peacefully with his head rested against his arm on the edge of the bed. Hazuki chuckled,

"Looks like we're having another best friend to take care of. Usually, wouldn't you find it troublesome for someone to be reliant on you, huh?"



Natsuki gazed at the face of the sleeping boy as he smiled lightly in an ambiguous manner. Hazuki shrugged, sometimes he couldn't even understand his best friend himself.

"Well, whatever. Let's just clean things up."





"Yeah yeah, don't repeat yourself."

Natsuki quickly stated which made Hazuki pouted as he gently put the other younger boy onto the bed and covered him with his blanket. It's natural for a person to sleep so soundly after they've gone through all sorts of things.

Both of the boys cleaned up the mess - well, mostly Hazuki, and took the trashes to the first floor of the complex. It's certainly a lot since Natsuki hasn't cleaned his house since Monday. Then, they proceeded to finish up any homework they were given. Of course, Hazuki didn't forget to copy his homework for Satoshi too. When everything they needed to do is done, it's already past 11:00 PM.



"Wow, what a tiring day."

Hazuki stretched his arms as he set out the futons for him and Natsuki,

"Luckily tomorrow it's Saturday already. Don't force me have to kick you again, Natsuki-chan."





"Well, I don't want you to get all over the place and kicking me while I'm sleeping. Remember back when we went camping?"

Natsuki bluntly stated as he laid himself down on the futon,

"Whatever, good night."

He quickly covered his whole body with his blanket and quickly fell asleep himself.

Hazuki chuckled and turned off the light before settling down himself. It certainly is a long day for all three of them and tomottow will also be a different one.

---

Yeah, that's what made him a cool guy xD