---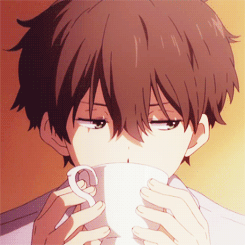 ╔
╗
"Relying on someone is not a bad thing."
[
Ambiguous | GARNiDELiA
]
Dɪᴀʟᴏɢᴜᴇ Cᴏʟᴏʀ ✦ #43CD80 || Tʜᴏᴜɢʜᴛ Cᴏʟᴏʀ ✧

#A8C5A8
╚
╝
---
---
It's still so so early in the morning and it's still pitch black outside and no one could have possibly thought that there's still someone who are awake at this time. Well, if someone finds out about this from Natsuki then they would be pretty surprised though. He has a rather weird tendency to be woke up rather early in the morning from times to times and perhaps going for a short walk or just standing outside of the balcony to feel some night breeze for half an hour or something before going back to bed again. But who could have thought that this habit was useful one day?

Although it's still just about 3:00 AM, but Natsuki winched from where he slept and slowly sat up from his futon, stretching his arms. Hazuki was sleeping soundly next to him in a rather funny pose. Gazing at his bed, he noticed that Satoshi has gotten out. Probably that he's back to his apartment... He sheepishly thought before grabbing his jacket nearby. Perhaps a short walk would be nice for now.

However, just as he stepped out of the door, he heard the sound of something, or someone falling down onto the floor in a rather nasty manner coming from Satoshi's apartment. Intrigued, he knocked on the door and call for the younger boy, but there was no reply. He tried to open the door and luckily that the younger boy didn't lock it. And as he entered, the first thing he saw was an unconscious Satoshi lying on the floor.

Hastily run to the boy, Natsuki nudged and called his name,

"Oi, Satoshi-kun, are you okay? Satoshi-kun."

He kept calling, but from the look of it, the boy has pretty much fainted to heard anything now. Carrying Satoshi to his bed, Natsuki laid him gently down onto it. From behind, it seemed that Hazuki has just awoken too and quickly approached them both,

"Natsuki-chan, what happened?"

He gazed at Natsuki before gazing at the fainted Satoshi.



"I don't know, I was just getting out when I heard something was falling and when I entered, he was unconscious."

He replied, concerns are clearly on his face.

Hazuki knelt down and listened to Satoshi's heartbeats and breathing for a little while, then sighed in relief.

"He just fainted from anemia so you don't have to worry too much."

Hazuki then pulled out from his pocket a bottle of pills,

"I went to ask the nurse at our school and she said that Satoshi's suffering from quite a severe case of malnutrition and a couple of some other problems. Apparently he has to take these pills everyday but the two guys were the ones who took these from him so I think he hasn't taken them for quite a few days now. He should be okay after a couple of hours resting."



Listening that from Hazuki really did take some weights off Natsuki's shoulders,

"Well at least he's fine for now, huh?"





"Should be."

Hazuki shrugged before grinning mischievously,

"Hey, isn't this the first time you really did worry, huh, Natsuki-chan?"



Natsuki averted his gaze to a different direction,

"Whatever."



Hazuki chuckled. It's really been a while since Natsuki showed any concerns for anyone, so it was nice seeing that he did care for someone else. Natsuki wiped the blood stained on Satoshi's nostrils and put his blanket on for him. He put the bottle of pill on the bedpost along with a glass of water so that Satoshi could take his pill when he regained his consciousness. Hazuki has gotten back first, but Natsuki still stayed next to Satoshi's bed and watch over the younger boy.

And before anyone knows it, dawn was fast approaching, and Natsuki has fallen asleep on the bedside next to Satoshi that he didn't realize.

---

Yay, Natsuki and Hazuki saved the day again :D