---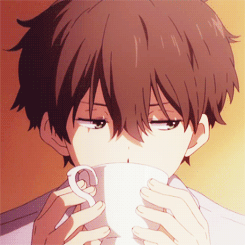 ╔
╗
"It feels nice, knowing that there's someone waiting for you at home."
[
Ambiguous | GARNiDELiA
]
Dɪᴀʟᴏɢᴜᴇ Cᴏʟᴏʀ ✦ #43CD80 || Tʜᴏᴜɢʜᴛ Cᴏʟᴏʀ ✧

#A8C5A8
╚
╝
---
Another school day has passed in a flash and without the presence of Satoshi nearby, Natsuki actually felt that he was missing something. Hazuki is still bugging him as ever and chattering amongst the students on how cool he actually was beating down the two troublemakers down along with Hazuki has caught his attention. Not to mention the fact that he still receives love letters every now and then. But after all, all of it was nothing more than a nuisance in his eyes.

Throughout the classes today, Natsuki still sleep away as always, but he still managed to scrap most of the lectures down so that Satoshi could lend them later. Well, he's never had troubles with his classes after all so whether he write the lectures down or not wouldn't affect much. He has a pretty good memory, also. And just like that, Natsuki went through the morning classes peacefully. Even though the gossiping still goes on and on, it looks like his classmates still didn't approach him much, something he's quite appreciative of.

Today both Hazuki and Natsuki ate lunch with Hazuki's home-made bento. The blond boy commented that it was a bit boring since Satoshi isn't around and that having lunch would be more fun if there's another one to chat with, in which Natsuki just replied shortly and bluntly. The afternoon classes were uneventful with only a surprised test in Intermediate English, much to the despair of the other students. Other than that, there were nothing particular that has happened either and the two of them were seen strolling their way back to Natsuki's apartment afterschool as usual.

Upon entering the apartment, the first place Hazuki stepped into was the kitchen. Only God could tell if he was going to make a huge feast or something... After getting dressed, Natsuki made his way to the balcony and, as he expected, Satoshi was sitting outside on the fire exit.

"Yo. Did you enjoy your day off?"

Natsuki raised his arm to greet the younger with another light smile,

"Do you have any plans for tomorrow?"