---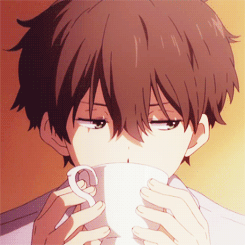 ╔
╗
"If my life could go on as normal like this, I wouldn't have asked for more."
[
Ambiguous | GARNiDELiA
]
Dɪᴀʟᴏɢᴜᴇ Cᴏʟᴏʀ ✦ #43CD80 || Tʜᴏᴜɢʜᴛ Cᴏʟᴏʀ ✧

#A8C5A8
╚
╝
---
Natsuki gazed at the younger boy as he replied to his question. For some reason, he felt that the boy is somewhat softer and... cuter, in contrast with the strong image he usually put up. Well, it's normal for people to rip away their facade in front of the person they trusted, aren't they? Though didn't tell, but Natsuki knows what's his feeling for his kouhai and he knows that this might be best for them all.



"Is that so? It might be best, considering your current condition right now."

Natsuki brushed his hand through his hair in the back,

"Me and Hazuki will just hanging around town, eating food, watching movies, walking in the park or just sitting at home and playing games all day. I'm not really a fun person so most of the time I'll just leave the decision for Hazuki, since he always know what to do."



Natsuki raised his eyebrows upon hearing what the younger boy said next about his hair then shrugged,

"Well, you just have to see the huge mess on my head whenever I've just got up first thing in the morning then. It's really a huge pain because it took me at least 10 minutes just to comb it. You might want to get a haircut sometimes."

He then straightened up,

"Anyway, Hazuki's making dinner inside and he should be finished in half an hour or so. Come by soon/ He'll not very happy if we left his food to cool out after waiting too long."

He made his way inside and took a shower.

When Hazuki's finished making the foods, he set them out on the table as the three of them dine together. They pretty much look like a small family.

"Hey, Satoshi-kun."

Hazuki turned to Satoshi as they ate,

"Wanna go somewhere tomorrow?"