---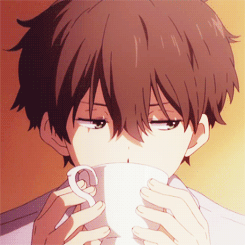 ╔
╗
"Looks like tomorrow is going to be quite a day ."
[
Ambiguous | GARNiDELiA
]
Dɪᴀʟᴏɢᴜᴇ Cᴏʟᴏʀ ✦ #43CD80 || Tʜᴏᴜɢʜᴛ Cᴏʟᴏʀ ✧

#A8C5A8
╚
╝
---
After Satoshi has gotten back to his apartment, Natsuki closed the door and retreated back to his room, where Hazuki was waiting. Both of them then went on doing their homework for next week, since tomorrow they probably would be having too much fun to even remember that they still have school to go to. Well, going out and engage in outdoor activities wasn't much of his cup of tea, but he'll get by somehow, despite knowing all too well thaf he's going to be literally dragged everywhere by thr two younger boys tomorrow.

After finishing their homework, Hazuki set out the futon and prepare to sleep. As both of them laid down, they confided and chatted for a while later, with Satoshi being one of the topics, before Hazuki fallen asleep first. Laying with his arm rested against his forehead, Natsuki couldn't help but thinking about all of which that has happened the last few days. Would he be someone like this if he stays as he was like before? Sometimes he just couldn't really understand himself either. But just like he said before, he's holding everything that is dear to him in a strong grip, and certainly wouldn't let them go that easily.

Deep in his thought as he was, Natsuki has fallen asleep without even noticed. But before he knows it, dawn was fast approaching. And just as he was sleeping so soundly, he was being woken up in a rather violent manner by Hazuki, as usual. Normally he'd be able to sleep all the way until 11:00 AM on weekends and holidays, there's nothing that annoyed him more than being interrupted on these days. Which is why he gave Hazuki a rather annoyed glare as soon as he opened his eyes. But it couldn't be helped, after all.

While Hazuki was making breakfast, Natsuki did his personal hygiene. When breakfast is finished, he called Satoshi over as the three boys concluded where would they be hanging out today. Firstly, they'll go to the pool and then they can get to the cinema. Hazuki always knows just what to do for fun so not anyobe could really feel bored when he's around.