Thursday, May 25, 2015| 12: 30 pm| New York

This just in! You have waited long enough
and now all of our morbid curiosities can finally
be sated. E! presents Beyond the Lights!
---
---
---
---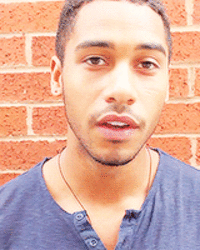 ---
---
If there was a way for Olivia to avoid the stupid cameras and the overall idea of being filmed for an entire summer, she would have done it. She had been close, earlier in the morning, to simply slipping out of New York on a last minute flight to Florida. Aaliyah wanted to spend time with her family, anyway. It would have made sense if one of the girls went with her. It wouldn't have been sooooo much of a big deal if one of the girls going with Aaliyah happened to be Liv. However, she had signed a contract last night, Elliot would not let her walk out of it, and the cameramen were already filing in the middle of her photo shoot for Teen Vogue. Rolling her eyes, Olivia had had to suck it up, tossed her brother a small glare, and then concentrated on getting through the rest of the photo shoot. She didn't have time to focus on how much she hated her parents at the moment. The cameraman for the shoot was rearranging the girls and she had to make herself very comfortable on the floor with Deanna.

Once the photo shoot was over, Liv had to hurry up and get dressed. She honestly didn't even care what she had on, even though - to be quite honest - not caring about what she wore didn't mean her outfit wasn't going to be Instagram-worthy. Luckily for her, despite its location, New York City summers were almost as sweltering as Atlanta's and her shorts were very much welcome in the nearly oppressive air that surrounded them the second the siblings managed to get past fans and the paparazzi. Everyone else would be heading over to the Rockefeller family's penthouse in Manhattan for a brunch with their parents. It would give the director time to film all of them moving in temporarily to the spacious apartment, let them do something normal like having a five-star gourmet breakfast, and then discuss the plans for the evening. Such as the dinner party in lieu of a prominent New York socialite's engagement to a European dignitary. All trivial matters that Liv would have rather heard about from her large bedroom in California where she could sip on her peach sangria and munch on popcorn. Or be anywhere...that wasn't here.



"Will you stop pouting for five seconds, sis?"

Elliot exclaimed, exasperated yet still teasing, after five minutes of them being alone in their town car. Olivia paused in scrolling through her instagram feed to glare at her brother.

"Ok, screw you. Not exactly excited to be in front of a camera for the entirety of my summer, for your information."

Elliot raised an eyebrow, eyed his sister's attire for a moment, before replying,

"Really? I couldn't tell."

If either sibling could kill each other, they would probably do it and save each other the misery of having to deal with being bombarded by cameras the second they exited the vehicle. It wasn't like Elliot himself was particularly excited about participating in the show. At the same time, who was it going to really hurt? Everyone practically knew all of their secrets, last he checked. And it wasn't like any of them weren't good at keeping secrets if they were serious enough that they would need to stay away from the probing eyes of the cameras. All they had to do was continue like none of it was real; like all of them were simply in a house together because their parents were insensitive assholes.



"I'm not about to argue with you. I'm dressed like any other person who dresses like my age in the summer. Don't even start with me, Javie,"

Liv stated sharply. Her brother always liked to act like she didn't know how to dress appropriately, especially now that she was older and actually could just ignore him. While Elliot himself was dressed like he was headed to a tea party in the middle Buckingham Palace's gardens, Liv was dressed like she was about to go hang out with friends. His look wasn't her own and she was not about to spend her summer being lectured every time she walked out of her closet.

"I'm not starting anything, Liv. Just...don't let this get to you, ok? One summer. We don't even know if this will even get picked up for a second season. It's just remedial."

He explained after a sigh and Liv didn't respond; she was focused on texting her faves. They were getting closer and closer to the Rockefeller's home anyway. Elliot pulled out his phone and did the same.

To: Rini, Jack Jack


Plz tell me at least 1 of u r already there



To: Charlie, Lucy


Liv and I will be there soon. You?