---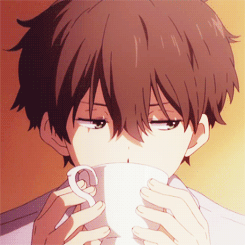 ╔
╗
"It's not bad getting out for change sometimes, isn't it? I'll enjoy this, probably."
[
Ambiguous | GARNiDELiA
]
Dɪᴀʟᴏɢᴜᴇ Cᴏʟᴏʀ ✦ #43CD80 || Tʜᴏᴜɢʜᴛ Cᴏʟᴏʀ ✧

#A8C5A8
╚
╝
---
When they've finished breakfast, as well as discussing their plans for the day, they all went back to their respective places to prepare for stuffs they needed. It's actually nothing much: just money, some swimming sweatpants, some towels and a couple of other necessary things that they're going to need. It's not like that they're going camping or picnic or anything so there's no need to be over-prepared. Hazuki is an 'expert' so there's really nothing to be worry.



"So, is there any apparent reason for you to organize this 'outdoor playing' day?"

Natsuki lazily asked as both of them headed out the door of Natsuki's apartment.



"Well, don't you want a little 'bonding' with our little Satoshi-kun, eh?"

Hazuki poked mischievously.

"Slow but steady, that's always your motto, right~?"





"Shut up."

Natsuki said while looking at other way, slightly blushing.

And then, the three of them set off for their day off. As planned, they first headed to the swimming pool where Hazuki suggested. Since this was apparently the newly opened one, people hasn't know about it much so except for three of them and couple of students around their age, there aren't seem to be anyone else around. They can play in water to their hearts' content without colliding with others in a crowded pool.

Satoshi and Hazuki were playing around and it looks like they were having a lot of fun themselves, while Natsuki just stood in a corner of the pool, watching the two younger boys playing. Somehow he did feel a little weird that he did find it somewhat interesting watching them having fun like that. And Natsuki himself? He's never been the one to have fun so he always counted himself out, apparently.

A sudden splash from Hazuki made the him wet from his head down to his torso. Flinching his eyebrow in annoyance at the blonde boy's laugh, he took his revenge by making an even larger splash that soaked the younger boy even more. And that is how he joined the fun. He did pay attention to Satoshi in secret though and it seemed that the boy, too, was having fun himself. With that said, their fun at the pool passed as they all really did have a time for their life once in a while.

Next up is the cinema. It's been a while since Natsuki last been to a cinema though, but for some reasons, anytime he watched a film, he'd fell asleep right after 15 minutes or something, no matter how exciting the film was. And this time wasn't an exception, not very surprising.

Hazuki has picked a movie that is currently hot these day. Of course, it wasn't a cheesy love film but an action one with robots and mechs and stuffs. While Natsuki and Satoshi sat next to each other, as Hazuki insisted, he was seemingly in his own world as soon as the movie started, while the other boys were in their. Natsuki dozed off soon enough and unconsciously, he laid his head onto the shoulder of the one sitting next to him.

After the movie is finished, the blonde boy woke Natsuki up in the same manner as he did every morning. He's pretty much used to it now so he guessed that complaining or sulking is unnecessary now. They then stopped by a family diner to have lunch and chatting about all sorts of things like they always did during their meals. For the first time in a while, Natsuki really did show a little sign of interest in something.

And then, for almost the rest of the afternoon, they hang out in all sorts of places. From a manga café, arcade to a karaoke shop and museum. Though Natsuki still appeared to be as stoic and uncaring as ever, one could easily noticed that he was actually having fun, alongside with his two best friends, in his own way.

But more than that, he was glad that Satoshi was having fun too, and that's enough for him.

When they returned to the complex after having a large, hot bowl of ramen for dinner, it was almost 8:30 PM already. Hazuki stretched his arms tiredly,

"Whew, what a fun day. It was great hanging out with you two. We should do this often."

He said with a grin,

"Sleep well, Satoshi-kun."

Hazuki winked mischievously to his senpai before disappearing into the house.

And that left the Natsuki and Satoshi.

They stayed silent for a couple of minutes, speechless of what to say. But Natsuki approached then younger boy,

"Take care of yourself, okay? Good night, Satoshi-kun."

He said while caressing Satoshi's cheek with his hand before turning his back into his apartment.

For now, just let me take care of you...