---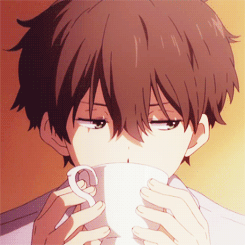 ╔
╗
"From now on, I guess the future will be different."
[
Ambiguous | GARNiDELiA
]
Dɪᴀʟᴏɢᴜᴇ Cᴏʟᴏʀ ✦ #43CD80 || Tʜᴏᴜɢʜᴛ Cᴏʟᴏʀ ✧

#A8C5A8
╚
╝
---
Dawn is fast approaching, and it seemed that they all has had a good sleep after such a long day having fun around the town. It was nice for most of the youngsters that despite being a rather remote city and always retaining an atmosphere that perfectly harmonizing with the nature, Hikarishi still isn't behind the time at all. There are thousands of things that people can do to keep themselves going when they have free time.

Natsuki was sleeping soundly and deeply. So when they sunshine peeking through the window of his room, he instinctively crawled deeper into his blanket, which Hazuki has to wake him up in a violent manner. Pretty much like any other days. Not being able to enjoy his golden sleep annoys him to no end, no matter how many times he had gone through it. But he could say that he's pretty much gotten used to being woken up in a rather hilarious manner everyday.

He stood up and yawned tiredly while stretching his arms to snap himself out of his half-asleep state while grumpily making his way into the bathroom, not even bother to listen to Hazuki's endless chirping with that cheeky voice of his. After some while combing his messy hair down and brushing his teeth, Natsuki made his way to the kitchen. It was at the same time that Hazuki called Satoshi over for breakfast.

Their morning conversation went on normally, as questions such as "did you have a good sleep?", "we really did have fun yesterday, didn't we?", "have you finished your homework?", etc was heard between them. It was really peaceful this way and none of them could possibly ask for anything else.

When they've finished with their meal, they all headed to school together, for the first time. Hazuki kept the others going with his talking, but walked forward for a short distance, which made it almost seemed as if Natsuki and Satoshi was walking side by side.

Natsuki stayed quiet for sometimes, then set his gaze to the younger boy next to him.

"Satoshi-kun."

He spoke up and gain his attention. He was opening his mouth to say something, then decided to hold back.

"No, it's nothing. Just... don't worry about anything else, okay? I'll always be around."



As the three of them headed to Chishiki Academy, another peaceful day has just begun.


---
---
And so, half a year had passed quickly, as summer and fall are now far in the past.

During these days, Natsuki and Satoshi continue to live on as schoolmates and next-door neighbors. But different from how they used to be when they first met years ago, they're not strangers to each other anymore. The distance between them soon disappeared and they've hang out with each other so casually as if it has become something so familiar with them.

At first, due to their personalities, they aren't that willing to open up themselves to embrace their feelings. But, many things have happened in just six months. Times to times, Natsuki has saved Satoshi from getting into troubles and Satoshi has also helped Natsuki many times when he needed. They both have spoken up their thoughts and feelings for the first time.

As time continues to pass, they soon realize what really is the feeling that they are having for each other. They know that sooner or later, they will have to confess what was on their minds.

And before they knew it, Christmas has come as snow covered Hikarishi in a pure white color.
---
---

Sitting in his desk, Natsuki continued to finished the rest of his writings. Flows of thoughts came out in torrent as he put them into words on the papers. And after a while, he's finished his eight-page essay assignment.

Closing the notebook, he stretched his arms and yawned tiredly. And that's done with all the homework for the winter break. Wrapping his hands around the back of his head, he let out a sigh of relief. Hazuki has been going on a trip to Hokkaido with his family for just two days and Natsuki has already received a postcard and a souvenir already. He could only wondered if the younger boy would brought back mountains of goods back with him when he return...

Gazing at his watch, Natsuki raised his eyebrow. It's time. He said to himself and stood up from his chair as he put on his sweater and scarf, and headed outside.

Natsuki then made his way to the place where he told Satoshi to wait for him, because the younger boy said that he has something he wanted to tell him. As he made his way on the snow-covered street, he could feel the Christmas atmosphere in the air. Pine trees were erected everywhere and jingling tunes of the season could also be heard. Students, adults, children, the elderly, almost everyone are seemingly having a good time with their closed ones. Truly a time when people can be closer to each other.

He finally reached the arranged spot - the tallest hill which situated within the center of the city. From here, you can see the total view of Hikarishi and it was a spectacular view indeed. When he made his way up the hill, he could saw that Satoshi was there, gazing down at the city. With a gentle smile, he approached the younger boy.

"Hey, Satoshi-kun. Have you just gotten here?"



Then, he stood next to the boy,

"It was snowing a bit hard, huh? The Christmas really is here, don't you agree?"

He said as he cast his gaze to the view underneath them. As the snow was falling, the city was covered in an untainted shade of white. They stayed silent for a while, but apparently, they both surely have things in mind that they'll soon reveal to each other.