---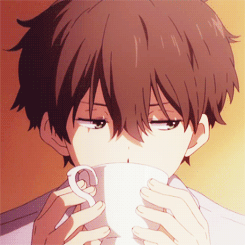 ╔
╗
"I'm happy, that's the least I could say in this moment."
[
Ambiguous | GARNiDELiA
]
Dɪᴀʟᴏɢᴜᴇ Cᴏʟᴏʀ ✦ #43CD80 || Tʜᴏᴜɢʜᴛ Cᴏʟᴏʀ ✧

#A8C5A8
╚
╝
---
Daisy - Stereo Dive Foundation

Natsuki still gazing attentively at the snow that's still falling down, until Satoshi spoken up and gained his attention. It was almost as if that it could cover the whole world in nothing but whiteness. A pure, untainted white that Natsuki always dreamed of. But even more so right now, he was standing next to one of his best friend - the one whom he had always looked after, the person that he could call as precious and important to him.

He listened to every word that Satoshi spoke attentively. He knows that sooner or later, one of them has to make a move, and he was a bit surprise that his senior would be that one. Natsuki just quietly listened on how the boy compared him to the white snow. It's the first time someone ever acknowledge him as such, and because of that, he's feeling kind of... happy? He wasn't sure himself, as sorting out his own emotions is something he's not very good at.

But watching Satoshi clung to the sleeve of his jacket, while saying all those words with all genuity from his heart, how longer could Natsuki lie to his heart? How could he ever denied that the image of a boy who is tough on the outside, but just a small, innocent child on the inside, has claimed his heart?

For him, this is the happiest moment ever since he arrived in this city.

Putting up the brightest smile he's ever got, Natsuki sighed while sharing his scarf with Satoshi,

"How many times did I and Hazuki tell you to take care of yourself? Don't dress so thin like that if you don't want to be sick."

Then, he pulled the boy closer as he gently kissed his hair.



"I like you too, Satoshi-kun. I really mean it."

He said from the bottom of his heart.

Both of them burst out laughing for a moment, and then turned their heads and gaze at spectacular scenery in front of them. Finally, their hearts, their souls, are now one. They pray to all that is good in this world, to the endless snow that falling down and cover the whole city today, that no matter whatever is waiting for them ahead, they will make it through.