XXXXXXX
A R I A
x
B E N N E D E T T I



xxxxxxxxxxxxxxx

Outfit: X


xxxxxxx

Location: Campus/Cafeteria
Aria was distantly aware she was rambling on about something when Rowan suddenly stopped. She turned, worried she had somehow upset him. He gestured to himself and asked her to give him about ten minutes before he joined her and she blushed just slightly. "Oh. Yeah. Sure thing. I'll just um..." She turned towards the glass dome that was the corner of the cafeteria. It wasn't a far walk on her own. Nor was walking on her own an issue, but she usually walked with Theo so whenever she was alone she felt... awkward. "I could wait outside the dorm area. Not that I can't find the cafeteria myself or anything. Just so you don't have to do things on your own? Not that you I can't..." She rubbed at her face, having trouble telling him what she was thinking. She was better at music than words. "I can wait and we can walk together. It's no inconvenience really. Let the two new friends bond a little. Theo has trouble talking to people he isn't used to."

She waved him off and went to stand in the shade near the announcement board. There wasn't much shade out here thanks to the noon sun, but there was a tree beside the board, meant to keep notices from fading too quickly. As she waited, she looked over the board in an attempt to pass the time. There were notices for roommates needed, group meetings--Aria thought about joining one for violin or strings or something--and then there, in the corner like a scorned child, was a missing person's poster. She made a mental note to ask Rowan if he had seen it before. She wondered how long it was there.


---
A R C H E R
X
A N D R E W S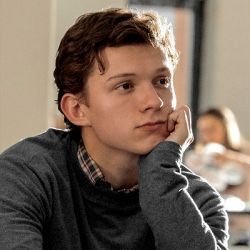 XXXXXXXXXXXXX

Outfit: X


XXXXXX

Location: Cafeteria
Archie was surfing through various websites and social media pages he often frequented. Perused some fanfiction sites as well, though most weren't catching his attention. He was waiting for the others before he got his lunch. Otherwise, he would either torture himself with the food before him that he cannot touch, or he would eat it all and have nothing when the others were there. So he sat and waited.

He nearly jumped two feet in the air when Theo approached. He was a very quiet person and he didn't hear him coming up behind him. "Oh geez. You startled me." He said, clutching his chest the way a southern lady might when startled. He frowned at his hand as if it betrayed him. He relaxed his arm and sighed. "I'm apparently jumpier than I thought." He smiled shyly up at Theo and said. "Glad you found me. Any idea where our friends are?"