XXXXXXX
A R I A
x
B E N N E D E T T I



xxxxxxxxxxxxxxx

Outfit: X


xxxxxxx

Location: Campus/Cafeteria
Aria found herself smiling as Archie took off towards the food. "Well isn't he spirited." She said quietly to Theo. "I can see why you were spending time with him." She pointed to him and then back towards herself and waggled her eyebrows. Ari wasn't going to deny that she normally had high energy levels just like Archie. Theo probably saw Ari in Archie which made it easier for their friendship to form. He already had one just like it. "Just don't let him replace me," She joked as she grabbed a tray. She realized that Rowan hadn't officially been introduced to Theo so she took it upon herself as she grabbed a turkey and swiss sub for lunch. "Oh, Rowan. This is Theo, by the way. He's practically my brother." She didn't take her explanation any further than that. Her new acquaintance doesn't need to carry her baggage.

She finished grabbing her lunch--a bag of Sunchips and a bottle of water--paid and walked back to the table just in time for Rowan to ask Archie about the girl on the poster. "That's the girl on the poster we were looking at right?" She clarified. Emily seemed to fit the image of the girl, though the poster was so faded most of that information was difficult to read. "How long has that been up there?" She picked up her sandwich to eat but found she wasn't exactly hungry. She put it down, messing with her hair instead, which she tended to do when she wasn't feeling fantastical. The idea of the missing girl, gone so long her poster was fading, made her stomach twist.


---
A R C H E R
X
A N D R E W S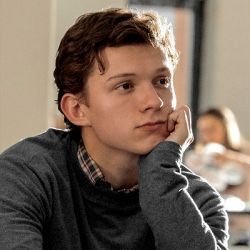 XXXXXXXXXXXXX

Outfit: X


XXXXXX

Location: Cafeteria

Archie raised an eyebrow as he brought his food up to his mouth for a bite. "Emily? Oh, that's the girl who's been gone for a couple weeks right?" He took a bite, chewed, and swallowed. He might eat like a barbarian when it came to shoving his food into his mouth but he had some manners. "Honestly, I think I heard someone saying that she had just run home. Her grades were dropping and she probably just wanted to get out of here." He took a sip of his soda. "Although, honestly, that's just a rumor I heard out and about." He looked at Theo to explain. "I hear a lot while I wander around taking photos to work on for my portfolio."

He took another bite of his food. "So back to my question on the comic books." He said with a wink. Even if the boy didn't read them, Archie would fix that. If anything he hoped Theo would be interested in an idea he was having.