x

Rebecca

x

Cruze


════════════════════════════════


x

Location: Willow's House |

x

Outfit: Here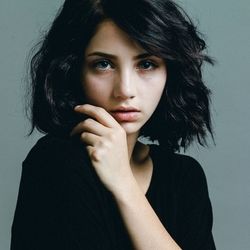 x

x

x

So pour out some liquor




x

x

x

Make it an old fashioned




x

x

x

Remember your youth,




x

x

x

In all that you do


════════════════════════════════
The last couple of days weren't that great for Rebecca. She was filled with anxiety, paranoia and worry. She hadn't heard anything else from the ghost number that sent her the text, but she was still scared, there wasn't anyone she could really trust. Sarah had been murdered, her friends had been questioned by the police department, and then this text was sent around. Plus there was what happened with Lee, the last couple of days bringing her memory back about the whole night. Rebecca was confused on why Lee would just push her away and run off, especially running off to Lincoln Cole of all people, the guy who had bullied him through high school. Maybe that's why he shoved him away because he knew the truth, did he tell Link? This was just one of a million thoughts ran through Rebecca's head the last couple of days, all of them tearing her apart internally.
One of the days while she sat at the hotel, anxiety was starting to get the best of her and on a whim she went to the local store and bought some black hair dyed and dyed her hair in the bathroom of the hotel room. She never really thought she would dye her hair a different color than it already was, besides highlights, but Rebecca wanted to take control of something, change something, do something instead of just sitting around doing nothing with her thoughts torturing her.
Rebecca got up this morning planning on taking a taxi to the airport and leave town, but when she woke up she saw she had a text from Willow, asking to meet at her house.
Why does she want to meet up? Maybe she sent the text…
She thought to herself as she read the text but shaking the thought out of her head after reading that it was about the texts. Rebecca was just going to ignore it and leave country like she had planned to do this morning, but she knew that if she ran it would probably just follow her back to England, and that was the last thing she wanted to happen, besides her secret getting out. She quickly called a taxi to come pick her up in 30 minutes and took a shower and got dressed to head there.
During the taxi ride, Rebecca thought about what she would do when she got there, whether she would stay while for awhile while they all discussed what was going on or just leave after five minutes. Rebecca did not want to talk about what her text was about, she decided she would avoid discussing her text at all costs. As her taxi arrived to the location Willow sent her, Rebecca saw Link, Willow, and Benji at the door, Benji hugging Willow. Rebecca sat for a minute and took a deep breathe,
It's okay Becca, it'll be okay.
She thought to herself before stepping out and paying the taxi driver, telling him to keep the change. She turned around and headed towards the house.
As Rebecca reached the group, she ran her hand through her hair, temporally moving her bangs out of her face, not saying anything about her new hair color, and not caring if they said anything.
"Hey."
Rebecca said in a soft tone, not to anyone particular at the door. She walked in after Willow invited them in, entering behind Benji and taking off her shoes. Though when she entered the living room she saw Lee was already there, she froze for a second, just looking at him for a second before snapping herself out and sitting in the corner of couch of the room, bending her legs and sitting on her feet. She saw all the food and drink laid out, but just waited to see what people would say and do, staying quiet herself.