The day always starts in a predictable rhythm. It has been that way for Aeon every day of his life since that falling snow. And like so, his routine starts with the sound of a bokken cutting through the air relentlessly. It can be argued that the ferocity in his swings represents a boiling emotion inside. But, it should be noted there is that hint of mechanical cadence. That was the indication of his calculated effort and after a while, that melody came to a halt with a count of 300 strokes. Then, it was followed by a clutter for the bokken fell from his grasp. He then unceremoniously sat on the wooden floors. His broken arm clearly trembling with a pain traveling like a needle through his veins. He forced it even if he is aware of the possible consequences. The reason is simple. He did not want to validate this injury any longer. It hindered him long enough. That was the thought he had as he fell on his back and looked at the ceiling. He stayed that way for a good while before he stood.

"I should go." After saying that, Aeon made preparations to leave his penthouse suite. He did make plans for the weekend to spend time with Brinx. With a carrier in hand, he exited the elevator at the basement parking. There he decided to drive his

car

. Soon enough, he was on his way to pick up his younger brother for a trip at the Sumida Aquarium. In regards to his broken arm, he had removed the cast and took a few painkillers that should last until the day is done. He did not want to worry Brinx for something trivial. It has been a while since they saw each other. He did not want to disappoint the young boy. And so, he eventually reached the Shirokami Main House. It is a scene that is both distant and dear, a place that invokes many things. However, he cut those murmurs in his head before it bloomed.

"Welcome back, Shirokami-sama." The guards and the servants greeted Aeon like they always did. Even if he had been living on his own for quite some time now, he is still the eldest son of the prestigious Shirokami. He is still the heir until further notice. "Where is my brother?" A nearby servant answered his query. "Brinx-sama has yet to finish his study session with his tutor." He casually looked at his watch to check if he came a bit early. Apparently, that was not the case. "I see. Tell my brother that I will be in the garden waiting for him." Without another word, he left towards the zen garden that his mother loved. She said it was a beautiful wasteland. His mother always had the most fascinating description of everything around her. Those words certainly made a lasting impression in him.

Aeon arrived at the garden and looked at the flawless landscape maintained with great detail and care. It has not changed at all. Whether that is a good thing or not, he cannot absolutely know. Anyway, he put down the carrier in his hand and opened it. After doing that, he settled himself against the wisteria tree's trunk and procured a Japanese book of poetry which he brought with him. He had been studying haiku, senryu, haiga, and tanka. There is a certain client who is an avid fan of it. The key to a successful business transaction is not only through resources, professionalism, and skill. It was also appealing to the better part of one's personality. Just like that, he passed time reading while the garden became a lovely backdrop for him. The scene he made was certainly admired by the many eyes who saw him. But, only one dared to disturb it.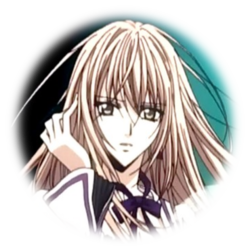 "For someone who adheres to manners and etiquette, you seemed to have forgotten to greet your elders."

Aeon removed his attention on the written word and looked at a very familiar girl. He is aware that she is here but knew that she would seek him out at her own accord. That was for the best. In the past, he would make his greetings but she always has a displeased expression. He decided not to do it anymore. "Hello Elder Hirakawa-san." He then closed the book he was reading. It would do him no good since she has arrived.

"I am not that old! And how many times have I been telling you to call me Aiko-neesan!" Aiko said loudly while pointing at Aeon angrily. She is only a year older than him. Through the marriage of their parents, they became stepsiblings to one another. As seen, they do not have a harmonious relationship. "Wait... Are you ignoring me? Hey Aeon-kun!" He was not ignoring her. But, he did not see the sense of responding to her words. There was no way he would call her that and if he said that, there would just be a long and heated discussion.

Aeon had never met a girl who talks a lot like her and is always ready for an argument. "Do you not have work today?" He decided to change the topic. Aiko was still glaring at him but took his lead while crossing her arms in front of her chest. "I do. I have a rehearsal for a fashion show. I heard you are taking Brinx for a trip to the aquarium." Her eyes narrowed. "You better not think he likes you more than me, okay?" In one way or another, it was always a competition with her. It was tiresome but he believed she should eventually outgrow such childish intent. "I do not dare." There was a moment of silence between them as she continued to stare at him intently. She does not believe a word he says. "Hmph!" She then looked away in a huff but then remembered something. "Oh, that's right. Shirokami-sama wanted me to tell you that you must attend the Christmas Banquet." Her tone changed from haughty and annoyed to serious and concern.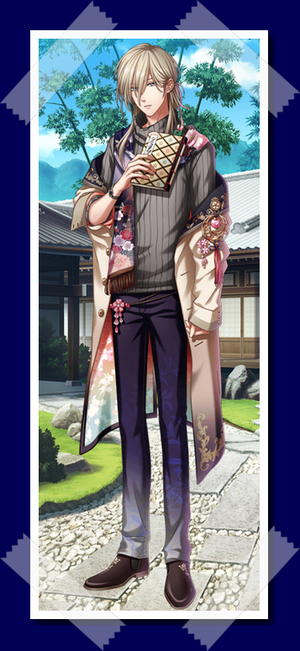 "Duly noted." Aeon straightened his posture while giving his indifferent answer. For a moment, Aiko was placed in a trance. He is a beautiful man that is something she hated to admit. But, it is the truth and even with his odd fashion sense, he always makes it appear fashionable and cool. She is a model and he is unfair. "Are you having a fever?" His voice broke the trance and her cheeks which only has a faint pink has now spread all over her face. She was quite red. To hide her embarrassment and her saving grace that he is a buffoon in noticing her feelings, she shouted at him. "I am not sick! Baka! Baka! Baka! Baka!"

Aiko made herself scarce as she left in a hurry. Aeon was not surprised. Their conversations mostly end in that manner. He was used to it. Anyway, he thought about what she said about his attendance at the Christmas Banquet. His 'father' had sent him messages and even called him once about it. If that person was here, he was certain they would be discussing it. He had been absent in those banquets for a while now. There were no repercussions. This time it was different and he was certain there would be consequences if he chose to be absent again.

Truthfully, Aeon was not concerned about the reprimand he will receive if he disobeys. The only thing that is making him reconsider is the effect it might have on the things which mattered to him. "How troublesome..." He muttered under his breath. It was no secret to anyone within the service of Shirokami Household even more so who belongs to the family that he and his father are estranged and actively fight to dominate each other.

"Aeon-sama!" Rando came running towards Aeon at breakneck speed. He knew that his master would be coming to fetch the young master Brinx. But, he was not immediately notified that his master has already arrived at the Mansion. "Aeon-sama, why didn't you tell me you were already here!? Eh- Wait your ca-!" At that point, the poetry book in hand was indeed useful.

Aeon unreservedly smacked it on Rando's face. It effectively silenced and stopped the red-haired attendant. The matter about his broken arm is something he does not deny. "Do not speak of it." Rando nodded behind the book which was still pressed on his face. He does understand his master's intention and would abide by it. Aeon removed the book and spoke of another matter. "Is it as I suspected?" Rando who was rubbing his reddened nose now wore a serious expression. "Yes, Aeon-sama. Do you want me to do it now?" There was a brief silence. "Not yet."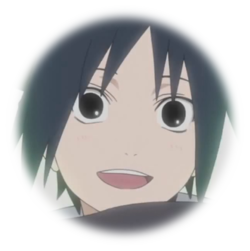 "Oniisama!" Brinx was finally done with his tutor and was running with all his might to reach his older brother. "Not now." Aeon softly said as Rando had a small smile in understanding. "Of course." Brinx has now reached Aeon as he wrapped his small arms around his older brother's knees. "It has been a while, Brinx." He then carried his little brother into his arms. Seeing this, Rando cannot help but be concerned knowing his master's injury. But, Aeon ignored such muted pleas. "Yes! I missed you Oniisama!" Brinx wrapped his small arms this time around Aeon's neck and nuzzled happily at his older brother's neck.

"I as well. Have you been a good boy?" Aeon's eyes softened considerably and the corner of his lips lifts up. "Yes! Okaasama and Oneechan praised me for being a good boy too!" Brinx was clearly attached to his older brother and nuzzled further into Aeon's neck. The action made Rando envious. "It's unfair! I want to hug Aeon-sama too! Please Aeon-sama, let me!" There was a clear rejection from Brinx as he pouted and pointed at Rando. "No! Only I can hug Oniisama! Go, Alicia!" This time around an orange and white long-haired feline jumped on Rando's face without hesitation.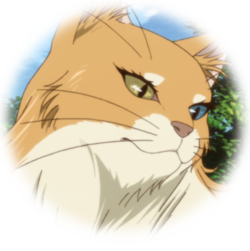 Alicia is a Norwegian Forest Cat and is Brinx's pet. She was actually adopted through a shelter when Brinx by coincidence saw her on TV. And eventually, she has become the de facto queen of the house. Recently though, she was taken care of by Aeon when his little brother went to Los Angeles. "Ah! Ah! Alicia-sama! No! Help!" While Rando was busy begging Alicia to stop stomping on his face, Brinx looked very proud in protecting his older brother from being hugged. "Oniisama, I did good, right?"

Aeon gently smiled. It was a small smile and can only be seen by Brinx. "Yes, you did well." He then felt Alicia jumped on his shoulders and began to purr. In the past weeks, she has become attached to him. "Alicia wanted to know if she did well too, Oniisama!" He gently rubbed behind Alicia's ear as her purr increased in its volume. "You were perfect, Alicia." Unfortunately for Rando, Aeon has an absolute defense in the form of Brinx and Alicia. As a result, he was now a disheveled mess on the ground. He was quite exhausted from wrestling with Alicia and was now sobbing. "So cruel.... So cruel.."

Brinx now felt sorry about Rando. "Uhm... Rando-san... I am sorry." He bowed his head and was sincerely sorry. It seemed he went too far. Rando stood from the ground and quickly cleaned himself up. "It is fine, Brinx-sama! You only wanted to protect Aeon-sama, right?" He smiled at the young master who happily nodded as the answer. "I also want to protect Aeon-sama, so I can hug Aeon-sama too, right?" After saying that, Rando once more tried to hug Aeon. "Alicia, take care of Rando." Alicia's eyes now had a sharp glint as she jumped from Aeon's shoulder to Rando's face again. "Oniisama, will Rando-san be all right?" Aeon looked at Brinx's concerned face and then at Rando who yet again wrestling with Alicia. "He will be fine. Rando, take care of Alicia." Hearing his older brother's assurance, Brinx smiled brightly. With that, the Shirokami siblings finally left for their trip to the Sumida Aquarium while in the far background, they can hear Rando's wails and Alicia's hisses.

"WAH!! Someone help!"

Intellect raised to

1 point

for Aeon
Athleticism raised to

1 point

for Aeon