Rose Weasley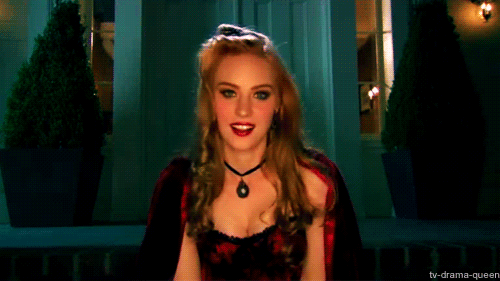 Juni had shot something then approached Rose with a mischievous aura. Juni placed her hand on Rose's hips and Rose grinned down at the shorter girl before signing and shaking her head no. It would be best if they didn't dance. It didn't take a genius to see Juni was inebriated, and though it pained her to admit, she was a true gentlewoman.
"Maybe a walk instead?"
She suggested gently as she took the other girls hand.
Juniper relished in the contact while it lasted. She smells nice, Juniper thought to herself nodding along in response to Roses question. A walk did seem nice. The air would do her good. Especially since her stomach was starting to feel a bit ill. Maybe the weird mix of everything she drank tonight was finally hitting her.

Instinctively she intertwined her fingers with Rose. She leaned into the other Ravenclaw so their arms brushed against each other as they walked.

"You smell good." Juniper blurted out in her high/drunken state.
Rose giggled at the compliment. Silly girl. She looked down at her and grinned.
"Thanks, I showered."
She said as she led Juni through the crowd and out the door. The cool air danced along her skin and she shivered, not cold, simply surprised. The night sky twinkled above them, as if the stars where dancing just for them. Fog swirled thicker than hairspray in a beauty pageant prep-room, and under that, was damp grass. Rose paused for a moment before she slipped her heels off and threw them aside. She would retrieve them later...or not. Whatever. She picked Juni up bridal style and grinned down at the girl.
"Don't you dare throw up on this ride."
She said winking down at her as she started walking towards Hogwarts at an easy pace.
Rolling her eyes, Juni half laughed out a "Good to know.".

Once the fresh air filled her lungs her stomach lightly settled with just a couple of even breaths. Juniper found the crisp air as a relief, cooling down the burn within her. She was a little more awake now than she was a few moments ago, but certain things still stuck out to her like the purple from the blue up in the night sky or the glowing blue mushrooms that sprouted in little patches across the green ground.

When fiery red caught her eyes again she was removing her heels and getting ready to toss them. Juniper arched a brow,

"What are you doin-" but before she could finish Rose swept her up, causing Juniper to make a sound she wasn't even used to. The blush on her face had to be noticeable because she felt the renewed heat up to her ears. She was way out of her element.[b/]


Rose mentioning her not to throw up pulled up the dull nausea that was still lingering at the pit of her stomach. She swallowed as a gauge and didn't want to gag so that was always a good thing. "I think I'll be good," she assured, looking up at Rose. Bright blue eyes catching her attention. Even though it was dark out her eyes still looked as if they almost glowed. Juniper smirked, "I think I could have handled walking." then it softened into a soft smile. She leaned her head against Roses shoulder, "Thank you.. anyway. " she mumbled.
"its my pleasure."
Rose said with a small smile.
It wasn't hard to get back to their room, a few charms, and secret passages later, they where there. She placed Juni down in front of her bed.
Finally reaching their room Juniper gave out a little yawn. Her jaw clicked very subtly like it always did since she took that soccer ball to the face in her second year. Being on her feet again made her realize just how tired and dizzy she actually was. "You need to get some rest." Said Rose and Juniper smiled back giving her a slight nod.
"You need to get some rest."
Rose said with a smile as she patted Juni's head gently, then turned to leave. She made it a few steps before she stopped and shook her head. Suddenly, she turned and strode back to Juniper with purpose.
"Yea I think I'm gonna marry my bed tonight." She began to softly laugh when a force pulled her in, making Jun take an involuntary small step forward.
"Fuck it."
She breathed as she pulled Juni close, her hand rested below her ear, her thumb caressing her cheek as their breaths mingled. Rose kissed Juni and the world fell away. It was slow and soft, and it conveyed things words would never be able to. She pulled away, and pressed her forehead to Juni's.
Rose felt warm and comforting... Juniper could have fallen asleep there if her eyes weren't staring into focused but gentle blues. The warm hand on her cheek and sudden closeness snapped her back into reality. Her head still swimming between being buzzed, high and somewhat sober. In all, way more alert.

There was nothing but silence in those few moments. Her head was freaking out a little. Does Rose really like me? Does she share similar feelings? Bloody hell, I hope my breath doesn't stink! But her heart welcomed it. Warm soft lips on her own with a quickened pulse. Jun would be lying if she said she'd never thought about kissing her roommate before.

Juniper didn't even realize she was playing with the Weasley's hair until she pulled away and she felt the soft tickle from the tips of Roses hair through her fingers. Now forehead to forehead, it brought back memories from earlier in the night. Brought Junipers mind back to Kingsley for a few seconds. What was she gonna doing? What did she want to do?
"Sleep well."
Rose whispered, before she went to her own bed across the room.
Mentally sighing Juni managed to whisper back a "good night." Instead of pulling Rose back in. She didn't favor the loss of warmth at the moment but could barely keep her eyes open any longer. She was too spent, psychically but emotionally especially. She crawled under her blankets and only managed to unbutton her pants and a few buttons on her shirt before passing out for the night.
-----------------------------------
Thank you for the collab NotWhatYouThink