MARKUS VALEGOOD
| Lycan | Greythorne Woods | #063A67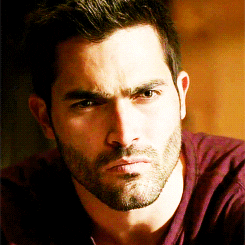 Markus had smirked slightly at her comment about what he said, that he seemingly looked after her. He remained silent, simply nodding as his reply, he was there for Violet just as much as she was there for him. Even before her death they were close, and only grew closer after that tragic event, but Evelyn didn't need to know that, not now anyway. He shook his head as he regained his thoughts, now wasn't the time for that, especially now when Evelyn spoke, breaking the silence that hung in the air for a few moments. He looked at her when she stated she wanted something big, but not too big of prey to go after. He figured something like a deer would do, and as if right on cue, the scent of a deer crossed their paths. A grin formed on his face, and before he could even open his mouth to say anything, Evelyn spoke and took off like a rocket from where the scent was coming from. He watched as with simple ease and grace the young vampire lunged at the target, grappling it to the ground in one simple motion and began feeding off of the animal, its life force quickly being snuffed out as the scent of blood pierced his nostrils.

He silently stood a few feet away from her as Evelyn had her fill from the deer, avoiding to look at the grizzly scene that took place infront of him. He wasn't disturbed by it or unnerved, he simply was giving her the privacy and respect she'd need. He knew what it was like, to feel like a monster and stood by until the vampire was done, by simply asking him if he needed anything now that she was done, and that her hunger for blood was filled. Markus gave her a kind smile creased his lips before he spoke, "

I'm fine. But thank you, Evelyn.

" he said with a small smile as the two began to walk away, removing the hat he gripped it by the edge as they walked. "

I uhm, don't exactly follow Lycan customs...Typically, they feed off of people, animals, or other supernatural creatures. But me, I'm not like the others.

" he said with a bit of a small sigh as he looked down for a moment, before looking back up at the path that they were blindly following. "

I try to be as human as I possibly can...Let's just say you're not the only one that hates how they are..

" Markus said softly with of a small tone of bitterness filled his voice. He never really outwardly spoke about how he felt towards the Lycan folk, but he always made it clear that he never liked it.