---
---
0000
Erin
0
Monahan
00000000000000000|00000000000000000000|
Kyle
0
Monahan
outfit :
here
x
|
x
hex:
#80000
000000000000000000000000000000000000000000
outfit :
here
x
x
hex:
#063A67
00000000000000000000000000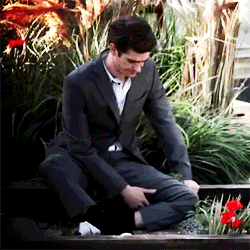 Everything that could have gone bad, was going bad. From the mistake of bringing Kyle to the party, to the events that took place before and during the week that led up to this, and then the fact that Erin had never told them until now. She hadn't told anyone that she knew that Kyle was back. She had been so busy and by herself in the days that followed that she never once thought to tell them. Let them know what was going on and that Kyle was here, and that he was the agent that had to question a vast majority of them, or had some part in the entire investigation. One simple mistake. One simple, god damn mishap had ended in the result of this. Kyle being pushed back and harrassed by Rebecca, who was then taken to the side by Nate as he told her to calm down. She was now literally in the middle of this, and she had to play her cards right. She couldn't make any more mistakes, she had to make sure that nothing escalated further. Her eyes darted between them all, knowing full well what and how they'd react. They'd be angry, they'd have every right to be. But they had to listen, right? They'd understand, they'd have to. It was Kyle. Not only a childhood friend, but her brother. They knew him well and knew how he was, they'd have to know he wouldn't be any trouble. That they could simply listen and just let him stay. Erin cleared her throat and began to speak with as calm of a voice as she could, "
It'll all make sense, but Rebecca. You have no right to just fucking push someone around like that, alright? You don't need to be such a fucking bit-
" she started to speak, somewhat loudly and oddly defensively. But she wasn't expecting what came next. Whether it was Rebecca wriggling out of Nate's grasp, or the slap that came next. She almost didn't even realize what happened initially as her face paled, eyes growing wide at the initial impact of the slap. She simply stood there, mouth slightly agape as she finally recollected her thoughts. The words that had come out of her mouth before Rebecca had lashed out, came out faster than she could process them. She was just surprised about what she said as the others were. She knew full well that when she gets even the slightest bit heated, she has a tendency to say things she shouldn't, but having called Rebecca a bitch over this whole mess was one huge mistake. All of this was.
Erin rubbed her cheek silently as Nate quickly grabbed Rebecca from behind and pulled her backward. All while yelling at Erin that she better have one hell of an explanation for all of this. Her eyes darted around the room as she tried to think. Her eyes darted from Rebecca, to Nate, and then the others. Sighing for a moment as she took another moment to recollect herself, as everything that transpired happened in just a few short seconds. "
First, you hit like a very small child.
" she rattled off, which was more or less under her breath, but loud enough for Rebecca to hear at the small distance between them. Erin took a short pause to compose herself, looking at Nate as she spoke next, "
I do, if you just let me speak-
" she was cut off yet again, but this time it was Soren. She quickly turned her head to look at him as he spoke. Her eyes narrowed as he said he didn't care what the explanation was, and that he had to leave. That it wasn't okay for him to stay there and that he needed to leave. He knew too much and he made their lives hell.
Her mind was a whirlwind of things as she was processing everything that happened. She took a short moment to look at Kyle, seeing how he was just blankly staring at the flood gave her enough of a notion to know what kind of mindset he was in. "
Are you okay, Kyle?
" she asked softly, he simply nodded his head, his voice coming out in a soft whisper, "
I-I'm fine...
" Kyle said, his eyes never leaving the floor as he was stuck in one of his episodes. Erin turned her head to look back at Soren. Her jaw was locked in place for a moment as her eyes closed, trying to remain calm and collected. But she had been calm for far too long, and she could feel the anger slowly rising and it was only a matter of time until it all bubbled over, and now it was just starting to show. "
You know what, Soren? Fuck you.
" she said suddenly and coldly. The words dripping out of her mouth like poison as she approached him, keeping a small distance from them as she continued to speak, "
I have been so calm and easy-going through everything. Everything.
" she put an emphasis on the second part, making sure Soren knew exactly what she was hinting at. "
From the bullshit and break up with Lauren, to the thing with Pri and Lex, and especially when you fucking left without a word. I was there, through it all. I listened. I never once questioned anything. I was there through it all for you, and I never once left you. I never once left anyone to question what they did to deserve being walked out on.
" her voice and presence was growing colder and colder the longer she spoke, every word sounding more pained than the last. She could feel the all too familiar burn start behind her eyes as tears slowly trickled down her cheek, wiping them off with her sleeve. Her eyes focused on Soren for a moment before she pushed him back slightly, "
I never once asked for anything in return, ever. And what did I get? You leaving without a god damn word. Just like everyone else. I never once left you or anyone else alone and I am not going to do the same to him.
" Erin said with an ice-cold tone, her eyes never once leaving Soren's. "
So go fuck yourself, Soren.
"
---
---