Kiara

Wright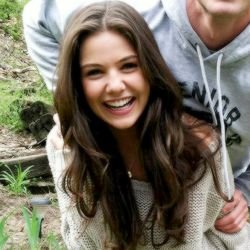 |Ravenclaw | Half-Witch | #67A57F|
The brunette had finished getting ready by the time it was six in the morning and her classmates were waking up to get ready to head out to the hall. So instead of waiting for them all to get up she went in to bug her twin, Callum. Kiara hoped onto his bed and began to shake him awake.

"What do you want, Kiwi?" She heard him groan the words and swat at her to get her hands off of him. Kiara's only reaction was to smack his hands back while shaking her head.



"I just wanted to make sure you didn't miss breakfast."

Ki said rolling her eyes at her brother before getting up and grabbing his pillow out from under his head, while walking away.

"Ki, give it back!" She could hear him call after him, but all she could do was reply with,

"You'll get it back when you wake up."

With that she tossed his pillow to the side of the door before walking out of the dorm. She began to grab the current issue of Trinkets, Troves and Tremendous Inventions. This was the one issue she was waiting for. for awhile. Kiara wanted to read about what kind of inventions were being made in the magical world these days.

One of her favourites was the spell checking quill that Professor Arthurs had come up with for dyslexic witches and wizards. Simple objects that help people get the most out of their lives were the sort of inventions that she thoroughly enjoyed. So today she was hoping to get inspired by whatever this issue had to cover.

Kiara began to walk towards the exit of the Ravenclaw tower so she could make it down to the Great Hall before all the people would flood in. Ki had her favourite spot and that meant getting there first, of course. So as she walked down she sat down on the edge of the bench with her one knee crossed over the other showing off her new high heels she had gotten for Christmas, her mom knew just what she had wanted too, so it made it even better. The shoes she was sporting were a pale pink similar to a nude colour. The strap was around her ankle. They were a Christian Louboutin brand under the name of Very Cathy.

The Ravenclaw student didn't boast her wealth a lot, but she did take great pride in her heels and the ability for them to give her the confidence and power she needed to walk though the halls of Hogwarts.

Flipping the glossy cover over to look at what kinds of things they'd be talking about in her issue of inventions, she could hear some of the students start to pour in. Part of her eventually overheard the conversations that were going on between the Slytherin and Gryffindor tables. She just wanted to give both of them a run for their money so they could stop shitting on each other.

Callum eventually came in with his hair groomed and his tie done up right.

"You better hope mom and dad never find out that your shirt is not tucked, they'll have a cow."

Kiara said nonchalantly.

"Whatever, they can get bent. My shirt not being tucked is the least of their problems."

She rolled her eyes and looked over to Crispin,

"Whats your bet on the Slytherin and Gryffindor quidditch game today?"

She asked with her eyebrows raised.
---
Elise

Duchamp

|Hufflepuff | Half-Veela | #9F81F7|
Elise definitely hadn't set an alarm the night before, it wasn't on her mind as she was catching up with Lex, Kai, and Cas. They had been her dorm mates since she could remember and the fact that they pack of them were up to being their idiot selves last night, it meant that none of them set an alarm. It was only a recipe for disaster as one could had hoped.

The blonde had been having one of the best dreams that she's had in awhile. It definitely was a certain type of dream, so the fact that she heard Cas's voice wake her up from it she mumbled and as her eyebrows knitted together. Were they serious right now? Who cared if they were late? It happened so much that they hadn't done shit yet. Ellie opened her eyes squinting, but she could tell by her voice that she was serious.

With a sigh she shook her head throwing her covers back.

"You really suck sometimes, y'know?"

She said with a bit of a chuckle and then began to quickly throw her stuff on. Ellie had thrown on her trousers, bra and white blouse. She 'accidentally' forgot to button some of the top buttons as she was 'rushing' before just grabbing her yellow and black tie after she had tied her blonde hair up in a messy pony tail.

She was a pro at getting ready with little to know time so she also managed to get a layer of foundation and some mascara on. The girl needed to be somewhat prepared for the day, you never knew who was going to look your way.



"Mon cheri! Do not take all the blame, I will gladly do it next time. I got irresistible veela charm sometimes."

Ellie said with a laugh when Cas had returned to the table with the rest of them.

Instead she blew Cas a kiss before throwing her hands up in a heart shape with her hands,

"Merci beaucoup, darling. I appreciate your efforts, always."

With that, Elise began to comb through Lex's hair to make it look more presentable and less tangled for her. The girl was way too sweet to be dragged down by the oversleeping demon that lurked around.

She retracted her hands when she was done though,

"So, anyone excited for the dance coming up? I say if we don't have dates we can all go together, if that sounds good?"

The blonde said throwing it out so no one had to feel bad about lack of dates or in case no one wanted to talk about who they wanted to invite out.