---
Ophelia

Prescott

|Slytherin | Pure-Blood | #BC7EB7|
Ophelia was always one of the last few people to come out of the commons room or to head to the great hall. It was overall safer for her instead of walking in the big crowds, or for her to go too early that if she tripped and fell no one would be there to help her back up. A sigh escaped from her lips as she brushed her hair for the hundredth time, just making sure it was smooth or just giving her something to do to let time trickle past.

She wondered what it would be like if she got the chance to live life normally. Go down to breakfast with her classmates at the same time, jab each other in the ribs, or even if she could fly on a broom perchance. It was all a heavy weight that she felt on her day to day life and there was no escape. Instead it was her lying in bed just watching something on Netflix that she downloaded the night before coming back to Hogwarts. But she only had so many episodes left before some of them would time out.

She would do this until everyone was up or majority of everyone was up, and then she would move on to opening her trunk and finding her robes, brushing her teeth and getting dressed. Lia would sit on the edge of her bed and just listen for the murmurs to calm down in the common room. She could always hear something, whether that was different conversations going on or it was people laughing out there.

By the time she started to walk out into the common room it was empty or relatively close to it. It felt lonely to say the least, and she could feel the pit in her stomach as everything was getting to her today. It was days like today that the coldness really settled into her bones and made her uncomfortable, Ophelia felt lost and angry with herself all in the process.

Her mother came to mind and she couldn't help but feel the bubbling anger that let her feel as though it was all her fault. She wanted to break something and then break down, but instead she just resorted to calming herself down one breath in a t a time.

The one truly helpful thing was the growl of her stomach that signaled she definitely wanted breakfast and she was going to go down to get it.

Ophelia left the room and began on her trek to climb up the stairs to get into the main part of the castle. She took her time as the last thing she would want to do is slip and fall back down on them. It has led her to be in so much more pain than she's felt in a long time.

As she came out from the dungeons she could smell breakfast and hear that chatter from all the students and she felt hopeful and happy for a moment. Hearing all the people and knowing she would get to interact with them for a few moments before they had to all waft out to class, was a nice feeling. She could feel semi normal in the great hall, and she was fairly sure that it was one of her favourite parts of the day, aside from just being curled up on the couch in the Slytherin common room.

As she entered the hall, she could see Cas over at the Gryffindor table and for a moment she found herself stuck watching them as they interacted with Shane. It stifled a bit of a laugh from her, and in some way Ophelia felt bad, but she was sure Cas wouldn't do something like that for no reason.

Walking over to the Slytherin table, she could hear her feet against the floor as she finally made it to the part of the bench Jessie and Eden were on and she sneaked her way onto the bench next to Eden and immediately placed her head on his shoulder. The pair were used to just leaning on each other whenever they were in class or in the great hall. It was either a way of saying hello or 'hi I'm mentally exhausted today.' in the moment Ophelia was both.



"What's the hot new gossip around here?"

she questioned softly to both Eden and Jessie. She wanted to feel like she was part of the group and part of whatever was going on that she had briefly witnessed and missed for whatever reason.
---
Cassie

Lightborn

|Gryffinfor | Quarter Veela | #A7D3CF|
Cassie was not surprised that the chaos began to rise at the Gryffindor table. Mac and Coal were awake and it would only be a certain amount of time until Kit got in on it as well. Cassie was actually being quite tame today all things considered, she knew sometimes her and Mac would plan little pranks during dinner just to watch Harvey's reaction. Which almost as if it were on cue or something, Harvey was having a reaction to this morning.

Now?! Really?! We have a game today Mac, I think Professor Leahy might actually murder me if we lose." Cassie couldn't help but stifle a laugh as Harvey was scolding Mac a little bit.



"Dear naive Harvey, losing has never been an option for us. We're simply the best."

Cassie said, trying to boast a little more as she looked directly at Jessie with the intention of hearing what she had to say.

"I mean, especially when we play against Slytherin. They're destined to lose."

It was in that moment that she could feel her heart race a bit more and to Cassie she's always chalk that up to just the rush of talking smack, but talking smack against Slytherin to Jessie was a different feeling entirely. Probably just because Jessie was her rival in almost everything and they fought about stupid shit all the time.

It was in that moment that Cassie watched as Cal was trying to get up in his seat to say something, but Harvey pulled him back down, "Sit down and eat your breakfast. Protein go!"

Cassie gave Cal a light back on the back and leaned over and whispered to the younger Gryffdinor,

"One day, I promise."

She said with a small smile.

When Mac replied that she had put her name in and asked if Cassie had, she nodded her head.

"Why of course I did. I love a good competition. Anything to prove I'm the best."

The redhead said, showing a giant smile as she fake gloated about herself. If she couldn't try to boost her confidence up by any sort of means then what was she going to do?

It was at that moment that she noticed Cas was over at their table, and she had to blink her eyes for a moment, when did they get here? Cassie watched as Cas dumped water over Shane, and she did everything to hold back a giggle, so her hand was placed promptly over her mouth. As Cas left to go back over to the Hufflepuff table, Cassie gave them a high five.



"I will be back."

Cassie said as she slipped out of her seat and headed over to the Slytherin table. She plopped herself down next to Jessie and began to pick up a piece of toast from her plate.

"What did Shane do now? need me to accidentally send a bludger his way or something?"

the redhead asked with a big grin before she took a bit of the toast that she stole from Jesie's plate.



"I think your toast is better than mine, at least you got that going for ya."

She said teasing Jessie a bit.

"Could probably just some jelly or something, is there any near by?"
---
Kiara

Wright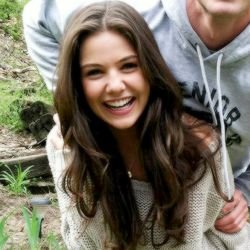 |Ravenclaw | Half-Witch | #67A57F|
Kiara continued on with her reading of the article, she enjoyed reading about innovations and the way in which people were mimicking other innovations to create something entirely different. Instead though she continued on with her witty banter her brother had to offer.

The brunette could hear a small soft voice and it alerted her senses more than the yelling and stupid comments going around, those were normal, but a soft voice was not. Her eyes looked up to see Seong standing there and for a few moments she analyzed the student. She had seen a little bit of Seong, but she hadn't fully introduced herself or gotten to know her.

Kiara felt it was better to make friends with someone you don't know because you never know what they could offer or you never know when you'll need the bridge. Besides maybe she'd be a good source for her blog posts about all things drama.



"Of course, it would be my pleasure to have you sit beside me, Seong."

Kiara spoke with a smile on her face and gestured to the seat next to her.



"How are you this morning? Finding everything okay?"

She asked.

She could hear all the commotion going on down by the Gryffindor table, and she just rolled her eyes. She did think there was some humour to it, but if she was caught in stuff like that and her parents found out, it would be game over. Kiara just stayed out of trouble and continued on with her own stuff.

This did mean though that Kiara was trying to keep an ear open, she had been listening to everything in hopes that maybe there was some sort of scandal going on or something that would be newsworthy. She would have to talk to Eden more to get insight later, perhaps she could steal the seat next to him in potions.
---