ben bordreaux-hansen
the writer -
#779876
-
outfit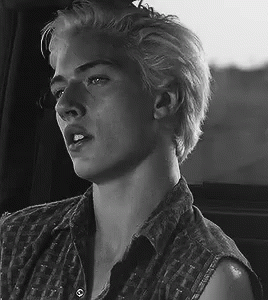 xxx

i've never so adored you


xxx

i'm twisting allegories now


xxx

i want to complicate you


xxx

don't let me do this to myself
Ben hadn't realised how much he'd missed Casey's hugs until she had him wrapped in a bear hug. He probably held on for a little longer than he needed to, releasing her with a smile. He shrugged a little bit as she said that he looked good. He'd heard that a lot, people telling him that he looked good, and it was usually accompanied with
that
type of sympathetic smile. But Casey's comment seemed genuine, and so his smile was genuine. Erin's sly comments made him smirk.
"Thanks, Erin. Good to see you again,"
he said, taking a mouthful of the drink. She always made the best drinks, and he never even missed the alcohol.
His smile slipped slightly as Casey apologised for not being back sooner. He shrugged.
"It's fine, I... I've been in Charlotte most of the time for the past while anyway, and... I'm doing better. Really, I am. It's good to be back home."
He said quietly. He and Casey had been in contact relatively regularly for the past few years, and he felt guilty that he'd never really talked to her about what was going on. But he hadn't been able to talk to anybody. That was the issue.
Nate arrived, and Ben shot him a smile. Casey, in her usual style, managed to make things awkward, and her response made him roll his eyes, even as she walked away.
"It's good to see you, man. Always nice to have our favourite star around the place,"
he teased.
"How have you been?"
Casey seemed a little on edge when she came back, and Ben shot her a smile. He wondered if she was nervous for the same reasons that he was, wondering if and when some of the others would show. Ben knew that Lia was coming, hell or high water. Something about needing to give his dumbass a proper hug. But it was everyone else that put them on edge. Ben found himself watching their surroundings, simultaneously disappointed and relieved that he couldn't yet see Nas. He texted Lia back.
To: liiiiiiiia
are you gonna be fashionably late or just straight up late?