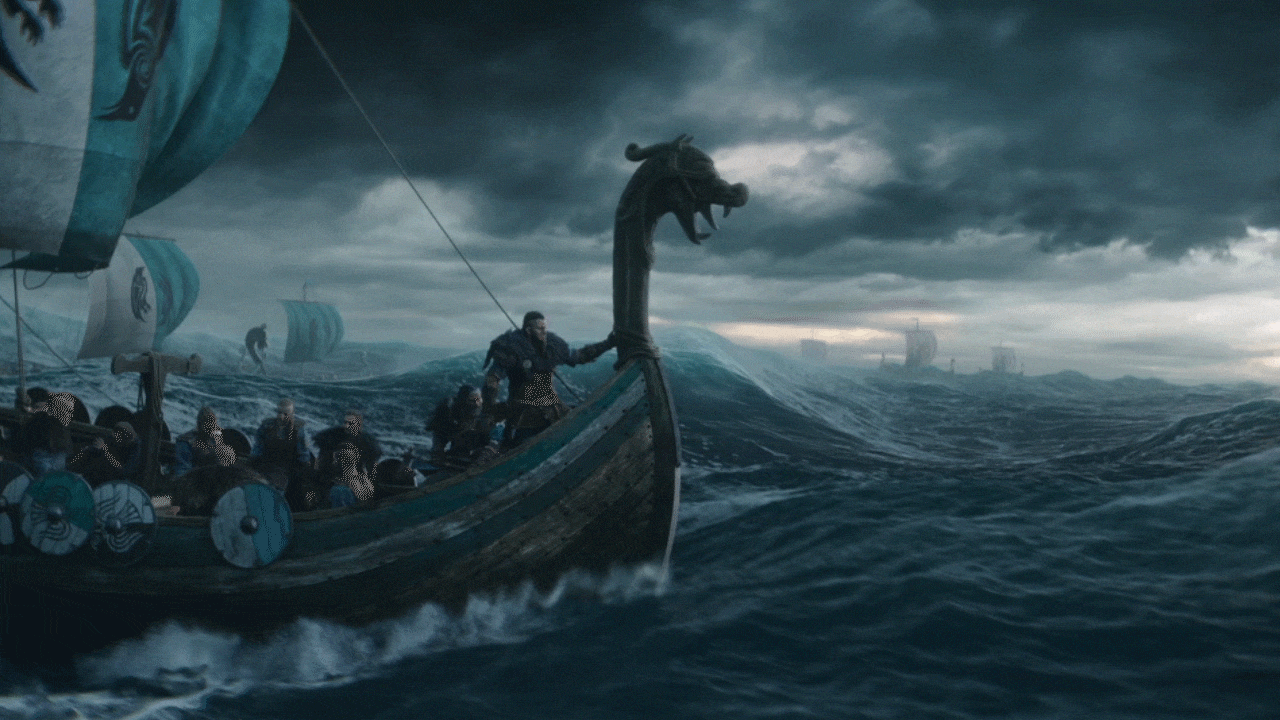 A silver moon hung low in the clouded sky, winds whipped over the sea, and through the Jarl of Grimstads hair, as he and his men sailed westward. Land would be coming up on them quickly, though they were unsure of what would be left. Rumor of great beasts from beyond the realm of man had begun spreading their way through Northumbria, and Delvin was not one to shy away from a fight. He sent word via carrier pigeon to several other kingdoms, hoping for some support, but expecting none. The true Vikings of Grimstad knew what they were riding into, and they ached for a good battle.
"Fetch the Raven" Delvin barked at a crewman. He quickly jumped down the stairs, shortly thereafter producing a raven, and loosened her from her small cage. "Keep an eye on her, she's our map now, too cloudy for stars" Delvin spoke calmly. The crewman nodded, and watched as the bird sailed west, and began circling an unseen beach. "Drop the sail and arm yourselves men, Glory awaits us all!" Delvin Barked, as they neared the beach. The clang of sword and shield from the two longships was ear-shattering.
Fires burned brightly, as what looked like a small beach encampment slowly came into view. The ships ride cleanly near the beach, as the crewmen dropped anchor and jumped ship. A small welcoming party met the clan as they made their way towards the encampment. "Wine?" said a small man, nervously looking up at one of the Jarl's larger men. Delvin laughed, "I think you mean to turn your attention to me, holy man. I am Jarl Uldthar of Grimstad, and these 20 men are my crew. We come to pledge our swords against the beasts, and our mead towards our newfound companions! Brynjoff, Haldar, fetch the mead barrels. Lufthar, Arik, bring the weapons crate up to the encampment armory, My friend here is going to inform the other commanders of our presence, tell them to come to our camp." Delvin finished his sentence and gazed down upon the holy man. "On any other day my friend, we would be the last thing you see before you met your god. However, this day is not any other day. This day is today, and you need not fear me and my men, we do not cross our gods, or our companions." Now, where might we raise drink, and lie our heads?" The holy man pointed towards an oversized tent.
Two men made their way past, carrying a large crate, 1/3 full with shields, 1/3 full with axes and swords, and the rest, simple woven leather bracers and grieves, along with several spare leather spaulders. The Vikings of Grimstad preferred speed to protection when it came to armour. Two more passed shortly after, each carrying a barrel of mead on their shoulders, headed towards the oversized tent, marked "Grimstad". Delvin left the holy man, with a nod, and proceeded into the encampment, following the mead carriers. The tent was very large, almost deceptively so. A large table lie in the middle, surrounded by several benches, more than enough to seat the entire crew. several smaller rooms were surrounding the table, each with a few small haybeds, covered in skins of various animals. The crew made their way in not too long after, gathering at the table and filling their horns with elderberry mead. The jarl made his way to the head of the table, filled his horn, and sat. "To a short life, and a violent one, and to a quick death, and a glorious one!" He exclaimed, before finishing his horn and slamming it on the table. As the stories began to pour out of his crew, Delvin made his way out of their tent, to learn more of their newfound companions. His eyes met with a stranger peering at him from behind a small tent, looking fit for perhaps one person. The stranger seemed a knight of some sort, the Jarl unable to make a distinction as to where from. He approached. "And who might you be, a knight? a thane? a thrall?" Delvin questioned, curiously.