The United Inter-Solar Syndicate, or the Syndicate as they are best known, is a large organization, largely regarded as criminal, of soldiers, scientists, and religious acolytes unified in their belief that humanity's expansion outside of the Solar System is a huge mistake. They view the discovery of Phasma's Bluespace properties as anything from dangerous to downright sinful, and though all have different reasoning behind it, every member of the Syndicate agrees that Bluespace travel must be brought to an end.
And, conversely, all the proponents of it.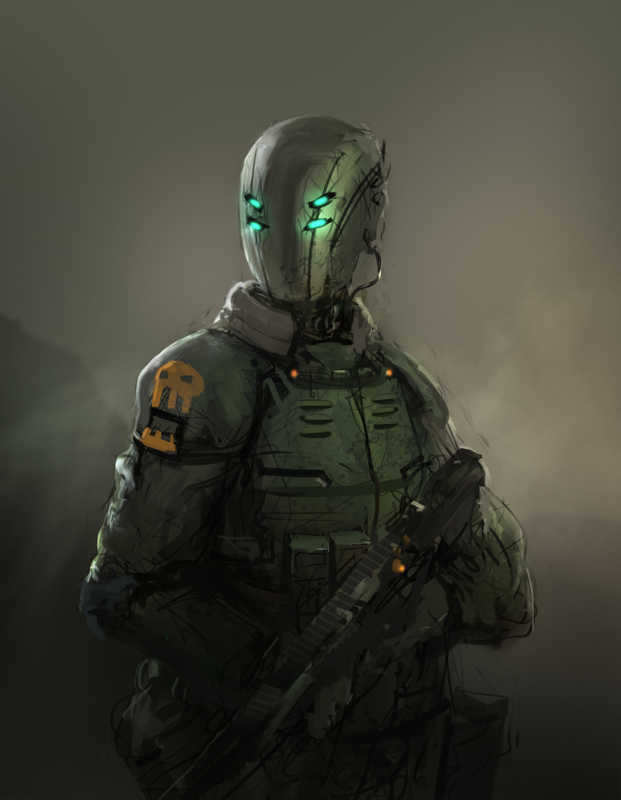 A Syndicate light ground infantry unit, typically used for quick hit-and-run attacks on 'hostile' facilities.
In this vein they are extremists; willing to kill the whole crews of Phasma research stations just to force their will. They have raided NanoTrasen a vast amount of time, typically only their autonomous supply shuttles and planetary settlements but once or twice, even their OPRFs. Deploying their elite paramilitary force, the Bloodstar Operatives (supposedly named after their blood-red hardsuits), they have been known to leave few survivors in their wake.
A heavy variant of the Bloodstar Operatives' standard hardsuit; the lighter variant is similar but less bulky. Note the armour, quadruple ocular units and thruster pack shared between all variants.
The Security teams of all NanoTrasen installations are thus well-briefed on all there is to know about the Syndicate, and are ready to handle any Bloodstar incursions.
There are also rumours that the Syndicate has planted its own covert agents into the ranks of normal station crew on OPRFs, but these are surely lies.