Sorcery is the art of bending the energies of the world to one's will, just as the Three Flames did in creating Seitonus, but of course, they did so at a much larger scale. Every race can perform sorcery with training and heavy meditational routines, but most are either too impatient to work at the craft or too uninclined to even perform it with beneficial effects. Paragons cannot perform sorcery due to all of their subconscious concentration being focused on the act of controlling and bonding with their dragon. To try and attempt sorcery while existing as a paragon would lead to mental insanity and eventual death.
Energy, by far, is the vaguest and broadest term in the world of Seitonus. Sorcerers can cast destructive fire in the palms of their hand and alter weather, affect the minds of other creatures, transform their own bodies, channel energy into rune formations inscribed upon weapons and armor, and even summon beings from mystical realms not akin to their own. Thus, sorcerers can choose one of five schools of sorcery: elemental, pathogy, reformation, runic, and astral.
• Elemental School:
Sorcerers of the elemental school can manipulate nature to their own will at the expense of their own energy. All bodies contain and transfer energy throughout their lifetime, and to bend the elements to one's will, the sorcerer must forfeit his own anatomical energy to force a fireball to appear in his hand, or the clouds to rain, or a lightning bolt to strike in a particular area, or have a wave of water drown a village. The more spells used in a day, the weaker the sorcerer becomes. If too many spells are used, the body will force itself into unconsciousness as a defense mechanism against death. If a spell too powerful for one's energy is cast, the sorcerer's form will do one of three things: collapse and die, explode, or vanish.
• Pathogy School:
A sorcerer of the pathogy school can affect the thoughts and emotions of other people and creatures. Small, meager-minded creatures such as Grecks can be easily manipulated by a pathogy sorcerer, but more powerful creatures, such as orcs, could provide a tough challenge. Trying to manipulate the minds of people works differently however. Some people can be more weak-minded than others, yes, but the method that a pathogy sorcerer uses in order to change the thoughts and emotions of a person benefits by having a mental connection with them in some way. If the sorcerer is similar to the person he is trying to control or alter, such as sharing a trait like stubbornness or bravery, the link between the pathogy sorcerer and the other individual will be significantly higher. If a pathogy sorcerer is trying to manipulate a person with an entirely different background and way of doing things, there is almost no chance, if the person is strong-minded, that he will change that individual's emotions, views, and thoughts. Like elemental sorcerers, pathogy sorcerers have their own dangers. They can manipulate how many creatures and people they want in a day, but if they try to alter someone's thoughts and fail, the victim's mind will understand that it was being invaded, and will result in severe reactions from the person. Even worse yet, if a pathogy sorcerer tries to bend the will of a very powerful creature such as a dragon, they may find their own minds utterly destroyed and living the rest of their lives in utter cluelessness and insanity.
• Reformation School:
Probably being the most unique school of sorcery, reformation sorcerers can transform their limbs into animalistic limbs, or even contort their entire anatomy into another being. Obviously, the drawback of this is clear. If a reformation sorcerer stays in a form too long, it will become permanent, including transfigured appendages. The more powerful a certain form, the shorter the duration it will take for it to become permanent and the sorcerer to lose his mind.
• Runic School: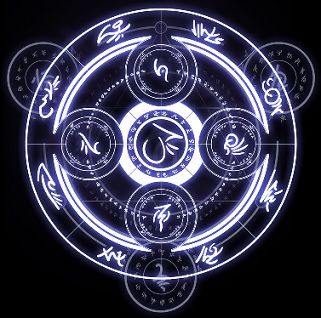 Enchanting weapons and armor has always been a prized thing throughout orcish and human civilizations. Runic sorcerers can inscribe energy-containing runes on any particular item and give it elemental, pathogical, or astral qualities. With time and care, the runic sorcerer could forge the flaming blade, a speaking ring, and a pebble that, when held, transfers you to the astral plane of existence. The dangers of being a runic sorcerer begins with false or failed runes. If the inscribing of the rune is done incorrectly or of the wrong rune in that particular area of the item, the results could be drastic indeed. With one mis-drawn or misplaced rune, the flaming blade could explode into an inferno in your hand, the speaking ring could corrupt your entire mind and force death upon you, and the astral pebble could call forth an unwanted astral entity that could torture you for eternity. Talented runic sorcerers are paid well.
• Astral School: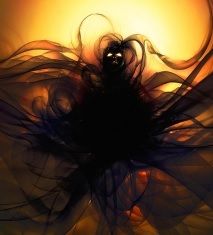 An astral sorcerer is all about meditation and focus. If one wishes to become a master at this particular craft, he must have complete and utter silence when attempting to communicate or interact with the astral plane of existence. When complete tranquility is reached, the energy, or soul, of the sorcerer will co-exist in the astral plane at the same time his material plane body exists. The result of this is being able to theoretically calculate the attacks, so long as concentration is held (which is extremely difficult in combat), of two people at once rather than just one attack from your single body. Of course, the astral projection of one's self is not visible on the material plane, and the victim of the astral sorcerers attacks would find that some wounds are inflicted by an invisible entity. But of course, this method was only achieved by the monks of the Keantis Empire. The more direct route that doesn't nearly take as much focus and meditation is the summoning of strange beings from the astral plane. Doing this, you create an energy chord between you and the being, pulling them into the material plane. These beings can take on any form they desire, and are usually relatively powerful compared to humans and other similar races. More powerful entities do exist however, and the summoning of these creatures can lead to spiritual possession of the astral sorcerer's body (which, in turn, kills them and leaves their body to the will of the astral entity). If too many creatures are summoned at once, or if the energy chord remains for too long, a rift in the material and astral plane could occur, which pretty much splinters the realms and will cause a much undesired outcome. Astral sorcerers must take great care, for while the other schools have dangers effecting their own livelihood, the astral school could cause an untimely end to a city, region, or continent. Of course, this rarely happens, for it is more common that the astral sorcerer becomes fully possessed before shattering the barrier between planes.