Basics
Races
A powerful race in great numbers, Although they are strong they lack intelligence and mostly know crush and destroy, the few that are spellcasters are fiarly powerful and are usually experianced in one class of spell. An Orc is good for a Fighting class instead of a spellcaster.
A Random race that is both equally smart and powerful, but since they are equal in both stats they are fairly weak and average minded. Thos who devote themselves to Fighting the Orcs and other opposing forces are usually stronger than they are smarter, When as a Warrior they are still fairly smart but understand Battle Tactics better than spellcasting. When Devoted to Spellcasting the Human usually studies for years in advance and end up pretty powerful, but at the same time are weakened and are not good to explore alone.
The Trolls are generally a peaceful race who specialize in medecine and and hexes. They are usually speedy at normal size but slightly weaker than the humans. Although they slightly lack strength their Hexes and "JuJu" is very powerful so if you anger a troll you might find yourself a pig over an open fire.
The Dwarves are a Short Tempered race but even though their nerves are short their strength matches that of an Orc and they are great at crafting Weapons and Armor. They are also great hunters who could kill a beast five times their size with ease but they are not exellant spellcasters they are still durable.
The small gnomes are an intelligant race that could cast a spell to rain fire, But also since they are powerful with spells they are still weaker than most races. Together they work in unison to make vehicles and other contraption alongside the Dwarves being careful not to get them angry.
GOBLINS
The Goblins are pretty much the equivelant of the Gnomes but they try out expiraments and Science projects more often and more dangerous than what the Gnomes do. They are great for making Wood Cutting machines but are usually blowing themselves up.
The undead are those who have died in battle but at the same moment that have died a sort of virus infects their bloodstreams and days after they die they ressurect. If they are buried and they ressurect they go insane and become the typical zombie trying to kill all living things.
OGRES
Ogres are the Brute race which are usually dumb as rocks. The best class for an Ogre is the Warrior because of their strength, but they are also slow because of their body build. Shown in Blue is a Typical Ogre, a Warrior and in Red a Maji Ogre with 2 heads to read the spells when the other one is busy fighting.
The Night Elf is a race that most are Druids because of their love for the earth and its beautiful nature that lies on it. The thing that disgusts them is the fact the people would just automatically destroy land just to build a shack for their own greed.
The Blood Elf is a power hunger race that is pretty much the exact opposite of the Night Elves. The Blood elves are powerful casters because of their lust for power. Birthed from their lust for power the Blood Elves now have a natural ability to hover about 3 inches off the ground.
The Dreanei are a swift and strong race but they are not as durable as an Orc the Dreanei are a generally peaceful race but like any other Race they have problems of their own.
CENTAUR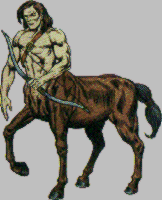 The centaur are the Half Horse race. Their speed is incredible and so is their accuracy with ranged weapons. They are Random like humans but they have to feed to halves so it takes a while to fully eat a meal which means poison is an easy way to kill them.
ANGEL
An angel is random like the human but the advantage angels have is their wings. Although they have these wings their wings are very delicate so they are good for swift attacks such as attacks from a Rouge.