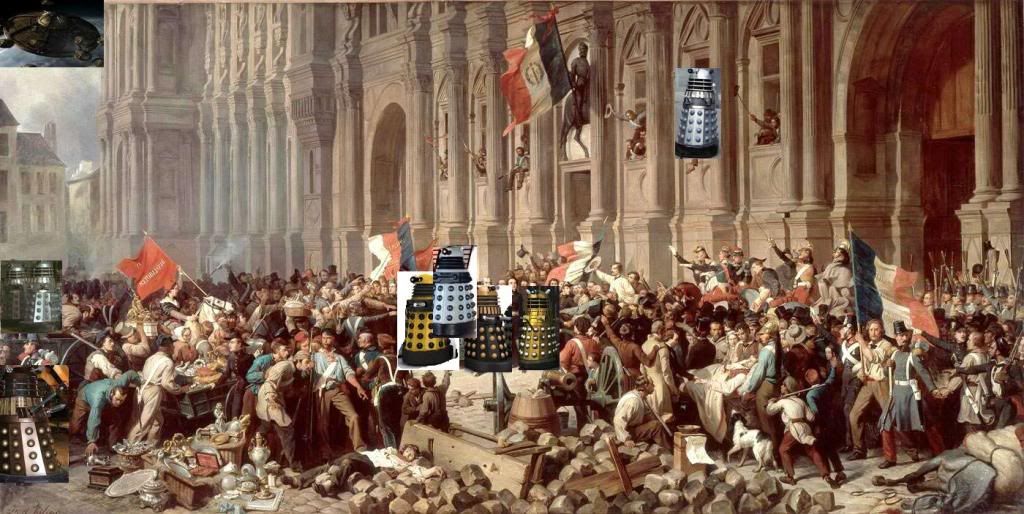 1848
Dalek
Invasion
Of Paris
The monarchs and tyrants of Europe have slept safely in their beds content with the knowledge that the people's cause was buried under four decades of repression and the bloodletting of the martyrs. A new christian year dawns on Europe and new opportunities arise...
Who will prevail? The oppressors or the oppressed?
Meanwhile, the Dalek empire sets its eyes on planet Earth once more. If they failed in the future, maybe they will emerge victorious in the past?
This is a
Private
1on1 Roleplay between Myself (Colonel_Masters) and Mr. VindicatedPurpose but you are all free to join up and do all the insane impossible things you could not do in sensible roleplay's.
0) All Rules excluding 4) may be disregarded.
1) An element of historical credibility (Dead as the dinosaurs)
2) No Aliens OVERRULED!
3) No Zombies (Vindicated Purpose has the permission to totally ignore this rule)
4) Frogs should not be eaten unless unavoidable in the French climate (Last remaining rule, to be taken seriously!)
1 posts here • Page 1 of 1
What a pleasant day thought the Stunt as he sipped some of the hot tea which bubbled inside the gorgeous mug the waitress had been kind enough to give him.

Stunt gazed at the lovely street, Paris! the Efile tower may not be there yet but this was still a lovely city... voted as one of the greatest art collections in the universe too!

The Stunt was about to tip the waitress when the Earth began to shake... Stunt gazed at the sky and too his horror he saw a Dalek mother ship above him.

Before he could mutter a single word a group of Daleks entered the cafe and made an announcement;

"The Dalek empire hereby announces that the city of Paris is under our sovereignty and that this heated beverage consumption center (cafe) will be requisitioned by the Supreme Dalek as our new Earth headquarters"

One of the Daleks caught a glimpse of the Stunt

"Doctor? thee doctor?! exterminate!!! report to the high council that the reports claiming the doctor has gone on vacation are untrue! exterminate all humans! exterminate the doctor!"

The Stunt dodged the lasers fired at him and ran out of the Cafe hoping to find some cover...
---
1 posts here • Page 1 of 1
Arcs are bundles of posts that you can organize on your own. They're useful for telling a story that might span long periods of time or space.
There are no arcs in this roleplay.
There are no quests in this roleplay.
Here's the current leaderboard.
There are no groups in this roleplay!
Welcome home, Promethean. Here, you can manage your universe.
Arcs are bundles of posts from any location, allowing you to easily capture sub-plots which might be spread out across multiple locations.
You can create Quests with various rewards, encouraging your players to engage with specific plot lines.
Settings are the backdrop for the characters in your universe, giving meaning and context to their existence. By creating a number of well-written locations, you can organize your universe into areas and regions.
Navigation
While not required, locations can be organized onto a map. More information soon!
There are no groups in this roleplay!
By creating Collectibles, you can reward your players with unique items that accentuate their character sheets.
Once an Item has been created, it can be spawned in the IC using /spawn Item Name (case-sensitive, as usual) — this can be followed with /take Item Name to retrieve the item into the current character's inventory.
Give your Universe life by adding a Mob, which are auto-replenishing NPCs your players can interact with. Useful for some quick hack-and-slash fun!
Mobs can be automated spawns, like rats and bats, or full-on NPCs complete with conversation menus. Use them to enhance your player experience!
Current Mobs
No mobs have been created yet.
Locations where Mobs and Items might appear.
You can schedule events for your players to create notifications and schedule times for everyone to plan around.
Add and remove other people from your Universe.
The Forge
Use your INK to craft new artifacts in 1848: European Revolution. Once created, Items cannot be changed, but they can be bought and sold in the marketplace.
Notable Items
No items have been created yet!
The Market
Buy, sell, and even craft your own items in this universe.
Market Data

Market conditions are unknown. Use caution when trading.

Quick Buy (Items Most Recently Listed for Sale)
Newest
A time lord hired by the BBC to do the doctor's stunts for him, even their regeneration's are synchronized.
Trending
A time lord hired by the BBC to do the doctor's stunts for him, even their regeneration's are synchronized.
Most Followed
A time lord hired by the BBC to do the doctor's stunts for him, even their regeneration's are synchronized.
None
Welcome to the planet, but Paris is more important.
Discussions
Topics

Replies
Views

Last post
Most recent OOC posts in 1848: European Revolution
This is the auto-generated OOC topic for the roleplay "
1848: European Revolution
"
You may edit this first post as you see fit.