---
---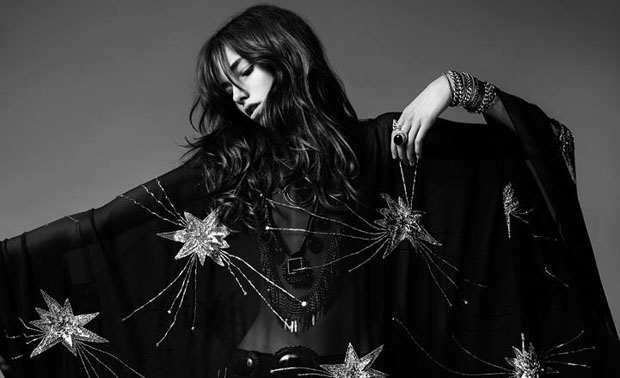 ---
---
---
---
|Full Name|
Genevieve Rose Reynolds

|Nickname|
Jenna to one and all, only her mom calls her Genevieve

|Birth Date|
May 17th

|Age|
24

|Ethnicity|
Caucasian

|Occupation|
Fashion Designer

|Sexuality|
Bisexual

|Marital Status|
In a relationship|| It's complicated
---
---
---
---
|Quirks & Habits|
Chews her lip when she's thinking
Takes her coffee black. And she drinks a lot of coffee
Carries a reporter pad and a pencil with her wherever she goes
Is usually barefoot in the studio
Often falls asleep sat upright

|Talents(T) | Strengths(ST) | Skills(SK) |


⚘

Fashion Design- From small beginnings, Jenna's fashion line has garnered quite the following and her designs are in several influential boutiques.

⚘

Guitar- She's learned mostly from YouTube videos, so a pro could probably pick fault with her technique, but she's got pretty good at it.

⚘

Reading People- Jenna has a pretty good radar for people's nonsense. She doesn't suffer fools gladly and usually spot one a mile away.

⚘

Video Games- So she's not good enough to be in the pro leagues of whatever shooter the kids are playing these days, but Jenna's pretty good at them and has a pretty good following on Twitch.

|Flaws/Weakness|


⚘

Closed off- Jenna would say she's guarded, most people would say she's closed herself off from people, even Nas despite his best efforts to get her to actually have a life.

⚘

Short-tempered- Jenna has no time for your bullshit, this is not her fault.

⚘

Stubborn as hell

⚘

Jenna has been known to take on way too much work at the label, despite her aunt trying to get her to hire someone to help out. JR is her baby and no one else's.

|Hobbies|
Guitar, Video Games, Cycling, Furniture Restoration, Sudoku, Reading

|Fears|


ø

Her parents were right and she's chasing a pipe dream.

ø

Her next relationship ends up ending the same way her and Casey's did.

ø

She'll never be enough for someone.

ø

Clowns

ø

Wasps

|Secrets|


✤

She still has the engagement ring she bought for Casey

✤




✤

She still has feelings for Casey and most of the people she's dated since have something that reminds her of Casey

✤




✤

Is trying to save enough to buy her aunt's share of the company had have full control of the business

✤



|Goals/Dreams|
Have a show at New York Fashion Week.
See her designs on the red carpet
Have full control of the business
Move on from Casey
---
---
---
---
|Personality|

|Independent| |Loyal| |Stubbon| |Protective| |Confident|

Jenna has never been one to play by the rules. From an early age, she chafed against her parents' rules, wishes and desires. The Reynolds were all about appearances, and that extended down to their children. Jenna pushes back against arbitary rules. She doesn't have an issue with doing as she told per se, she just needs a good reason to do it. If she doesn't like the options presented to her, she'll make her own one up. She has a fiercely independent streak, much to her parents' dismay, and a quick sarcastic wit. Unlike her siblings, Jenna is far more determined to make her own way in the world on her own merit.

It didn't always come easy, especially in her younger teens, but Jenna is pretty confident in who she is and how she sees the world. If she wasn't gonna get the validation from her parents then she had goddamn better give it to herself. Jenna does not need you in her life. If you're there, it's because she wants you to be there. And if you're a better option than being alone, she's gonna make sure you know how much you mean to her. No one messes with the people she loves. She was the hype man of the group in high school because self love is an act of rebellion. Her confidence does sometimes translate into a stubborn streak. She rarely backs down from what she wants or what she thinks is best. Everything will work out ok so why bother worrying?

Recently Jenna has become a little more guarded with her feelings after Caset chose a job over Jenna. She's more focused on her work, which is graet for the business, but it takes much more than it used to to get her to let somebody in.



|Likes|


▲

Music

▲

Black coffee

▲

RPGs

▲

Art-deco wallpaper

▲

Bubble Baths

▲

Competition shows

▲

Thai Food

▲

Work


|Dislikes|


▼

Flakiness

▼

Fleece fabrics

▼

Buses

▼

Her parents

▼

Crying

▼

PB&J sandwiches

▼

Pumpkin Spice anything

▼
---
---
---
---
|Place of Origin|
Bluffton, North Carolina (Birth-20), Hell's Kitchen, New York (20-present)

|Family Tree|
Cynthia Reynolds || 60|| Mother|| Alive
Christopher Reynolds ||63 || Father|| Alive

Elizabeth Andrews||37|| Sister|| Alive
Michael Andrews|| 42|| Brother-in-law|| Alive
Claudia Andrews ||14|| Niece|| Alive
Benjamin Andrews || 14|| Nephew|| Alive

Johnathon Reynolds|| 35|| Brother|| Alive
Chloe Reynolds || 34|| Sister-In-Law
Hunter Reynolds|| 8|| Nephew|| Alive

David Reynolds|| 34|| Brother|| Alive
Cody Reynolds|| 5|| Niece|| Alive

Anthony Reynolds|| 32|| Brother|| Alive
Sarah Reynolds-King|| 33|| Sister-In-Law|| Alive
Katie Reynolds-King|| 8|| Neice|| Alive
Evie Reynolds-King|| 5|| Neice|| Alive
Harry Reynolds-King || 18 months|| Nephew|| Alive

Christine Danvers ||55|| Aunt|| Alive

|Happiest Memory|
Holding the first of her many neices and nephews for the first time. They were so small and precious and delicate, and Jenna could have cried. Or maybe her first date with Casey. How the hell Jenna got Casey to look at her twice was anyone's guess, but it felt nice to be wanted and to want someone you could just completely be yourself around. It wasn't the most expensive or elaborate date. They went to the arcade and then got food from the diner. But it was with Casey and that's all that mattered.

|Saddest Memory|
Casey turning down her proposal. It still hurts to think on it too much. Jenna had figured she'd spend the rest of her life with Casey, wherever that was and whatever it was. It would be her and Casey, and then it wasn't. Casey chose her job over Jenna and moved half a world away, leaving Jenna to deal with the fall out on her own.
---
---
---
---
---
---
---
---
|History|

To say Jenna's arrival in the Reynold's househol was a surprise would be an understatement. After 4 children and approaching their 40s, no one expected Cynthia to fall pregnant again. They were delighted to have another girl. Little Genevieve Rose would be just like her older sister. And then Jenna turned up and she was far more at home in the dirt and the trees than she was playing house and dolls. Of her 4 siblings, she's probably the closest to David since he was the only one that actually stuck up for her, even if he didn't always want her hanging around when his friends came over. As she got older, she understood where he was coming from. She didn't really want the twins hanging around when she was in high school, as much as she loved her neices and nephews. Their parents were away working or on business trips more often than not, so the Reynolds children were either left to their own devices or in the casual care of whichever au pair was around this month. With 3 big brothers, and a sister who didn't like her all that much, Jenna learned to stand on her own two feet and enjoy her own company. She didn't really have a solid friendship group until she was in high school. She was well aware of her position as a social outsider so when the actual angel that was Casey Worthington asked her on her date, Jenna was a little surprised. On the outside looking in, they were probably an odd couple, but Jenna wasn't gonna question a good thing. Given that she constantly rejected what her parents wanted for her, home life was a little tense for Jenna so the evenings she could spend at Casey's house were sacred to her.

Jenna was madly in love with Casey long before they graduated high school. They even survived going to different colleges, which not many high school romances did. Jenna began drawing up plans for her fashion line that she had always wanted. This and paying for college would be the only two times she would use her family's money to get ahead. Her aunt joined as her business partne, handling the financial side of things while Jenna focused on the product. And she had Casey by her side. Things couldn't be more perfect. Jenna knew she was all in and finally got the courage to ask Casey to marry her. And then everything shattered when Casey said no. With little else in her life now, Jenna threw herself into building JR into something bigger. Casey had chosen her career, why couldn't Jenna do the same?

There was a line of flings and one night stands, but nothing serious. She didn't have the time with running an up and coming fashion brand and she wasn't about to let herself get hurt like that again. No one stuck around long enough to try and get close to her anyway. She had something of a reputation as an ice queen. And then one did. They kept bumping into each other at industry events. He was sweet, charming even. And very different to Casey. The more they kept running into each other, the more Jenna could feel her guard coming down. And then before anything could be official between them, Jenna got the call about Ben. James helped her pack her car up for the drive home and only asked that she let him know she'd gotten there safely. It's early days with James, if they even are a thing. And maybe she isn't quite ready to face Casey again, not on her own. But her friend needs her and that's the most important thing.[/center]
---
---
---
---
---
---
My Happy Ending|| Avril Lavigne

Oh, oh, oh, oh, oh, oh
So much for my happy ending
Oh, oh, oh, oh, oh, oh
So much for my happy ending
Oh, oh, oh, oh, oh

Let's talk this over
It's not like we're dead
Was it something I did?
Was it something you said?
Don't leave me hanging
In a city so dead
Held up so high on such a breakable thread (breakable thread)

You were all the things I thought I knew
And I thought we could be

You were everything, everything that I wanted (that I wanted)
We were meant to be, supposed to be, but we lost it (we lost it)
And all of the memories, so close to me, just fade away
All this time you were pretending
So much for my happy ending
Oh, oh, oh, oh, oh, oh
So much for my happy ending
Oh, oh, oh, oh

You've got your dumb friends
I know what they say (know what they say)
They tell you I'm difficult
But so are they (but so are they)
But they don't know me
Do they even know you? (even know you)
All the things you hide from me
All the shit that you do (all the shit that you do)

You were all the things I thought I knew
And I thought we could be

You were everything, everything that I wanted (that I wanted)
We were meant to be, supposed to be, but we lost it (we lost it)
And all of the memories, so close to me, just fade away
All this time you were pretending
So much for my happy ending

It's nice to know that you were there
Thanks for acting like you cared
And making me feel like I was the only one
It's nice to know we had it all
Thanks for watching as I fall
And letting me know we were done

He was everything, everything that I wanted
We were meant to be, supposed to be, but we lost it
And all of the memories, so close to me just fade away
All this time you were pretending
So much for my happy ending

You were everything, everything that I wanted (that I wanted)
We were meant to be, supposed to be, but we lost it
And all of the memories, so close to me, just fade away
All this time you were pretending
So much for my happy ending

Oh, oh, oh, oh, oh, oh
So much for my happy ending
Oh, oh, oh, oh, oh, oh
So much for my happy ending
Oh, oh, oh, oh, oh, oh, oh, oh
Another Love|| Tom Odell
I wanna take you somewhere so you know I care
But it's so cold and I don't know where
I brought you daffodils in a pretty string
But they won't flower like they did last spring

And I wanna kiss you, make you feel alright
I'm just so tired to share my nights
I wanna cry and I wanna love
But all my tears have been used up

On another love, another love
All my tears have been used up
On another love, another love
All my tears have been used up
On another love, another love
All my tears have been used up

Oh oh
And if somebody hurts you, I wanna fight
But my hands been broken, one too many times
So I'll use my voice, I'll be so fucking rude
Words they always win, but I know I'll lose

And I'd sing a song, that'd be just ours
But I sang 'em all to another heart
And I wanna cry I wanna learn to love
But all my tears have been used up

On another love, another love
All my tears have been used up
On another love, another love
All my tears have been used up
On another love, another love
All my tears have been used up
Oh oh

(Oh, need a love, now, my heart is thinking of)
I wanna sing a song, that'd be just ours
But I sang 'em all to another heart
And I wanna cry, I wanna fall in love
But all my tears have been used up

On another love, another love
All my tears have been used up
On another love, another love
All my tears have been used up
On another love, another love
All my tears have been used up oh oh
---
---
---
---
---
---
|Other|


❣

Jenna's Apartment in New York

❣




❣

Her line is JR by Jenna Rose and each tag has an art-deco style rose on.

❣