Name:
Neji Kawasaki
Age:
17
Gender:
Female
Personality:
Neji is a very aloof and quiet individual. She usually prefers to not speak until and unless it is absolutely necessary. She is an ambivert and is known very well for her disciplinary and in some fashion, cold methods of getting her work done. She does not fare well in situations where a lot of stress is involved and cripples easily. Respect holds a very high position for her, she usually uses formal honorifics to address acquaintances. She has a soft side as well, however, she prefers to keep it hidden. Although anger does not hold close to her but she normally gets irritated by overly enthusiastic people. Her wits usually overpower her communication lack and social awkwardness, letting her glide through tough situations. However, her tendency to overthink usually lands her in trouble.
When it comes to teamwork, Neji is a great teammate and would go to any lengths to help her mates. She is also claustrophobic and prefers open and bright spaces. She is a not an optimist but a realist and hates unsolicited advices. She is not very adaptive but tries her best to not trouble others for her problems. Her decision making skills are mediocre.
---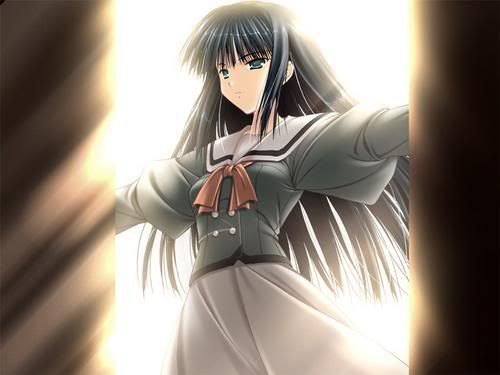 Appearance:
She is a considerably tall female, standing at 5'8. She has straight black hair, sharp dark green eyes and a pale complexion. She dons her dark green and white school uniform.
Inventory:

Her phone:
the usual touch phone.
Spare violin strings:
from her violin practice session.
An apple:
solution for a hungry stomach.
A pack of mints.

A scrunchie:
long hair are a problem sometimes.
Bottle of water.

Blunt pocket knife:
for the apple and for altering the length of her violin strings.
Money:
a few yen or so, just in case.
---
Background:
Neji comes from a very respected family. She attends one of the city's best day
boarding school and lives in the school hostel since her parents' demise five years ago. Her maternal grandparents, who live in the suburbs of the city, fund her schooling. She fares very well at school, usually standing first in her classes. She is also a known violinist in the city and generally performs at small shows or local festivals, earning a little money in the process. Prior to the incident she was returning from her violin classes, she fell asleep in the train and has now woken up to a very eerie and deserted station with a few other people who were on the same train as her.
Other:

thought

and

speech

colour.