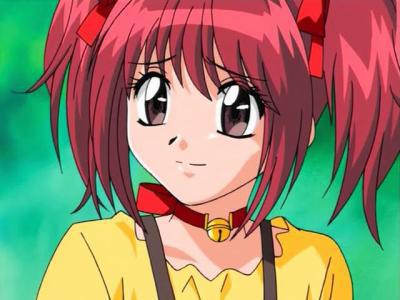 [Green=green]
Gender
[/color]
Female
Race
Yokai
Role
Cat God
Occupation
(Not quite sure)
[color=color here]
Ranking
[/color]
Minor
Charge
Celestial God
Faceclaim
Ichigo Momomiya[/font]
---
---
[img]IMG%20HERE[/img]
Quote Here
---
---
[img]IMG%20HERE[/img]
[color=color here]Hair color[/color]
Red/Pink (Pink in transfomation)

Eye color
Green

Height
5ft even

Weight
125 lbs.

Physical Description
Lily is rather short for a god, at five feet tall, with a slender, feminine frame and pale white ivory colored skin. Her most noticeable features includes her fiery red hair which curls slightly upwards from the center of her back and her startling eyes.

Almond shaped, they appear upon close inspection that they were carved from living emeralds. To enhance their uniqueness more, gold flecks decorate the green irises. Lily has a gentle heart shaped face, with just a touch of an aristocratic look about her, and a cute button shaped nose, in which has an adorable patch of freckles that form in the shape of a little fish. She has plump, sakura colored lips that stand out most when she's smiling.

Preferred Weapon
Bo
---
---
[img]IMG%20HERE[/img]
Quote Here
---
---
[img]IMG%20HERE[/img]
[img]IMG%20HERE[/img]
[img]IMG%20HERE[/img][img]IMG%20HERE[/img]
[img]IMG%20HERE[/img][img]IMG%20HERE[/img]
Skills
☣ Skill || Lily is an empath, and can tell what one is feeling.
☣ Skill || Lily is quite versed in martial arts, being efficient with her bo, or a sword.
Power

☢ Ability || Ability to transform into her youkai form.


☢ Ability || Ability to transform into a regular cat.



---

---




[font=timesnewroman]

I purr, therefore I am.




---

---





Love Interest
The celestial god. He is absolutely purrfect in her book, always trying to stop the fighting between the other gods. Unfortunately, because she's a minor god, she doesn't believe he even notices her. She does her hardest to quell the fighting, but is mostly ignored by the major gods.

Likes


❤ Fish! <3 || Because way down deep, we're all motivated by the same urges. Cats have the courage to live by them. - Jim Davis
❤ Autumn || Autumn...the year's last, loveliest smile. - Willium Cullen Bryant
❤ Strawberries || [i]Sweetness never tasted so good! - me



Dislikes


✘ Vegetables in general (besides carrots) || Keep your greens. . . ugh. . .
✘ Kiwi|| Ewwwwwww! Gross!


Strengths


✔ Strength || She's a very positive character, who is willing to go the extra mile, for human or youkai alike.
✔ Strength || She's very brave, even though she's kind of shy, at least at first.
✔ Strength || She's very good at strategy type games, like chess and checkers, and on the battlefield, she's a very worthy opponent.


Flaws


☠ Flaw || Lily is rather clumbsy at the best of times, even with her excellent tae kwon do sensei. Sometimes she falls over her own feet.
☠ Flaw || She can get depressed rather quickly, depending on how people react around her. She's the type to run and hide from arguments.
☠ Flaw || Lily is very hyper, and can be qute obnoxious.


Habits


❖ Habit || She loves to sneak across the fence in weak spots to play with human children, which she has a soft spot for.
❖ Habit || Playing in the leaves during her favorite time of the year, autumn. She gets giddy when there's a big pile of leaves, which she will dive bomb right into, either as a cat or her human/youkai form.
❖ Habit || Lily has the curiosity of a cat and like cats, will chase nearly anything. Another habit she has is gazing at the celestial god when she thinks he isn't paying attention.
---
---
[img]IMG%20HERE[/img]
[font=font]

Quote Here
---
---

Personality
As soon as you meet Lily, you either love her or hate her. She has an alarming amount of vitality, almost like a bottled miniature sun burning inside of her. Lily Evans has a happy-go-lucky type of attitude, and is seen often twirling around like a little ballerina if no one's around. Lily is very happy to be the social butterfly.
She almost always has a smile on her sakura pink lips, and is always the optimist among her friends, rarely seeing the glass half empty. She's also a bit of a scatterbrain, and her friends often jokes that if she didn't have her head on her shoulders, she'd probably forget where she had left it. She adores strategic games, especially chess and go.
---
---
[img]IMG%20HERE[/img]
Quote Here
---
---
[img]img%20here[/img]
History
Born to the animal god, she grew up in the world of the gods, but also snuck down to the human world to visit the animals, of whom she was very close to. Because she was a minor god, most of the major gods didn't view her as much of an importance, until she started showing signs of mischeviousness.

At five, she could turn into a cat. Which she used frequently to sit on the water god's head one evening as they were discussing things, and kept playing with his hair, which infuriated the water god, because all the other gods were snickering at the two. Then she'd switch to the other gods, one by one, but the celestial god, of which she merely sat down beside of.

She had grown to respect him and, even if it was embarrassing to say, like him as well. As time went on, her like for him grew until it blossomed into love. The other gods liked to tease her about it because it was the only thing that struck a cord with her. But, she always thought her chances with the god were probably slim to none due to her being a minor god.
Fu
l
lmetal Alchemist