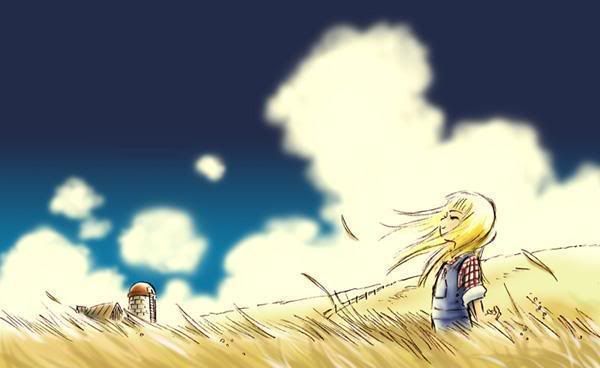 SPRING 1 YEAR 1
Conditions: Warm and Sunny

Town Points: 0 out of 100
Like a horsetail on a hill in the spring, raising my face to the sky
In the summer, soaking up the wind and sunshine in a white running shirt

Like the rice of gold in the fall, abundant dreams whispering
The stars in winter are far and clear, they resemble your eyes
Harmony Grove, a small town secluded outside the boundary of civilization. It's a quiet place, where farmers and merchants and simple folk may settle down and live their lives. It may not have the hustle and bustle of a big city, but it's a place to make memories.
But it's falling apart.
Another town has laid down roots nearby. It's a industrial-focused town, and those who live there have eyes only for their money. Of course, before you can manufacture goods you need raw materials. In order to get those raw materials, you need people to grow them. Seeking these farmers, this town sent messengers to Harmony Grove. They came bearing a message, one offering a pay of more than double what the farmers there normally earned. Drawn by temptation, Harmony Grove lost its only source of income. Conditions quickly deteriorated as the town fell into ruin, but more than that the people are in need of help. They were once such a tight knit community, but as conditions got worse a rift spread between them. Now the residents are nothing but cold to each other, and some have even left in search of a new home. The handful of villagers that have stayed have begun seeking out help, not wanting their beloved home to become a ghost town.

Can anyone help them? Can anyone repair this ruined town and bring it back to its former glory? Can anyone fix the bitter community and turn it back into one big family?
The moonlit street leaves its mark on time, forever, forever, without even a voice,
Like the moon, in such a way, I want to quietly think of you

Quietly, the will to watch over you, my heart becomes ever strong
Even though there are storm clouds far far above, its good weather

Spring, summer, fall and winter, I quietly think of you

Spring, summer, fall and winter, I'll always think of you

Walking while I laugh

Walking while I laugh
- - - - - - - - - - - - - - - - - - - - - - - - - - - - - - - - - -
Members:
This is a roleplay for myself and Jeffrey! only.
Main Character:
TBA
Bachelorettes:
The Town-Hopper: TBA

The Starstruck: TBA

The Porcelain-Hearted: TBA

The Nurturing: TBA

The Lost One: TBA
The Town:
The town is currently in a state of ruin, and only a few buildings are in a functioning state.

Town Hall
Home of Mayor Greene and his family; this is the place one would go to for any advice, either in regards to your farm or your relationships. The Mayor is always eager to please and happy to help, he will always be anxiously awaiting the next time you walk through his door.

Town Square
A park of sorts, this is a place where one can go and let their dreams run wild. Contrary to its name, it is the circular section of town where people go to have small meetings or picnics. It consists of beautiful budding flowers, stone benches, and a large fountain.

Bar
TBA

Rival Farm
TBA

Your Farm
Simply said, this is both your home and your workplace. While it is now rundown and abandoned, it is clear that this once was a prosperous, well cared for place. You alone have the abilities to use the land for its potential. The soil is fertile and it has a pasture for animals- what more could a farmer want?


Taking place in...
There are no characters in this universe yet!
0 posts here • Page 1 of 1
0 posts here • Page 1 of 1
Arcs are bundles of posts that you can organize on your own. They're useful for telling a story that might span long periods of time or space.
There are no arcs in this roleplay.
There are no quests in this roleplay.
Here's the current leaderboard.
There are no groups in this roleplay!
Welcome home, Promethean. Here, you can manage your universe.
Arcs are bundles of posts from any location, allowing you to easily capture sub-plots which might be spread out across multiple locations.
You can create Quests with various rewards, encouraging your players to engage with specific plot lines.
Settings are the backdrop for the characters in your universe, giving meaning and context to their existence. By creating a number of well-written locations, you can organize your universe into areas and regions.
Navigation
While not required, locations can be organized onto a map. More information soon!
There are no groups in this roleplay!
There are no characters in this universe yet!
By creating Collectibles, you can reward your players with unique items that accentuate their character sheets.
Once an Item has been created, it can be spawned in the IC using /spawn Item Name (case-sensitive, as usual) — this can be followed with /take Item Name to retrieve the item into the current character's inventory.
Give your Universe life by adding a Mob, which are auto-replenishing NPCs your players can interact with. Useful for some quick hack-and-slash fun!
Mobs can be automated spawns, like rats and bats, or full-on NPCs complete with conversation menus. Use them to enhance your player experience!
Current Mobs
No mobs have been created yet.
Locations where Mobs and Items might appear.
You can schedule events for your players to create notifications and schedule times for everyone to plan around.
Add and remove other people from your Universe.
The Forge
Use your INK to craft new artifacts in A Farm Story. Once created, Items cannot be changed, but they can be bought and sold in the marketplace.
Notable Items
No items have been created yet!
The Market
Buy, sell, and even craft your own items in this universe.
Market Data

Market conditions are unknown. Use caution when trading.

Quick Buy (Items Most Recently Listed for Sale)
There are no characters in this universe yet!
None
Discussions
Topics

Replies
Views

Last post
Most recent OOC posts in A Farm Story
This is the auto-generated OOC topic for the roleplay "
A Farm Story
"
You may edit this first post as you see fit.