Name Lauren Paige Griffen
Nickname L
Age 15
Pic.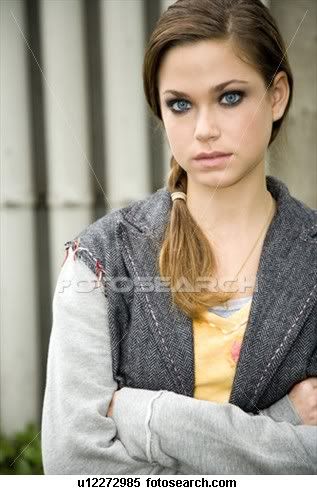 Sexual orientation/bisexual
Personality: Lauren is a free spirit who has the rush for adventure and life, itself. She likes to travel in groups, because sometimes she thinks too much when she's alone. She has a strong passion for the art business, and enjoys the sound of mostly any type of music she can find. When she isn't busy with her sketch book, or when her ear-bubs are plugged into her ears, she either goes out to random clubs, or even parties she finds in a street. Lauren mind is filled with thoughts most of the time, and usually hates when it does that. She tries to block it out with sometime fun, like partying or something. L usually has a nice smile on her face, and looks at you in the eyes, with those calming eyes of her when she speaks to you. She finds it rude, if she's not looking at the people she's talking to. She has a weak heart because of her abusive family, and tries to hide it to most people she knows. Lauren is mostly a lover than a fighter but if you rub her the wrong way, watch out, there will be a fist rocketing to your face in several heart beats. Over all, L is a sweet girl, at heart, and tries not to fall in love too quickly.
Likes/animals,dark nights,being alone,cupcakes,baking,watching tv,friends,partying ,her brother that doesn't treat her bad,sketching and using a laptop
Dislikes-everybody in her family except her brother,heights snakes,swimming because it shows her scars from cutting herself and her suicidal thoughts.
Secrets= was rapped at 14,her family abused her(her father also sexually and physicly abused her) she is suicidal.and cuts her self occasionally.
Crush=none yet
Relationship status=single
History Lauren grew up with her mother father step brother and another brother,she was hit for doing things wrong or messing things up but that was typical when she was little but as she grew it came more constant beatings for no reason from her mother and she nevere stopped.when Lauren was ten her father began to sexually abuse her and also beat her if she didn't do what he asked or told her to do and made her older stepbrother join in on the abusing.Four years later when she was 14 she came home to her dad's friend Wich was her baby sitter drunk and he forced her to do 'things' he eventually rapped her that night.Ever since then she began cutting her arms to try to forget about the past .her family never stopped abusing her Wich made her have constant sumac ideal thoughts.
Postlength= one to two paragraphs