---
---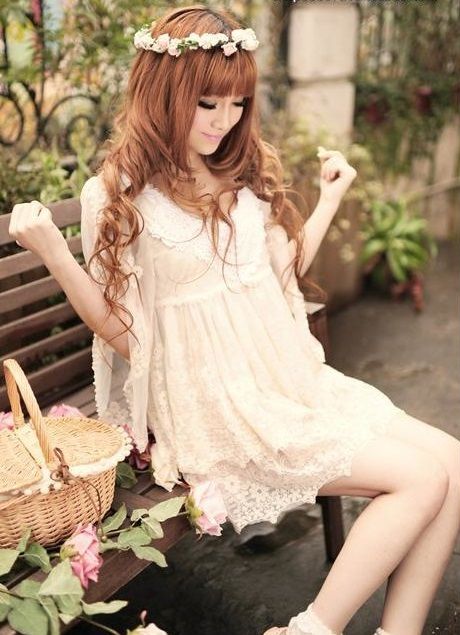 Name

Juniper Daniels

Nickname

June, Jupiter, Pear, Juni

Age

19

Occupation:

She is currently in an odd limbo, working two-part time jobs in an attempt to balance things out properly. She works at the local day-care center on the weekends and at a plant nursery during the week. She'll sometimes take home gifts that she gets, such as a small vine plant or maybe a stuffed animal for her younger siblings.



FC

Ai (She is a model for clothing)

Skills

Meditation, Aikido, Botany, Medicine, Quirky Solutions, Wit, Calm Demeanor



Nature is the life-blood of her magic. She is most at home when she is surrounded by plants, and will claim that she can hear the consciousness of each of her flora--that each has a distinct personality, and that they all have different needs and desires. In a way, she forms "contracts" with the magical, spirit entities that live inside flora--giving them her own energy to assist them in their growth so that the plants might do her bidding. In return from the energy she gives them, she must also take diligent care of the plants themselves--which is probably what contributes to her feeling so touchy when others try to mess with her "children". She taps best into her magic when there is an abundance of growth around her but with meditation and concentration, she can entice plants to sprout where-ever she is--it will merely take her longer. Growth and control is the culmination of her magic--she is much more about technique and refinement than she is about relying on her raw energies. Things go out of control in that department and she'd rather not think about what those possibilities could mean...


---
---
She was born to Isiah and Alana Daniels, the second child in a family that was soon to grow with several more children in the years to come. One could say that in this household, she was blessed with the kind affinity out of the bunch. She learned that her siblings liked pranks, and more often than not, she would join in on getting them out of trouble, much to the chagrin of their oldest sibling. She never liked the idea of punishment and often had a dreamy way of approaching the problems that would surface. Playfulness was just a healthy sign of growth, at least in her own mind, so she never saw the harm in letting them have some fun.

Due to her gentle disposition and asthma (which developed when she was a child), she learned techniques in the form of aikido, which is a form of martial art dedicated to meditation and violence only when threatened. She never possessed the physical strength to ever over-power any opponent but aikido taught her how to maneuver around that; how to use her opponent's strength against them and manipulate it in her favor. She grew into the habit of meditating whenever she was stressed and often comes out of these sessions with a zen-type attitude, very dreamy and ready to tackle the problem with new-found hope.

Her knowledge of the body and some physical prowess has aided her several times in her life and she'd use her talents in a heartbeat if it meant defending her family. She was always loyal growing up and that never shifted no matter how old she got. After her parents passed, she wasn't sure what role she was supposed to adopt into the family. She ultimately decided to try and be as supportive as she could but her naivete and childishness prevent her from being a complete authority figure in the household.








Calm, collected, and often acting as the shoulder to cry on--she possesses a dream-like quality about her that makes her approachable and charming. This gives her an accepting edge--able to tackle on most problems without losing her temper or exploding at someone else. Even the way she speaks is musical, with an air of whimsy, almost as if in a trance when she converses. She believes wonder can be found in the smallest things and life should be valued, which leads to her being fiercely protective of her siblings. She is very loyal and concerned for their well-being and will leap to their defense quickly and without reserve. She's reliable and will always be there in a heartbeat, no matter what she's doing or where she is. And she's also very good at keeping secrets--incredibly so.

She likes to indulge playfulness, though also practices effective "rules" to ensure safety. Pranks are only fun when no one is getting harmed, when malicious intent creeps about, then she has to put her foot down. She is the type who won't really jump the gun to be the complete authority in a situation--she plays the observer with a kind smile on her face and a quick mind. She's very good at piecing things together and might even come across as a strategist or--more humorously--as the diplomat between her siblings when there is fighting happening. She'd rather not see them at each other's throats but does understand that it is healthy to vent out feelings--especially after their parents passed away.

It's difficult to recall if there has ever been an instance where she's actively fought with any of her other family members, due to her over-all non-threatening demeanor and laid-back attitude. In fact, on the outside, it might not appear that she changed all that much after the deaths... up until one realizes that she tends to zone out a lot sometimes, slipping into a non-responsive, far-away place. She often blames herself for not being strong enough to shield their parents, which might lead her to go over-board if she senses there is danger directed towards her family. She knows things are hard and really tries to be a stable pillar in the midst of everything. But sometimes, it's very evident what a toll it is taking on her. She doesn't sleep very well anymore, she's developed insomnia, and rampant depression that can strike her at anytime, leaving her woozy, confused, and distant.

She typically has an answer for just about anything, though the answers she gives tend to be quirky and fantastical--and solutions are usually outside of the box and unheard of approaches for situations. She mostly does it for laughs but there have been a few times her suggestions have worked, despite the unorthodox method.


---