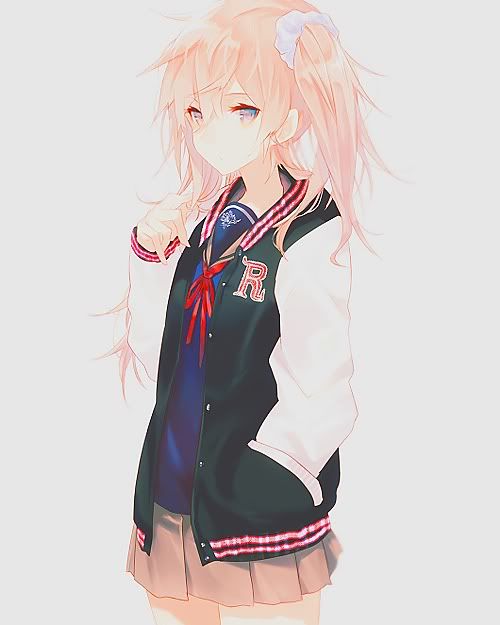 Appearance:
"Surely you have seen me in the news..."
Standing at a mere 5 foot, the girl has a petite figure with a somewhat curvy figure and 'long' pair of legs. Her body built is slim with a flat belly and a small chest. In fact, she does keep in shape, and enjoys spending time in the gym when time is given. Her skin possesses a faint pink glow and is smooth, not counting a few scratches from youth scattered across her body. Her cheery blond hair is straight, and suprsingly wild, falling around the middle of her back. The most 'interesting' figure, in her opinion, are her eyes; two orbs of stormy gray which at times enjoy to switch and play with different shades.
Being the Presiden'ts daughter, she is expected to dress well, but she's just not a fan of the swirly dresses and high heels. Instead, she keeps to tight jeans, sometimes a skirt or two, shorts, and a variety of shirts. Ofcoruse, she is never out of fashion when in formal events, allowing the stylists to do their job
once
in a while. You can't have the girl going in mud-splattered combat boots, now can you?
Name:
Miranda White
Nickname:
White,
"But just my friends, thank you."
Age:
Seventeen,
"I'm sorry, but how's that of your concern?"
Sexual Orientation:
Straight,
"Yep, still like my guys."
Personality:
"I'm sorry, but who are you?"
Miranda is the outspoken one, the girl that does not hesitate to speak when she believes she should and the kind that will never back down from what she believes just because others tell her to. She is the kind that you can trust with a secret but she won't trust you with hers, the kind that will go out of her way to impress and make the ones she cares for happy.
She likes to keep out of gossip, even though it slips past her, and at times, she can't help but lean into the news.
Ofcourse, she is well-behaved... At times. Miranda is a patient person, but don't push her buttons, she does
not
enjoy it. Flipping the coin, the girl has a fiesty side, that sometimes can't help but come out. That being one of her weaknesses, it comes to being blinding at times, the moments when she just... Bursts, and you can say, when she looses her mind. If she indeed
does
dislike you, don't expect a chase. That's all we'll say. Under pressure, she tries to keep as calm as possible, taking deep breaths, which ussually helps her calm down.
The restrictions are high, making her naive to many things, and she very well knows it and is not fond of it. The lack of freedom at some points only helps the spark of curiousity grow. The borders are very well laid out, and she is aware of it, but that doesn't mean that she won't cross them.
Expecting a picture-perfect girl? Well, you got one far from it. In simple words, respect her and she will offer you the respect she believes you deserve.
Brief History:
Life? Well, we wouldn't want to bore you, now do we? Long story short, her life has been pretty much normal; The loving family, the ocassional drama -which may I add, is not her favorite, just a pain in the butt-, the long nights of homework, not too much that differs from others. Sure, being the Presiden'ts daughter gives her a provilege many don't get, but it also gives her more responsibility and less freedom. A highlight? Maybe her first kiss might spark up your interest. Doubt it. It was at the age of fifteen in a back alley. That's it. And now, don't you go ahead thinking more than it was, a kiss. Now that wasn't too fun, right?
Right, because her life
isn't
too fun. And she hates it.
A daring time? Maybe you can consider an 'escape' one?
Must
I mention that it was at the edge of ten, plain daylight, and to the park? Sorry to ruin it for you.
Summing it all up, Miranda has had a pretty calm life. She is given
almost
everything she wants and she does her best to appreciate every little thing she gets, knowing that many will never have it. But sometimes, just
sometimes
, she wants more than normal. Now, wouldn't that be a perfect escape?
Equipment/Treasured Items:
Miranda keeps a small golden compass locket that she was given by her grandmother at her tenth birthday. It is no bigger than two inches in diameter and centimeter or so thick. It is simple and has a gentle, lovely swirling design. She usually tucks it under the loose and big clothing she likes to wear outside of formal events and adds it as an accessory for every dress she is given, never taking it off. Once, she lost it, but that's nothing to worry about; she found it back after all.
Special Gift:
None, not infected
Theme Song:
Will add in a bit!
Extras:
-Adores Puppies, especially small ones, but she has never been allowed to have one
-Dare her. Come on,
I
dare you to.
-She is not the type to tell everything about herself to mostly anyone, but doesn't mind saying a few things, after all, she doesn't have much to hide