. B A S I C S .
§ . n a m e . Alexander Daniel Xavier Montgomery
§ . m o n i k e r ( s ) . Alex, Monty, Bigby
§ . g e n d e r . Cis-Male | He/Him
§ . a g e . 26
§ . s e x u a l
x
o r i e n t a t i o n .
Bisexual
§ . o r i g i n . The Homelands
§ . r e l a t i o n s h i p
x
s t a t u s .
Single
§ . o c c u p a t i o n . Mechanic
§ . r o l e .Hero (former 'Villain')
§ . f a i r y t a l e . Little Red Riding Hood (most notably)
---
. A P P E A R A N C E .
§ . e y e s . dark brown
§ . h a i r . jet black
§ . h e i g h t . 6' 3" | 190cm
§ . w e i g h t . 180lbs | 81kg
§ . p h y s i q u e . Muscular, well built
§ . s k i n . Naturally tanned
§ . s c a r s . Too many to count
---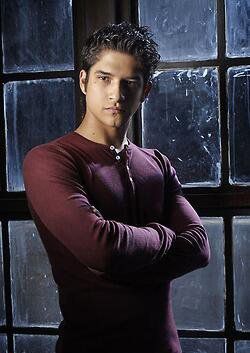 . C H A R A C T E R .
§ . d e m e a n o r . Unapproachable, intimidating, unfriendly
§ . f e a r s . Tight spaces, loud noises, death, drowning
§ . v i c e ( s) . Alcohol, Smoking
§ . d i s l i k e s . comedy shows, hunters, cats
§ . f l a w s . anger issues, short fuse, narrow minded
§ . s t r e n g t h s . loyal, calculating, determined
§ . i n t e l l i g e n c e . Highly intelligent, lived multiple lifetimes
§ . p e r s o n a l i t y .
As a result of his actions back in the Homelands, Bigby has difficulty connecting with others, often closing himself off to the people around him. This attitude complicates his work, making him appear indifferent to the plights of the fables he is meant to help. He is not afraid to use force in a confrontation, making many people fearful of him like they used to back in the Homelands. He does, however, have a compassionate side, protecting Little Red from the Woodsman, showing some concern for Lawrence when he was being deeply affected by one of his friend's apparent deaths. He also expresses a desire to help the people of Essex, but feels he is unable to do so due to his personality and past actions back in the fableworld.

Bigby is pragmatic, cunning, competent, stoic, and usually even-tempered despite his animal nature. Even after all his years in Essex, he is still a bit anti-social, and can sometimes appear inconsiderate to the plights of some of his friends like Cheshire Cat and a few others to help with their own issues. Often telling them it isn't his problem, or to find someone else to get money out of. He can be callous, sarcastic, uncompromising, blunt, distant, hateful, cynical, manipulative, impatient, and distrustful. He holds all but his closest friends under scrutiny, and is willing to intimidate, harm, torture, and even kill anyone that is a threat to Essex's security or, more importantly, his loved ones (while he'd never admit to it). He can come across as gruff, brutish, and certainly intimidating, but he is a firm believer in the law and due process.
---
. A B I L I T I E S .
§ . s t r e n g t h s . Physically fit, loyal, dependable, smart, hand to hand combat
§ . w e a k n e s s e s.short fuse, anger problems, distrustful, emotionally vulnerable
§ . Wolf Transformation . Bigby has four different forms he morphs into. His standard human form (which is due to lycanthropy and not a glamour), his half-werewolf form (where his eyes turn red/gold and claws develop), his werewolf form (where he becomes taller, all-black and buffer) and his full-wolf form, where he becomes a larger-than-elephant form of the original Big Bad Wolf. All different forms take more energy to pull off, nevermind retain for long periods of time, especially the last two which he prefers to only have to use if he really has to.
§ . Agility .Both as a human and a werewolf, Bigby is largely fast (able to keep up with a car in the latter case) and capable of jumping large distances over rooftops. His ability to keep up also shows he has high stamina. His speed may also be attributed to an ability to see things in slow-motion at times.
§ . Physical Strength .Bigby is much stronger than a normal man while in is human form, and gets stronger through each transformation. He has been shown to be strong enough to lift a man off the ground by the face, tear off the arm of a creature much larger than himself, smash the Woodsman through a sink, break open a door that was chained down, halt a car's movement after grabbing its bumper, and casually rip a fuse box out of a wall and throw it. All which usually require him to take a few days rest at the very least to build back up the energy used in such stressul cases.
§ . Regenerative Healing Factor .Despite being a powerful Fable in his own right, it is possible to injure or possibly even kill him, as it had happened several times with his encounters with The Woodsman. If that is so, Bigby's increased metabolism enables his body to be able to heal from wounds sustained, as well as being a major contributor to his immortality. He can even restore any broken bones (over time of course) or even severed limbs (if there is hope in the tissue not being too damaged), though that can cause pain for him as he could go into shock or even death. Bigby can also regenerate any wounds that come across him. (At one time he was shot in the arm, it healed quickly.)
---

. H I S T O R Y .
Centuries ago in the Homelands, Bigby was born, part of a litter of seven pups to Winter Wolf after being courted by the powerful North Wind, inheriting several of his father's abilities. He remained at her side for two seasons but - due to his father's temperament - he was drawn back towards his castle, leaving Winter heartbroken.

As the runt of the litter, Bigby was often teased by his brothers, however Winter was particularly fond of him whom she personally loved and cared for greatly. When his mother died tragically, his brothers left in search of their father and Bigby remained behind to protect her corpse from scavengers. Unfortunately, he proved unable to defend her due to his small size.

Fueled by his loss, Bigby personally swore vengeance, vowing to eat something bigger as each day passed starting from small insects to humans until he became large and strong enough to confront his father. Seven times he journeyed to Wind's castle to kill him, and seven times was he proved no match for the elemental might of his father. Accepting defeat, Bigby shoved aside his futile attempts to avenge his mother and burying his hatred and grief, he later became renowned as 'The Big Bad Wolf' of legend.

Colin, one of the Three Little Pigs, stated that Bigby 'ate a lot of people back in his day'. He antagonized the three little pigs and as the story went, he terrorized Little Red Riding Hood, attempting to devour her but was stopped by the Woodsman who cut him open and filled him up with stones. The two came to form a bitter, centuries old rivalry. But little did people truly know what happened that fateful day in the woods. The truth was, Little Red's grandmother was very abusive and violent towards the little girl, and in an attempt to save an innocent child, he had planned to go to the grandmother's home and confront the grandmother, an altercation broke out when Bigby had actually tried protecting Little Red, when The Huntsman showed up, and the two legendary rivals fought until Bigby had been slain the first time.

In the days leading up to the battle that sent both the Heroes and Villains to the real world, Bigby hunted armies of men and goblins in the Black Forest, making it his personal mission to destroy corrupted invading forces and their camps, devour their night watchmen and destroy their supply trains. One day, while tearing through their ranks, he discovered a woman with white skin as fresh as snow and hair as black as coal. Upon approaching her, Bigby destroyed her shackles and chains, freeing her from captivity. Bigby had great amusement in the woman as she was not as terrified of the wolf as the other captives were, enough the take a sword to defend herself if the wolf were to attack. Bigby then ran off to continue attacking the Adversary.

After fleeing the Homelands, Bigby spent many years wandering The Homelands which was mainly an area called the Black Forest. He was later tracked down by Snow White and Feathertop whom personally promised him safe-guarded passage into the new community. Bigby agreed and Snow White cut him with a lycanthropy-stained knife, granting him the ability to change into human form at will. When the battle came, Bigby and many of his fable friends fought valiently, but Bigby as many times before had fallen in battle once more, but upon awakening he found himself somewhere he didn't recognize. After what felt like hours just aimlessly walking around in an unknown forest, he came upon a small town known as Essex, and has resided there since. He was given a job as a mechanic as he proved to be strong and managable, and hasn't looked back since as he's felt like he's lived here all his life, maybe he has.
---
coding x mombie

|

fc x Tyler Posey

|

hex x #6789bf