. B A S I C S .
§ . n a m e . Lara Casssidy Catherine Grossman
§ . m o n i k e r ( s ) . Cas, Cat, Shire
§ . g e n d e r . NonBinary | They/Them
§ . a g e . 25
§ . s e x u a l
x
o r i e n t a t i o n .
Pansexual
§ . o r i g i n . Wonderland
§ . r e l a t i o n s h i p
x
s t a t u s .
Single
§ . o c c u p a t i o n . Bar tender
§ . r o l e . Anti-Hero | Chaotic Neutral
§ . f a i r y t a l e . Alice In Wonderland
---
. A P P E A R A N C E .
§ . e y e s . Green
§ . h a i r . Constantly dyed an array of colors
§ . h e i g h t . 5' 6" | 167cm
§ . w e i g h t . 130lbs | 58kg
§ . p h y s i q u e . Toned
§ . s k i n . Pale
§ . s c a r s . Countless on their hands and wrists from glass, and a hooked scar behind their right ear
§ . d e s c r i p t i o n .
They have never been one to blend in with a crowd, appearance alone anyway. From their pale skin and light green eyes against their brightly dyed long hair, wrapped up in a rather small form. Lara is nothing special to see other than than the hair, which is their most prized feature of this human form. They're always dressed in baggy and oversized shirts and jackets in an attempt to make themselves seem bigger than they really are. Ever since coming to this world and gaining a human form, they've been on the smaller side.

Gone is the form of a Cheshire cat with long grey fur with light blue stripes, big turquoise eyes and razor sharp pointy teeth and a deviously seductive smile. This human form, over time has seemingly begone to slowly show signs of sleep depervation, ever since coming to Essex, they've barely slept as dreams and paranoia started to take over, barely was able to get out of bed in the morning which caused them to lose some weight and gain permanant bags and dark circles under their eyes. Lara does whatever they can to help make themselves seem fine and healthy on the outside with makeup, but with the dark rings around their eyes and sleepy look, it doesn't take one much to put the pieces together.

As for oddities, they have a few, excluding the ever dyed hair. They have countless tattoos that cover both arms, side of their ribs and along the back. Most are musical notes, strange shapes that seem like nonsense, and a small spiral on their lower back.
---
. C H A R A C T E R .
§ . d e m e a n o r . Abrasive, charasmatic, friendly
§ . f e a r s . heights, dark water, large reptiles and canines
§ . v i c e ( s) . Alcohol, gambling, hookups, recreational weed
§ . d i s l i k e s . arrogance, bigotry, tomfoolery in The Leaky Tap (the bar), bugs
§ . f l a w s . High functioning OCD, careless, over confident
§ . s t r e n g t h s . Manipulative, people skills, communication
§ . i n t e l l i g e n c e . Highly intelligent, plays fool card
§ . p e r s o n a l i t y .
• Charming • Aloof • Caring • Escentric • Friendly • Sarcastic •
What used to be a witty, sometimes smug and sarcastic, cheshire cat with a slightly dark, grim and creepy personality, and a stealthy attitude, has since retained some of those previous traits and has since earned some new ones. At times, Cas is also slightly a coward: When a situation turns bad or dangerous, they have the habit of evaporating away if they so desire to use their powers, or simply just walk away from a situation that they may feel uncomfortable continuing. That personality trait, in particular, created a rift between them and Tarrant years ago while still in the old world, something that Cas has seemed to not be able to shake.

However, it also should be noted that Cas can be compassionate and helpful if they want to. They helped save Alice many times back in Wonderland and even saved Tarrant's life by shapeshifting into him once, and even went as far as to cause as much chaos as they could while in that form. But ever since coming to this world, where they are rendered in a human form, with most of their powers stripped away except for a few, they've had to learn how to adapt to this new life.

When meeting new people, especially at the bar they work at, they come across as welcoming and friendly, and happy to tend an ear with their trademark grin, which has since become far-less unsettling since being turned into a human. While many have noted Cas as being kind and friendly, they've also been noted to not hold back when something upsets them or they see someone they consider a friend in danger or need of some help. While their ways of providing said help tends to come across as less than orthodox, no one can deny that it is efficient and effective, no matter how reckless or dangerous it may seem to be. The outcome is usually worth it in the end.
---
. A B I L I T I E S .
§ . s t r e n g t h s . smooth talking, flexibility, trickery, invisibility, stealth, seduction
§ . w e a k n e s s . intangibility, physical combat, their small size, intimidation
§ . Feline Physiology . Lara can mimic/transform into felines, from domesticated cats, to wild cats, for a limited amount of time. It can make for a quick and easy get away, or as a means of self defense if Lara is feeling cornered. Due to this ability, Lara naturally has higher flexibility and reaction timing, as well as the flighty-ness of a cat. This ability allows Lara to retract claws from their fingertips and toes as a means of attack as well if they so desire.
§ . Invisibility/Intangibility . Lara can render themselves unseen by the naked eye and become invisible in visible spectrum for up to thirty minutes at a time, but it can be easily shaken and interrupted, usually with physical force by someone else. Lara can move about an environment unseen by others and act without being observed, as long as they are swift and careful, they may be invisible but not silent. If Lara so desires, they can choose to let certain people see them, while staying invisible to others, but that takes up more energy and control of their powers to enforce.

As for Intangibility, Lara is able to move through solid objects and ignore most physical effects in their way, exact means how this is done vary between slipping partially into other dimensions, being able to make their own particles move between other particles, being non-physical being of energy, vibrating their molecules into a new quantum frequency, etc. Regardless the user is able to ignore most attacks, physical dangers, and gravity.

The user can also fuse objects into people making it intangible/untouchable and unreachable. But much to Lara's distane and dislike of this ability, it is their less likey used one. It takes too much focus and control to not get theirself or someone else stuck in an object or somewhere else they may not wish to be. If they're not careful, they could potentially get stuck forever in their intangibility state.
§ . Trickster .Tricksters openly question and mock authority figures, encourages impulses and enthusiasm, seeking out new ideas and experiences in others. More often times destroying convention and complacency, and promotes chaos and unrest in those they so desire. At the same time, the Cheshire Cat brings new knowledge and wisdom to others and themselves whenever they see fit. Even when punished horribly for their effrontery, their indomitable spirit (or sheer foolishness, which is usually the case) it keeps them coming back for more. The thrill of it all is almost like a natural drug for Lara.

Tricksters have been known to be anything from gods of chaos, bedeviling heroes for a few laughs, to master manipulators who use cruel ploys and sadistic choices. They can also be heroes (or more likely anti-heroes) who make up for a lack of strength or bravery with manipulation, planning, or outright cheating. The trickster is often a master of disguise and may have magical powers.

In accordance to the nature of the Cheshire Cat, Lara tends to break the rules nature, sometimes maliciously but usually (albeit unintentionally) with ultimately positive effects. Often, the bending/breaking of rules takes the form of tricks or thievery. Tricksters can be cunning or foolish or both; they are often funny even when considered sacred or performing important cultural tasks.
---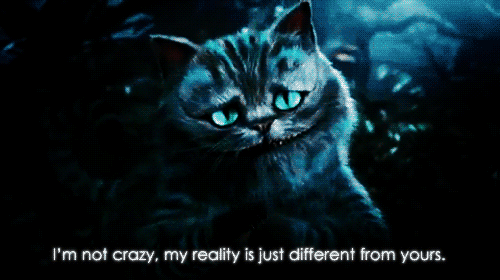 . H I S T O R Y .
Not much of the Cheshire's Cat history is known, or written down in many records, as they remained mostly an annomolly for what seemed like hundreds of years, simply existing in Underland, or what became known as Wonderland once Alice came to know it as in her time there. What many don't know, is how long the Cheshire Cat had simply floated on for years, causing trouble and chaos wherever they went among the unruly land. That was, until they met a young girl named Alice.

One day, Cheshire was simply minding their own business when what felt like a disturbance in Underland, as an unknown presence was beginning to wander across the land. After following the young girl from the shadows they began to make themselves known as it seemed like the young girl was in need of help. It was there that Cheshire met Alice in the Tulgey Wood after she's been attacked by the vicious Bandersnatch that had been sent to finish her off upon the Red Queen of Hearts' orders.

Cheshire had offered to help purify the gashes on her arm by licking them, as their saliva contained an odd healing agent, but clearly Alice seemed a bit turned off and made uncomfortable by the strange over. Which they simply only replied by telling the young girl that "We're all mad here, Alice." Alice kindly declined the offer made by the strange creature. The Cat had taught Alice the 'rules' of Wonderland. Giving her insight in how things work down there, as well as offering to lead her to Thackery (the Rabbit), Mally (the Mouse) and Tarrant (the Mad Hatter)'s tea party.

However, Tarrant was anything but happy to see them because he blames Chessur for deserting them on the day the Red Queen seized control of Underland, and killed many of their friends and family, especially slaughtering Tarrant's family in a brutal fashion as he begged them to stop and for Chessur to help and do something. Chessure knew that day they had made a mistake, and there should have been something they could have done, but they were a coward. They weren't a fighter. Besides, what could a giant cat do if they even had tried? They all would have been slaughtered. A small disagreement broke out between the old friends, and Chessure left them by dissipating into nothing. They truly were a coward.


But, when news struck Chessure about the Red Queen taking Tarrant and the others as prisoners and planned on executing them in a public display for all to see throughout the kingdom, they knew they had to do something. If they could at least try, what hard could they do. Travelling back to the castle, under the cover of their invisibility, they managed to sneak the Hatter's coveted top hat from where it was being kept while the Mad Hatter and his friends were being held in prison. Using it to their advantage, Chessure took on the visage of Tarrant in a successful attempt while the others escaped with the help of Alice and the others.

Chessure was taken out for execution, and upon the moment the executioner's axe made contact with their form, it was revealed to be the Cheshire Cat. The Red Queen demanded for their head, but was unsuccessful as they quickly dissipated once more into a cloud of smoke and was gone, but not before giving the Queen a cheeky grin. Later meeting Alice and the others where a small rebellion was being led by the Red Queen's own sister, the White Queen, who was the complete opposite of her brutish and ruthless sister.

It was there that it was revealed to everyone that Alice would need to fight the Red Queen's Champion in battle, as the White Queen needed her own campion, to save Wonderland from being destroyed once and for all. Cheshire watched as Alice prepared for battle against the Red Queen as her army encroached from afar. The two Champions took up arms and fought in 1x1 armed combat, with the end result of the legendary battle seeing both of the Champions falling that fateful day. With neither Champion coming out as the victor, the Red Queen demanded an all out war, as the rebellion led by her sister, The White Queen, must have cheated. The two sides battled for what felt like hours until bodies laid strewn around for miles in a bloody, body infested field as few survivors gathered together. The Red Queen was banished to the Outer Skirts of Wonderland, along with her Knave of Hearts until the end of time came in Wonderland.

Wonderland slowly began to rebuild itself, even with the many losses that they endured. Alice had been burried in the Kingdom of the White Queen in a special tomb that had been handcrafted for their beloved Champion. Life soon went on in Wonderland, under a new, kinder, and just Queen to rule the land. At least that was until the battle of the forces of good and evil forever changed the Enchanted Realm.

Cheshire doesn't remember much after that fateful day, or anything from their past as they woke up in a forest outside of a small town known as Essex four years ago, where they find themselves residing to this day. They have garnered a less than favorable reputation amongst some of the others, tending to ask for money, favors of the unsavory kind, and usually never repaying like they said they would. With a reputation of asking for money and favors and never following through with them as promised and making countless debts in need of being paid off, has since made Cas a very flakey and nervous individual as they manage to simply be making it by in Essex as a presumably humble bartender.
---
coding x mombie

|

fc x Hayley Willaims

|

hex x #03a36b