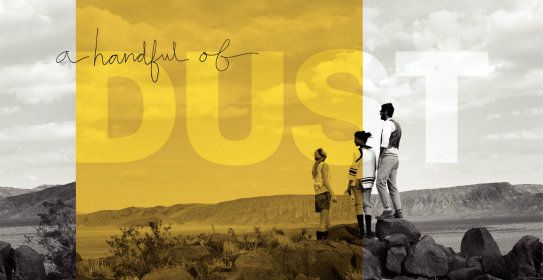 In the heart of the desert there lies a speck of Dust, one of the only civilized towns in the West. The population 109, though the numbers flex quite often. Since the collapse of humanity, due to a disgusting and terrifying disease, America as we know it today has reverted to old ways. The term "Wild West", once used only to describe history and a type of fashion, is now the most popular way to survive.
There is no government, there are no rules. For those who are left, settling in the middle of nowhere is safer than inhabiting old cities and towns. Any kind of podunk town is too big for their numbers, and disease still roams the streets that were once populated, even 50 years later.
Due to the severity of this disease that wiped out 85% of the population, life expectancy is about 60 years old. That's if you're lucky; live in a safe area, know how to handle your surroundings and have the skills to survive with and without others.
Our story follows the second generation; those born into Dust whose parents are long gone now. They are the heart of the town, making things work, dealing with both political and personal. Their lives are fairly normal, hard, but normal. Unlike the rest of the West, Dust has a small set of rules, once occupied by staunch leaders. 1. They are to provide for the younger ones 2. Stay within the boundaries that have been set since before they were born... and 3. No strangers are allowed to enter, even if they seem to be the most innocent and helpful. Those who live in Dust know these rules are for the greater good, but some have a hard time following them.
A new story begins when a band of rag-tag strangers desperately need to stay in town. Though their story is real, some of the townsfolk are suspicious of their true intentions. What's even more unsettling is that some of the women in town seem to know the strangers.
Characters--
-Townsfolk-
Evanne Remmington || The mystery, left without a word to anyone else, came back a year later with a baby, no one knows the real father, as far as they know she's been with Luke Ripley & Aaron Sullivan || Knows the newcomers || FC: Emily Kinney || TAKEN by sparrowluvr2
Pamela Clay || Daughter of the founder of the town, very traditional, thinks she's entitled to everything, a real pain || Wants nothing to do with the newcomers || FC: Phoebe Tonkins || TAKEN by MinorSeventh
Juniper Jacobs || One of the boys, basks in her own freedom, dubbed the strangest woman in town, got kicked out of the town for a time, lived in the wilderness on her own, swears she will never love again || Welcomes the newcomers with open arms || FC: Natalie Dormer || TAKEN by Supetoastgirl
Noah Ripley || Leader of the town, fair and just man, hold grudges and is constantly in a tizzle with Evanne Remmington, hates Pamela Clay || Is suspicious of the newcomers || FC: Theo James || TAKEN by PsychedOut
Luke Ripley || Brother of Noah Ripley, self proclaimed 'bad boy' in town, sleeps around, is reckless, stole Noah's fiancee || Is indifferent toward the newcomers || FC: francisco lachowski || TAKEN by LittleMissGeorgia
Aaron Sullivan || Not someone to be messed around with, known for his hot temper and willingness to fight, good friends with Noah Ripley and Juniper Jacobs. He is not an original part of town he was accepted in when he was a lost child, deep down he is very sweet and loving || Thinks the newcomers should have the same chance he had || FC: Ian Somerhalder || TAKEN by Redred33mer
Resold Enudo || Ex-fiancee of Noah Ripley, thought she would be happy loving Noah's brother, Luke Ripley, but things didn't work out, after losing two men she loved she's gone off the deep end, the only functional doctor in town || Doesn't care for the newcomers but feels it is her duty to provide for the woman || FC: Imogen Poots || TAKEN by SaxyLady15
Dana Clay || Younger sister of Pamela Clay, tries to conform to her sister's high expectations but is too open minded, she is madly in love with Noah Ripley, which makes things between them even worse || Wants the newcomers to stay || FC: Marie Avgeropoulos || TAKEN by MinorSeventh
-The Newcomers-
Owen Thompkins|| Respectful, forceful, will do anything for those he loves, needs to stay in town for his wife || Will do anything to stay in town || FC: Jack Falahee || TAKEN by supertoastgirl
Robin Braddock || Brother of Ginny Thompkins, irrational, aggressive, very much an anti hero, had an affair with Juniper Jacobs when she was kicked out of town, feelings for her are coming back || Unsure he wants to stay, unable to handle Juniper || FC: Eddie Redmayne || TAKEN by wednesdaysun
Ginny Thompkins || Wife of Owen Thompkins, pregnant, going to go into labor any day now, without proper care she will die || Needs to stay, her life depends on it || FC: Felicity Jones || TAKEN by sparrowluvr2
::RULES::
- This is a literate role play.
- Prove to me your writing skills through your character sheet, unless I've otherwise role played with you.
- Please, seek to upset the characters and build new stores and romances
- All the general RPG rules apply
- Reservations are only 48 hours, I will accept a mostly finished WIP
- PG-16, which means it can and will get graphic
Please change the character sheet if you wish, this is just a basic. Make it pretty!
Skeleton:
Code: Select all

[font="georgia"] [right][img]GIF HERE[/img]
[img]GIF HERE[/img][/right]
[b]Name:[/b] and nickname
[b]Role:[/b]
[b]Age:[/b]
[b]Occupation:[/b] if any
[b]Likes:[/b]
[b]Dislikes:[/b]
[b]Fears:[/b]
[b]Dreams[/b]
[b]Personality:[/b]
[b]Background:[/b] make sure to correspond with others
[/font]
Taking place in...
Arcs are bundles of posts that you can organize on your own. They're useful for telling a story that might span long periods of time or space.
There are no arcs in this roleplay.
There are no quests in this roleplay.
Here's the current leaderboard.
There are no groups in this roleplay!
Welcome home, Promethean. Here, you can manage your universe.
Arcs are bundles of posts from any location, allowing you to easily capture sub-plots which might be spread out across multiple locations.
You can create Quests with various rewards, encouraging your players to engage with specific plot lines.
Settings are the backdrop for the characters in your universe, giving meaning and context to their existence. By creating a number of well-written locations, you can organize your universe into areas and regions.
Navigation
While not required, locations can be organized onto a map. More information soon!
There are no groups in this roleplay!
By creating Collectibles, you can reward your players with unique items that accentuate their character sheets.
Once an Item has been created, it can be spawned in the IC using /spawn Item Name (case-sensitive, as usual) — this can be followed with /take Item Name to retrieve the item into the current character's inventory.
Give your Universe life by adding a Mob, which are auto-replenishing NPCs your players can interact with. Useful for some quick hack-and-slash fun!
Mobs can be automated spawns, like rats and bats, or full-on NPCs complete with conversation menus. Use them to enhance your player experience!
Current Mobs
No mobs have been created yet.
Locations where Mobs and Items might appear.
You can schedule events for your players to create notifications and schedule times for everyone to plan around.
Add and remove other people from your Universe.
The Forge
Use your INK to craft new artifacts in A Handful of Dust Remake. Once created, Items cannot be changed, but they can be bought and sold in the marketplace.
Notable Items
No items have been created yet!
The Market
Buy, sell, and even craft your own items in this universe.
Market Data

Market conditions are unknown. Use caution when trading.

Quick Buy (Items Most Recently Listed for Sale)
None
Discussions
Topics

Replies
Views

Last post
Most recent OOC posts in A Handful of Dust Remake
There have been no posts in the OOC topic for this roleplay!