"Hellen Keller once said, "The only thing worse than being blind is having sight, but no vision" I beg to differ. I am blind and I have visions, I don't think it could get any worse than that".
-Nora
Control | Halsey
---
---
Name:
Nora Rose Kingsberry

Nicknames:
Rose, Blind Mouse, Twig, The Omen

Age:
23

Gender:
Female

Sexuality:
Pansexual

Ability:
Precognition, the ability to forsee possible futures and events.
---
---



Nora is about 5'11'' with a willowy build that got her the nickname, Twig, when she was little. She has a slight tan to her from baking in the Iowa sun for almost all her life, and a faint smattering of freckles across her cheeks from the sun. Her hair, is a bleached blonde color, although she has never died it in her life. She goes back and forth between flowy and tight outfits, still unsure on which type she likes better, it ultimately depends on her attitude.

At her appearance, most people cant tell that she's blind, most people born blind tend to have a milky white layer of film over their eye but Nora's is so thin it takes you a while to notice it. After a while, most can tell from the way she does things different, or almost never looks anyone in eyes when addressing them.



---
---
Likes
-Warm seasons-
-Herbal Tea-
-Long Showers-
-Dark Chocolate-
-Anything to make her laugh-
-Dogs-
Dislikes
-Visions-
-Reading-
-Cats-
-Superheroes,
to an extent, she has yet to meet one to change her mind
-
-Liars-
-People underestimating her because she is blind-
-Rain-
Talents
Visions:
Nora gets constant, random visions about almost anything in the future. They are quite difficult to decipher though, as sometimes they can make absolutely no sense to her.
Future Sense:
Whenever Nora goes into a room, touches an object, or person and concentrates she can get a vision pertaining to the item or thing. This is not her best ability though and she's still working on it.
Hearing:
Nora does not have enhanced super hearing, but from being blind all her life, she has tuned her sense of sound, and can hear things better than the average person.
Weaknesses
Vision Toll:
Depending on how important and the duration of it, a vision can take a large mental toll on Nora, leaving her with awful headaches, or in worst cases losing consciousness.
Immobile:
Whenever Nora receives a vision, she locks up, freezes, and becomes completely immobile. She can't move or hear anything on the outside, and for the duration of the vision is trapped inside her head, which leaves her completely defenseless.
Sight:
Even though she has lived with this for years, Nora is still blind. Her loss of sight hinders her from certain abilities and activities, that a normal person can accomplish.
Combat:
Nora can fend for herself in hand to hand combat, but she is no match for anyone bigger or stronger than her, other than escaping the police or heroes, she has never had any real training for combat. Also her power isn't a defense, for her so she isn't able to protect herself with it.
Fears
Fire:
Ever since her family were burned to ashes in the house fire, she has become deathly afraid of fire.
Visions of Death:
Nora is terrified of receiving visions of death, she cannot stand the weight of the information in her hands, and most of the time, she cant do anything about it.
Isolation:
From the years locked and isolated in a ward, Nora has become slightly dependent on the company of others. She is terrified of being alone, by herself, for long periods of time again.
---
---


Nora has what most would call a quiet personality, with both good and bad sides. She is not shy, or afraid to speak her mind, she just finds comfort in not having to speak, all the time. Understanding herself and her place in the world is quite important to Nora, she's always felt quite different from everyone else, like the last puzzle piece that doesn't fit. When dealing with people Nora normally tends to focus her attention on just a few people, a single worthy cause, she likes the company of others but doesn't much like people who talk too much for her to chew.

Visions have left her quite a damaged person. She has minor headaches almost everyday, and feels completely violated every time she has a vision. Its not that she hasn't accepted her gift, she's well past that point, but sometimes she wishes she could've been given actual sight and not foresight. She almost finds it crude, that she is blind and gifted with precognition, the girl who cant and can see, she's like her own never ending paradox. While she doesn't let her lack of sight, bring her down, and make her believe she's below anyone else, sometimes it just frustrates her, why did they have to pick her, why did she have to be blind? To her it isn't fair, but she chooses not to complain about how messed up or unfair her life, nothing is ever fair in a villain's life.

Nora always has good intentions when it comes to making 'friends' or even conversations, but sometimes she can come off as cruel or rude. She tries to be better with her personality, but sometimes she just cant help it. After engaging in countless affairs and jobs with villains the attitude just... stuck.

---
---
History
Nora has always been blind, she cant remember a moment, when she wasn't, the world has always been black, just a jumble of noises smashed together, that are supposed to paint a picture in her head.
Growing up Nora was as normal as she could be, with a normal family and a normal life. Her parents owned a farm in Iowa and she spent the majority of her life on the farm, with her parents, and her younger brother Finn. As she grew older Nora became accustomed to her sight and learned how to do day to day tasks without the help from others, her parents used to joke, that she had been playing an elaborate prank on them her whole life and she could see.
When Nora reached her 12th birthday, the scariest thing she could ever imagine happened,
she could see
.
It happened a couple nights after her birthday, she woke up in the middle of the night, with a racking headache, and as she blinked the sleep out of her eyes she realized something, she could see, but she wasn't in her bed. She was standing in the middle of the farmyard, by herself. It was still midnight but she could make out every, detail, in every piece of grass, and branch of a tree. She couldn't comprehend it,
sight
it was so overwhelming for her that, the confusion and strangeness of it all passed right over her head. In her awe she happened to look down, her spirits crushed, as her favorite horse snow, was lying in front of her, his eyes glassy and unmoving. She stumbled backward holding in a scream, as she stared at snow, lying dead on the ground. She looked up suddenly terrified of what was happening to her when she watched her house burst into flames. Awful, high-pitched screams, racked her body as she shook and fell to the ground in a heap of tears.
She never told her parents what had happened, after they shook her tiny, screaming, sobbing form awake. She still regrets her decision today.
She accepted the darkness again with a welcoming hand, afraid of every little desire she had wanting to see again.
The following week her parents sat her down at a table, and informed her that her favorite horse, Snow had passed away. The expression that must've crossed her face, made her parents panic as they continually assured her that everything was going to be alright, but they had no idea that she wasn't terrified over the death of her horse.
No one ever believed her when she told them, she knew her family was going to die. It made bigger headlines in the paper, that way.
"Blind Farm Girl left Insane After Family Burns In House Fire"
They drug her screaming, and crying to the Iowa Psychiatric Ward for the Clinically Insane. She spent the next 8 years of her life, locked in a white room, with continual visits from the doctor, and many,
many
pills. During those years Nora, would continually get visions, over and over, until she felt like her head was going to split in half, from everything inside wanting to get out. As she suffered through those tormented years, she began to get an understanding of what exactly she could do, and began planning her escape.
Nora wrote down every vision she had from when the doctors got up, what they did, to when they drove home, to the point where she knew exactly what everyone was doing in that moment. It was a cold October night when she finally did it, slipped out at the perfect time when every guard seemed to be looking the other way. No one ever could of thought, the mentally, insane blind girl could ever escape a high security ward.
She ran after that, ran, and ran as far as she could to get away from everything that had clouded her mind.
Years later, Nora found herself in the city. To get by she eventually set up a Psychic shop in the town, doing small little readings for normal people, when the wrong people walked into her shop. She never
intended
to be branded a villain, but things happen when you dabble with the wrong people. A group of local villains got word of her abilities and began coming to her, exploiting their plans and having her give them insight on the outcome. She never believed that what she was doing was wrong, she related to most of the broken souls that came into her shop, more than the superficial 'heroes' that flounced around in their fancy outfits, rescuing kittens from trees. The heroes normally left her alone, she never did anything drastic, like rob a bank, or destroy the city. Apparently it was also against superhero code to,
'Hurt a poor blind girl"
She never much liked the underestimation they gave her. Eventually she gained a name for herself, "The Omen" is what they began calling her, and she molded to that name, embracing her inner darkness, that kept on begging to come out.
---
---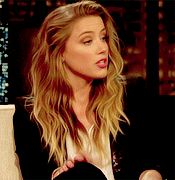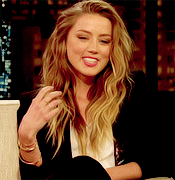 Face Claim:
{Amber Heard}
Roleplayer:
{Violeta}
Hexcode:
{
#9e1b08
}