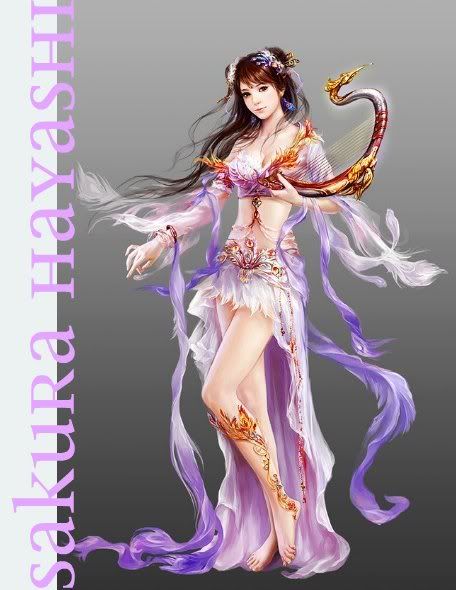 Name:
Sakura Hayashi
Role:
Princess of the Eastern Kingdom
Gender:
Female
Age:
Nineteen
Appearance:
Standing at 5" 9, Sakura has porcelain-white skin, something still untouched and unaffected by weather and age. Her hair falls a few inches below her hips in a chocolate brown color, smooth and silky, signs that she is well taken care of. She has a tall hourglass shape with a flat belly, while her face portraits a wellpainted-like image with a straight nose, full lips, and large almond-colored eyes .
Personality:
Sakura is the quiet type, the one that speaks when spoken to and does only her best and finest. Raised strictly within the eye of her parents, she is vulnerable to the world around her, keeping to her studies and practices within her home, being the perfect daughter she is expected to be. She appreciates the beauty in small things, and dreams, like any silly girl does, of the day her Prince Charming will come to her rescue. Sometimes, she has to admit, she feels trapped, knowing other people, normal people, have much more freedom than much. She knows no hate or pain or fear, nor has come close to the feeling, but she knows its a thing that if you let, will taint your soul forever. And so does love. Or she has read, because evreything she truly knows comes from the experience of others. She is friendly and gentle to everyone, but that doesn't mean she won't react in a rather spontaneous way, but ofcourse, she wouldn't truly know, because she doesn't talk to anyone pretty much other than her parents, her tutors and her personal maids, which is really not much. Due to always being treated with love and respect, Sakura isn't sure how she would react after being treated with rudeness or hate, possibly she would find enough courage to defense herself? Doubtful.
History:
Sakura has never left the safety of her home, the castle, the place she grew up in, therefore there is not much to tell about this young maiden. Well, except for her few attempts for escape. Her first, was somewhat obvious and it didn't take more than a few seconds to catch after her plans where overheard by her father while she told them to Miss Dollie, a small ragdoll, her best friend at the time, when she was no more than six. A few years later, at twelve, she had intended it to be nothing more than a quick visit to place so longed for so much to see, the ocean. She had planned it all, or she thought, months of work as she looked at the patterns of the soldiers. At midnight, she was to leave through her window, climbing down the strong vines that grew on the wall of the castle while the guards of that particular area where switching. She would easily make her way silently around the courtyard, and through a secret opening, hidden behind thick bushes on both sides of the stone walls. She had been caught just outside of the castle as she sneaked out of the green plants. So much for a walk on the place she longed to see the most, the faraway view from her room no longer satisfactory for her. After a long, yet peaceful talk from her parents of how a young lady like her doesn't do anything foolish like that, she gave up, even though the need for seeing the ocean up close still hung to her heart.
Love Interest:
She truly isn't interested in anyone, never has, her Prince Charming just a faceless figment of her imagination. She knows, that by tradition, her parents will choose the one she is to marry and rule the land with when the time is right for her to take over, so she has never thought more than she should about it, after all, there is no other way. Right?
Skills/Ability:
-Draw
-Play the violin
-Sing
She has always been treated gently and never having the need to take care of herself, therefore she doesn't know anything about self defense
Insight on Love Interest (How he/she really feels about him/her):
First Day:
Hm... How to be described? Rude. Yes, that could be the word. He could atleast show the smallest of sympathy, after all, I
am
a human. Maybe, it was I who was the fool here, but I can not allow anyone to treat me that way. And what did I get for standing up for myself the first time in my life? You got it right, a night in the Palace's dungeon.
-Sakura H.