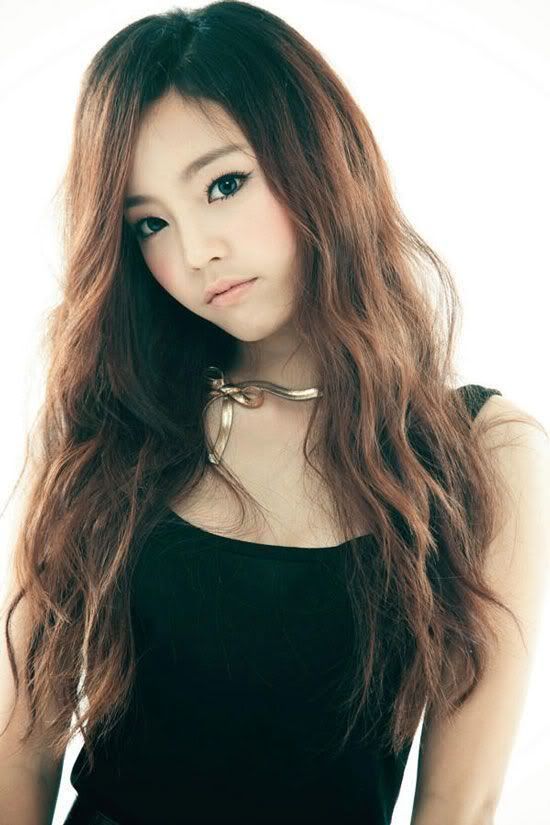 Role:
Troublemaker 1
Age:
17
Gender:
Female
Crush:
N/A
Hidden Talent:
She can compose really good music, but she doesn't really admit it. It's her secret. Her talent as of now is just spreading gossip, making hell for students, and ruining high school for a select few whom she has chosen to destroy. She also has an impeccable ability to sneak out of trouble. She is a very good artist and always does wonders with a paint brush.
Physical Description:
HyunRi is 5'5" with a very small waist and body structure. She weighs about 110lbs, but sometimes looks like she weighs less. Her hair is a thin light brown and her eyes are a round, sometimes giving off a curious baby look. Each ear is pierced three times and she also sports a belly button piercing.
Personality:
HyunRi is a jealous predator. Weakness is her target and she attacks with all the strength of a natural rudeness and uncaring attitude. She wants to be the prettiest, the smartest, and the one everyone is jealous of because of her looks. She likes it when people suffer and cry. It gives her a sense of achievement and happiness when others are angry or crying because of her. She has no sense of respect towards others and does whatever she wants, yet limiting her personality with teachers. To adults, she's a kind person, but to everyone else, she might as well be the devil. She's controlling and is an innate leader. Stubborn, she won't listen to others and will never admit defeat or desperation. If someone is different, makes a mistake, or looks like easy prey, she will pounce. She's only compliant to her partner, Troublemaker 2, and a couple of other people that don't bother her enough to make her want to destroy them.
She doesn't destroy
everyone.
She only attacks people who are worth the trouble and the satisfaction after of crying or getting upset. HyunRi will embarrass people slightly or at least make fun of them once, but nothing that would make you want to kill yourself. It depends on how you act around her. If you look vulnerable, be careful. She isn't kind to the weak.
Likes:
Making people cry
Angering others
Ruining people
Bunnies
Red lipstick
Art
Winning
Laughing at people
Composing music
Dislikes:
Getting embarrassed
People who are prettier than her
Her parents
Her family, except her Uncle Kurt
Dirt
Loud noises
Horror movies
Videogames
Rock or metal music
Feelings about failed trainees returning to school:
She doesn't know, but once she finds out, those trainees may find themselves exposed to the fullest.
Hex Code
#FF0000
History:
HyunRi was born to two unstable parents. Her mother was only seventeen when HyunRi was born and her father was nineteen at the time, a high school dropout, trying to make life easier by getting a job as a waiter. Her mother ended up getting a job when she turned twenty at a bar, supposed to be waiting tables, but eventually rising to be a stripper. HyunRi grew up around smoking and bad words and bad habits.
When she turned eight, her grandparents finally found their daughter, HyunRi's mother. They forced her mother to leave her father and a year later finished high school, moving on to a community college. When HyunRi was twelve, her mother married a middle school teacher. HyunRi moved to Golden Tower High right after the trainees left so she has no knowledge of them or them of her.
Quirks/Extra:
Partner in crime is Troublemaker 2.