King Raylond and Queen Nienta were very much loved by their people. They were very kind rulers, and offten sought to keep their people happy. But sadly, Queen Nienta was very saddened, for she longed for children. They got more then they bargined for over the course of the next 4 years. 4 beautiful girls were born, each unique in their own way. The king and Queen both loved their daughters so, but once their final daughter was born, an ancient prophecy was spoken of.
"4 royal sisters destined
To stop an ancient evil
A darkness covers the land
The powers of light and dark tested
The bonds of sisters growing
Only one can survive
Shall it be the Darkness?
Or the Lights of our time?"
Now, both the King and the Queen did not wish for their children to have to be apart of such prophecy, so they did the only thing they thought they could at the time. They sent their daughters away.
The City of Celidina:
Celidina is a medium-sized city located in the North of Selina. Being in the north the temperatures there are extremely cold, never escaping into anything above twenty-five degrees fahreinheit. Most people who live here dress in warm attire like big fur coats, pants lined with some warm material and snow boots. That is men however, most women are made to wear thick padded dresses and warm coats, maybe even a nice hat and scarf. More than eighty-five percent of the time it snows here, this snow usually coming in large amounts.
Celidina is not a extremely flashy place at all, it is a simple area and they recently just began the usage of electricity there, having had plumming for awhile. There is a market place in the certain of the city where goods are sold. This how most people make their money. Mostly clothing items are sold because the ground in the north is too cold and hard for anything like a crop to be grown(Most food like vegetables and such are brought in from places like Janhla and Galma where it is warmer and crops are grown.) Some people chop lumber and sell it here also, and there is always the local ice fisherman! Most people here are a bit harsh like the icy weather, but there are some good-hearted people. Don't judge them all by one mean person.
This is where the Eldest daughter was sent. She was given to a young couple, her adoptive father a lumberjack and her adoptive mother a tailor.
The City of Seriphina:
Seriphina is a large city with many coblestone buildings that look almost the exact same. If there wasn't signs with a picture of what the building was hanging from a stone above the door, most who previously moved there would have to walk around aimlessly looking for their destination. This city is located in the East of Selina. It is on a big plot of land(More commonly known as a island.) in the middle of the Seas of Gola. There is a thin strip of land that connects this said island to Selina where people from Seriphina can travel back and forth to the mainland. The temperatures here are fair, staying close to eighty degrees all year around. The sun shines bright during the day, causing the east to be rather hot, the cobblestone almost unbarable on bare feet, but at night cools down a great deal to where it's just.. Nice. In between hot and cold. The people that live here tend to wear thinned clothing, short sleeves, sandals for shoes etc, unless that person is generally cold, then they dress differently. Women mostly wear short dresses which come just above the knee, or longer; Anything shorter than right above the knee is frowned upon by the elders who live there.
Seriphina is definitely not like Celidina, but not flashy like Galma in any way. They have been using electricity and plumming for awhile, and most own individual stores, yet there is a small market place. Most that live in the east make their money from selling fish(since the land is surrounded by water, there are many fishermen.), brightly colored clothing, and jewelry made of many different beads and feathers. The people here are friendly, but you find most stay off to themselves when they can get away. You will not see large group conversing on the streets.
This is where the Second Eldest was sent. She was given to a older couple, her adoptive father a fisherman, her adoptive mother a "stay-at-home" mom.
The City of Janhla:
Janhla is the absolute picture of the "simple, easy" life. It isn't even what you would call a city, more like a village. It is located in the South of Selina, a tiny little splat on the map where no more than two hundred live. Here it is blazing during the day, like you are dancing on the sun, but when night falls the temperatures are cool, almost to the point of cold. It rains a lot also, the air rather thick, a bit on the smoggy side, afternoon showers are not a surprise. It rains at least four out of seven days here. This city(or village, whatever you may call it) is surrounded by a large, evergreen forest. There is only one wide dirt path leaving out of Janhla, yet many people make their own paths through these woods. Most who live here wear paper thin clothing, their shirts with short sleeves(if they have sleeves at all) and as for bottoms they usually wear shorts and go barefoot. For the women it consists of short dresses or skirts, unless they try and go against "the code."
People of Janhla love the nature and do not try and harm any other living creatures. Most loves animals, however to make money they hunt deer, elk, and the occasional bear only for their fur to sell to the people of Celidina; Always saying some strange prayer after killing a creature. (Here, all people are vegetarians, if you eat meat, you are frowned upon. There are some who sneak it though.) Other than that, to make money they sell jewelry, flowers, crops, and the "flutes" they are famous for making out of fine oak wood in the large market place in the middle of this city. Some have tried fishing as their way to make money, but large fish do not recide in the small river beds and streams that are around Janhla. They do not have electricity, but they do have plumming(as in running water to their house-like huts, bathrooms, etc.) Their light is by flame, as is their cooking. The people who live in Janhla are as kind an loyal like young pups, curious people as to the way others live, however, there are those who rebel..
This is where the Middle child was sent. She was given to a middle-aged couple, her adoptive father a hunter, her adoptive mother a gardener.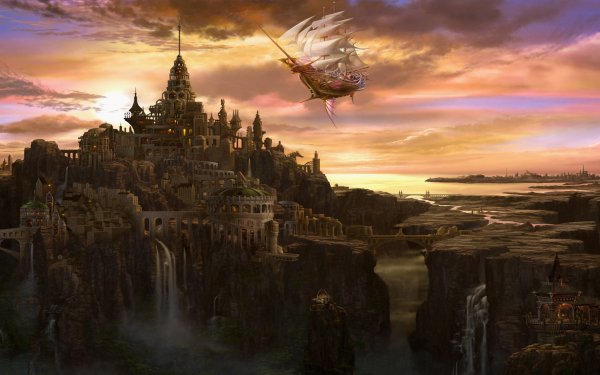 The City of Galma:
This right here, my friends, is the city of all cities, the capital city where the King and Queen live. They have large, ancient looking buildings that they recently have started adding to, a humongeous ice-capped mountain in the very distance. When you are a ways away from the front of this city said mountain makes the perfect background contrasted. Galma is located in the West of Selina. Many people live in this large, grand city just to be in the same place the royals live, if not that for the weather. Here, it is never hot nor cold. It is always just right. They have the occasional shower, just like those in the spring time, but other than that.. It is perfect. You can find all walks of life here, since people from everywhere across the country come to this city. Galma is the other cities main trade area. For attire, people wear whatever the day consists of may it be pants, long-sleeved shirts, tee shirts, thin jackets, long dresses, short dresses, whatever. Nothing is really "frowned upon" in Galma.
They sell a variety of things in the cities"gathering area" which is a trades market five days of the week. People bring numerous things and people from other cities come here just to be able to sell more. Every year they hold a annual festival in the Gathering Area also. This city has been using electricity and plumming since it was created, before any other cities. They are well adapted to it and probably couldn't live any other way. The stone streets are usually crowded day and night, only to slightly die down in the wee morning hours. In Galma there isn't a certain kind of people. Some are rude, others exceptionally kind. You never know who you'll meet in this city..
This is where the Youngest was made to stay. She did not get to stay with the King and Queen however. She was given to a fairly old couple, her adoptive father a butcher, her adoptive mother a crafter who makes all sorts of things. They are pretty old now, the mom stays at home a lot.
16 years have passed since the seperation of the young sisters, and finally the prophecy is about to come true. Ashi, an ancient wizard has unleashed The Darkenss upon Selina, as well as sent out 4 minions each with one task. Destroy the daughter of Raylond and Nienta.
~~~~~~~~~~~~~~~~~~~~~~~~~~~~~~~~~~~~~~~~~~~~~~~~~~~~~~~~~~~~~~~~~~~~~~~~~~~~~~~~~~~~~~~~~~~~~~~
The plot is basic and pretty simple. Four daughters of the royal King and Queen of Selina are the four sisters the ancient prophecy had spoke of. When the King and Queen heard about said prophecy they knew that if their precious daughters went to fight this darkness, this ancient evil when they were older they would surely lose their children. So, in one heartbreaking decision they decided to send away their daughters in different directions. One to the north, to the city of Celidina, another to the east, to the city of Seriphina, another to the south, to the city of Janhla, and the last stayed in Galma, where they all were born, in the west. Now the sisters were sent away when they were babies, right when they were born. They do not know about being royalty, they do not know they have any sisters(unless the people they were given to had children), they were never told. They think the people they are currently with are their birth parents.

There is a old wizard named Ashi. He is almost as old as the country of Selina. For years he has tried to rule the country, yet had no prevail. So, when he found out about the prophecy, and the King and Queen's daughters, he immediately made the connection. Over the years he has watched the girls grow, and now, sixteen years later, he unleashes a darkness upon Selina, a large, slow moving cloud that will sweeps its way across the country, destroying anything in its path. This is Ashi's way to kill said "kingdom" and take over it.

When the King hears about the shadows, he sends four carriages, in four different directions to pick up his four daughters and bring them back to the castle in the middle of Galma, four practically grown up daughters who know nothing of him and the queen being their parents.

With the shadows Ashi sent four of his prized possessions, four shadow minions who can take form of a human, but only for a short while, he has sent them to capture each of the princesses and bring them back to his dimension. He plans on using them for his own purposes.

Little does he know that the shadow minions go to do said deed, but begin to form feelings for these princesses. It confuses them, because they were created without feelings. However, Ashi did something, he made them to where if they found "true love," they would become actual people instead of "just shadows," they would be able to stay in the human form they possessed. He made them this way because he figured they would never love, without any emotions how could you? He was wrong.

Basically, the princesses get brought back to Galma, the place they were born(Besides the youngest, she is just told to go to the castle.), they all get reunited, are told about the prophecy, and about their powers that they knew they had, but never really paid attention to them. They thought things that happened were just a coincidence. In the meantime they meet four guys, four guys who are shadow minions in disguise trying to bring them back to their Master, Ashi. Getting to know the princesses however, trying to earn their trust to lead them away, they begin having feelings for them.
If you have any questions please ask in OOC or Pm me.
~~~~~~~~~~~~~~~~~~~~~~~~~~~~~~~~~~~~~~~~~~~~~~~~~~~~~~~~~~~~~~~~~~~~~~~~~~~
Characters~Eldest daughter
-
Reserved
Second oldest
-
Taken by Neru.
Middle
-
Taken by gezzygezzy.
Youngest
-
Reserved.
Ashi - Reserved.

[b]Shadow Minion 1
-
Reserved by Wake.
Shadow Minion 2
-
Reserved by KarKat
Shadow Minion 3
-
Open.
Shadow Minion 4
-
Open.
~~~~~~~~~~~~~~~~~~~~~~~~~~~~~~~~~~~~~~~~~~~~~~~~~~~~~~~~~~~~~~~~~~~~~~~~~~
NPC's -
The King and Queen will both be NPC's, unless someone would like to play them. If that happens I'll consider it.
~~~~~~~~~~~~~~~~~~~~~~~~~~~~~~~~~~~~~~~~~~~~~~~~~~~~~~~~~~~~~~~~~~~~~~~~~~~
Character Skelly~
Choose a color for your character.Appearance ~ (Anime Only please, or if you perfer Written.)
Name ~
Age ~ (Between 16 and 20 for the sisters, minions stuck between 19 and 23)
Gender~
Role ~(Sister (Oldest, second oldest, middle, youngest) Shadow minion)
Personality ~(At least a paragraph.)
History ~ (Mostly for the sisters, since the Shadow Minons were created. At least 2 pargraphs.)
Ability ~(Shadows can control/manipulate shadows)
Other ~(Anything else you want to add)
Theme Song~ (I'd perfer instrumental music such as Two Steps from Hell. (Thank TwiliXDragon for my latest obession with them>>)
Abilites for the sisters~
1-Control of light.
2- Ilusions.(Taken)
3-Control over thoughts.
4-Ability to create anything in her mind.
Rules~;
(Follow my rules, or get eaten by my pandabear Chako! o:)
1)Only reserve a character if you plan to stick with this Rp.
2).Check the OOC and you MUST reserve a character before sumbiting anything. If I feel your character isn't detailed enough, or something makes no sense, I will reject it.
3)Absolutly [b]

no oneliners


4)Romance is allowed, just keep it apropriate.
5)Cursing is alright, but keep it minimal.
6)If you have any complaints/comments/suggestions/ or anything just mention it in the OOC.
7)Stay commited, please post at least once a day, or every otherday. If you're going to be away for a long period of time, let me know.
8) Reservations will only be held for 24 hours.
9)Absolutly no Text chat.
10)And most importantly, have fun! :)
[/b]
Taking place in...
4 posts here • Page 1 of 1
4 posts here • Page 1 of 1
Arcs are bundles of posts that you can organize on your own. They're useful for telling a story that might span long periods of time or space.
There are no arcs in this roleplay.
There are no quests in this roleplay.
Here's the current leaderboard.
There are no groups in this roleplay!
Welcome home, Promethean. Here, you can manage your universe.
Arcs are bundles of posts from any location, allowing you to easily capture sub-plots which might be spread out across multiple locations.
You can create Quests with various rewards, encouraging your players to engage with specific plot lines.
Settings are the backdrop for the characters in your universe, giving meaning and context to their existence. By creating a number of well-written locations, you can organize your universe into areas and regions.
Navigation
While not required, locations can be organized onto a map. More information soon!
There are no groups in this roleplay!
By creating Collectibles, you can reward your players with unique items that accentuate their character sheets.
Once an Item has been created, it can be spawned in the IC using /spawn Item Name (case-sensitive, as usual) — this can be followed with /take Item Name to retrieve the item into the current character's inventory.
Give your Universe life by adding a Mob, which are auto-replenishing NPCs your players can interact with. Useful for some quick hack-and-slash fun!
Mobs can be automated spawns, like rats and bats, or full-on NPCs complete with conversation menus. Use them to enhance your player experience!
Current Mobs
No mobs have been created yet.
Locations where Mobs and Items might appear.
You can schedule events for your players to create notifications and schedule times for everyone to plan around.
Add and remove other people from your Universe.
Orphanage
By marking a character as abandoned, you can offer them to your players as pre-made character sheets.
I love nature, I love this town, I love my life, can we keep it that way?
The Forge
Use your INK to craft new artifacts in A Never Ending Darkness. Once created, Items cannot be changed, but they can be bought and sold in the marketplace.
Notable Items
No items have been created yet!
The Market
Buy, sell, and even craft your own items in this universe.
Market Data

Market conditions are unknown. Use caution when trading.

Quick Buy (Items Most Recently Listed for Sale)
Newest
I will take back what should have been mine. Rejoice mongurals! For your true king comes to sit upon the throne.
Trending
I will take back what should have been mine. Rejoice mongurals! For your true king comes to sit upon the throne.
Most Followed
I will take back what should have been mine. Rejoice mongurals! For your true king comes to sit upon the throne.
None
Discussions
Most recent OOC posts in A Never Ending Darkness