Park Yong Hee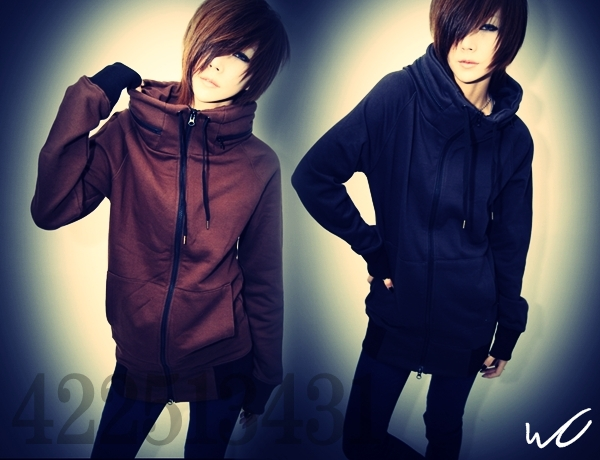 Role
FEMALE 7- She is a loud mouth tomboy.
Voice Comparison
MoA
MoA
Age
17
Gender
Female
Orientation
Heterosexual, believe it or not.
Crush
TBA
Appearance Description
Androgynous, wild and beautiful. Words that can describe Yong Hee immediately. Despite still maintaining her feminine touch, she is able to rock on both male and female clothing, despite rarely wearing the latter if it's girly style, as her thinner and less curvy body gives her a sense of self consciousness. Her eyes are naturally brown, but she likes putting on blue contacts to give a more fierce edge in her appearance, her eye having make up on to give a more smoky like but natural still, look. Having long-ish dark hair barely reaching her shoulders with a messy fringe that is usually swept to her left side, sometime covering an eye, is always straightened out, and pale peachy skin with a strong gaze despite delicate looking features as a girl, Yong Hee rocks the rock and chic unisex look with her stature of 5'6" with a weight of 125 lb., having long legs and a slim figure. While her clothing style is close in touch with JPop rather than KPop, she makes sure to rock it with dark colors and alternating hair colors (blond to brown to black, even auburn) and styles, enjoying to mix it up. Having a single tattoo on her right upper arm as shown in picture3, she has two piercings in both ears, and always has her nails painted a dark color.
Personality
Loud, out-going and open-minded, Yong Hee is immediately seen as a rowdy person, who is wild and knows exactly how to party hard. Having being seen as an idol amongst other girls who weren't as strong-minded as Yong Hee, she easily gets along with both males and females due to her loud mouth personality, despite not being able to keep secrets or helping herself from drawing attention to herself whenever she enters a room with her boisterous and optimistic character.

Independent and her own woman, she's not afraid to speak her mind or back down from authority. Don't get her wrong - she respects her sunbaes and noonas, but when one underestimates her and puts her down on it, she's not afraid to fight back, because her bark is all bite. Her respect is given when you give her respect, and since this is so out of the typical polite Korean girl's upbringing, she rather likes the attention given when she stands out amongst others. She has a good charisma, and pulls people in with her adventurous personality that's always looking for trouble. Yong Hee has a spring in her step and walks with a high head that shows that she's always confident and sure of herself, as she doesn't doubt herself, and merely does before thinking out properly.

Despite being a horrible studier as a student as she much rather prefers to so other things, she always manages to sneak past her classes with a decent grade - never in the Top 5, but always in the the top 50. Yong Hee takes on her responsibilities with a great maturity that is usually seen when she's confident, but unseen in her immature, child-like smiles when she's reckless and goes and finds herself in tight situations. Despite being a female though, her appearance and reputation as a tom-boy upholds itself when she goes and fights back - both with words and fists, because she disregards fear and just charges on forward, living on as honestly and as fully to the brim as she could.
Likes
Cute, chic and stylish clothes that suit her
Green Tea/Honey Dew/Mango Bubble Tea
Having fun
Surprising people with her capabilities
Stuffed animals
Listening to American music
Singing and Rapping sessions
Sunshine and warm days; Summer
Comedy shows
The most sappiest and most dramatic movie flicks that easily bring tears to her eyes
Dislikes
Studying
Being looked down upon/being underestimated/being judged ignorantly
Really loud thunder during heavy rainstorms
Egotistic guys
Meat - she's a vegetarian
Uptight people who are rule sticklers
Lies, liars and everything to do with that
Having to miss out on food due to the fact that she'll gain weight
History
Born in a set of twins, her brother Park Hyun Seok and she were fraternal twins with little similarity to each other other than facial features, as siblings would have. As they both grew up in South Korea, either seemed to have taken on opposing personalities, Yong Hee a healthy, loud-mouth and adventurous child, and Hyun Seok a frail, quiet and more sickly one. Both had a close relationship due to the constant bullying they had as children for being half Korean and half Japanese, which left the two often alone and having to play with each other as the two siblings were the only friends they had.

Their parents eventually divorced when they were around 9, and each took a twin, and this separating what close bonds they had. Their father got her in the divorce, and she saw off as her brother and their mother went back to his mother's hometown to go live with her relatives while Yong Hee stayed with their father. She was really torn up about the matter, and became more quiet for about 2 years from that.

Eventually, she grew close with her sunbae neighbor, who became her best friend and the main reason for her boyish like nature. Yong Hee certainly had a crush on the guy, but he saw her more as the younger sibling type, and while this broke her heart, she kept on persevering. She eventually continued on to be the tomboy she is today, with this personality that she had - she found it only natural to dress like her personality and nature, and enjoys it much.

Their mother eventually died from cancer when he turned 14, and he was to be sent back to live with their father. He and his twin had a disconnection since then on, and it's awkward for either to look at each other since they both have similar features as twins, but being separated for 5 years takes a toll on relationships, since they hadn't kept in touch.

Despite all tom-boy like tendencies, she had a musical childhood, and was in choir from a young age. She kept a singing voice - the only shred of dignity that she kept as a woman despite being a masculine character. Her interest as a tom-boy got into American rap music, and while she enjoyed singing as a vocalist, she also enjoys rapping, and is currently developing it as she goes to Shining Academy in hopes of a Idol career with her naturally deep voice. Yong Hee sees this as a compromise for her conflicting masculine and feminine traits, going to this school, and couldn't dream of doing anything else - other than pairing up with a composer and to start the beginning of her starry dreams.

She did modeling as a side career for a while, but after what she had heard from about her brother, she immediately quit on the spot, seeing as she wasn't contracted yet, and though she's quiet about the matter since her brother gets angry about it so easily, she worries for him a lot.

Hex Code
#380474
Theme Song
Never Underestimate a Girl - Vanessa Hudgens
Facebook
Yong Hee Park