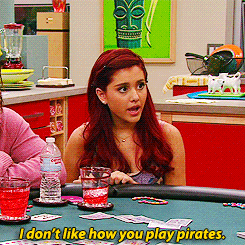 Name:
Holly Jade Maddon
Age:
16
Birthday:
June 10th
Sexuality:
Heterosexual
Job:
Student
Hometown:
South Bronx, NY
---
Personality:
Her most notable characteristic is definitely how energetic she is. As long as she is awake, she makes her presence known through her constant chatter and curious questions. She struggles to keep her attention centered on one thing and is known to jump from task to task, and even stop mid-sentence in a conversation if something new catches her attention. She would never go out of her way to insult or be mean to someone, but lacks a speech filter and tends to say things that she overheard and weren't intended to be repeated, or ask invasive, personal questions. She's naive, absentminded, inattentive and forgetful, but she rarely does any of this intentionally, and it's mostly related to her ADHD. It certainly gets annoying, especially when there are nine other people stuck in the same room as her, but she usually fails to see any signs of people getting tired of her. She's a cheerful and optimistic person, who, for the most part, is always happy. If nothing else, she serves as a reminder to people that not everyone has malice intentions. She's one of the few people you'll meet who does most things with honest, innocent intentions.
One of her major faults is how dependent she is on other people. If it weren't for her sister, she most likely would already be dead by now. She is not intelligent book wise and the same goes for her street smarts. Not only does she struggle to read people, but like a child, she tends to trust everyone and expect them to be just as genuine as she is. Her naivety and overall delayed development is probably linked to her learning disabilities and drug damage done while she was in the womb, but the years of abuse probably play a role in it too. They caused her to become easily nervous, jumpy and emotionally unstable. Though she definitely struggles with learning and mental disabilities, and is probably in the mental age range of a ten to twelve year old, it's likely that they're all issues that could be worked through if she was ever able to receive proper treatment and therapy. The possibility of that happening at this point is slim, though.
Likes:
Candy, dogs, sunny days, nail polish, hot showers, socializing, gifts, attention, watching movies, her sister, her hair when its dyed red, macaroni and cheese, snow days, Beanie Babies, new clothes
Dislikes:
Arguments, school, being called stupid, rain, milk, coffee, isolation, silence, darkness, bugs, spicy food
Fears:
She has many "normal" fears, with spiders, clowns and rodents topping the list, but her biggest fear is probably school. She did so poorly throughout her academic career and it not only resulted in humiliation in the classroom, but physical abuse at home, so it's tied to painful memories for her.
Dreams:
Holly's dreams vary drastically depending on the moment, but they all share the similarity of being virtually unattainable. Between wanting a dog, a pool, meeting Zac Efron... they're just not going to happen. What would be most beneficial for her at this point would to get her high school diploma or GED and manage to get some sort of normal job and living situation.
---
History:
Holly was born to a teen runaway mother and a teen father who was never present in Holly's life and probably never would been, even if had he known he was her father. Her mother, Nancy, came from a family that was the epitome of the phrase "trailer park trash". Her father was an abusive addict who turned their tiny trailer into a meth lab, and her mother was too much of an alcoholic to care for her six children. Nancy dropped out of high school when she was fourteen with the intentions of helping to take care of her three younger siblings, but it was inevitable that she take a turn down the wrong path. Drugs and alcohol had always been such a common thing for her, and when she started a relationship with a twenty-two-year-old boy who lived a few trailers down from them, it became a part of her life. She started with alcohol and marijuana, and soon tested out heroin and crack. Using the drugs seems detrimental in itself, but things became even worse when Nancy found out that her older sister was also seeing the boy she was sleeping with. Even worse again, when she found out that she was pregnant with his child. It was an impulsive move, but she fled. She didn't tell her boyfriend or her parents that she was pregnant because she knew that they were going to tell her to get an abortion, or worse. Her family hadn't care for her when it was just her that they had to support, and another mouth to feed just wasn't going to be an option.
She was living in upstate New York at the time and boarded a train to New York City. She didn't know anyone there but was sure that a big city like that would have more resources to help her than any of the other poor, small towns in her area. The fifteen year old was desperate for help upon her arrival to New York, but was told that all of the shelters for teens and women had months-long waiting lists. Even pregnant, she was still addicted to drugs, with her drug of choice being cocaine, and rather than save the hundred dollars she fled with for food or a hotel, she sought out a dealer. It happened to be someone who worked for Rafael Barnes, one of the biggest drug lords in the Bronx. The dealer thought Nancy might be helpful in their distribution game, and brought her back to their house. A few months later, she had Holly. It's a miracle that Holly even survived the pregnancy with her mother's poor habits, but six months after conception, she was delivered in an emergency C-section. Had the hospital staff really took interest in the family, they may have been able to prevent the poor life that Holly would soon face. She could have been put into foster care or even adopted, but instead, once she had reached a stable point, she was brought home. Home for her first five years was Rafael's drug-ridden home. After a drug raid busted up their group and he, as well as many of the other men in the house were incarcerated, Nancy was forced back out on the streets. This time, however, she had more connections. She had secretly been sleeping with Clinton Wright, the leader of another drug group, and was welcomed into his home.
Her life here actually made her first home seem desirable. Not only was Clinton equally involved in drugs, but he and the men he lived with were abusive and possessive. He quickly claimed Nancy as his girlfriend - something that she probably didn't mind - but he made it clear that he hated the fact that she had a child with another man, despite him having a broad of his own with many women. Clinton never touched Holly, but his brother, George, who resided in the house did. It began as physical abuse. If Holly ever dared to cry in his presence, he'd take off his belt and beat her with it until she learned better. Whenever her mother cared enough to acknowledge how poorly Holly did in school, it would result in abuse as well. School had never been her strong point. She suffers from severe ADHD, learning disabilities, and dyslexia. At her peak, she could read at a third grade level, but after two years away from school, even that has probably become a stretch. She had no academic support at home, and it didn't help that she was attending a school in one of the most underfunded districts in the nation. The school didn't have the resources to help a child like her, so she couldn't be put into a special needs program, and instead, she was frequently held back, only managing to reach the fifth grade when she was fourteen.
The abuse she was receiving at home only made her more emotionally unstable and unable to focus in school. If the physical abuse wasn't bad enough though, George soon stepped it up a notch. The sexual abuse started when she was eight and continued until the day he was arrested, when she was fourteen. He was one of the many people taken during the police raid on their apartment, with two of the others including her mother and Clinton. They were charged with a multitude of drug related charges, as well as some armed robbery and attempted murder ones. Apparently, they had been tied up in more than just making drugs in the kitchen. Holly spent three weeks in a foster home before custody was given to Makayla. She's definitely doing a lot better with just Makayla, even if Makayla can't say the same about herself.