Name: Ali Jones
Age: 17
Gender: Male
Personality: Ali is a very caring person and will go above and beyond to protect the people he cares about, whether they are his friends or not. He can appear to be a silent individual. often saying a few things to people unless he has been involved in a conversation. Ali would rather analyse a situation than dive straight into it which is understandable since Ali can become very paranoid under stressful situations.
Human Appearance: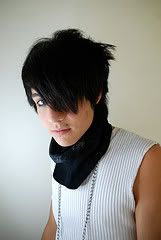 Ali usually wears colorful t-shirts and skinny jeans with dark converses. His hair is a dark brown which almost looks black and his eyes are a deep brown. He wears two snakebites, one black and one white. he also has a black ear stretcher in the shape of a dragon which loops around his ear.
Wolf Appearance:
Bio: Ali does very well as school even though he hasn't got a lot of friends he doesn't seem to mind, it was just by luck that he was invited to the woods that night, he had a few beers and was relaxed but something just didn't feel right. that night changed him forever in more ways than one. He became more aware of situations than he was before which he found to be blessing within a curse. The wolf inside Ali has made him even more paranoid as well as very testy with people.