Name:
Most refer to her as Hare
Age:
Unknown
Gender:
Female
Role:
The March Hare
Hume form:
Animal form:
Personality:
The March Hare was always more the a bit out there, many would even call her crazy. Although given her company, it's not exactly surprising. After the queen's death, The March Hare, tried to keep everything the same. She quite enjoyed the life she had, so why let some spoiled Queen's death ruin it? However once Hatter began to change, she found herself changing as well. She couldn't keep up with him any other way. She's become more insane, but she still knows right from wrong. She is often the brunt of Hatter's abuse, and sometimes has to fight back the tears. She may be crazy but she feels pain just like any other. When Hatter really loses it, Hare is afraid. She could leave, but she's more afraid of what that would do to Hatter and anyone that comes across him, then staying. She still enjoys the times where he's most like the fun crazy they used to be and long for them to get back to that way some day. However either way, she isn't going anywhere. She'll just follow the Hatter's lead and hope it doesn't get her killed like always.
History:
Ever since anyone could remember The March Hare was nuts, but at first couldn't even hold a candle to Hatter. However the more time together, the more insane they both became. They used to live a fun and carefree life, just enjoying the Mad Tea party with the two of them and the Dormouse. However things changed when Underland changed. Everyone went more insane, the March Hare included. With really no goal other then having a good time, The March Hare follows The Mad Hatter around, when they aren't having tea that is.
Weaponry:
The March Hare carries a Pair of Dual Lances on her back.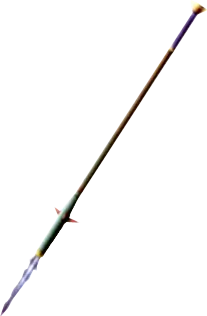 Magic:
Jump - The Ability to jump upwards of 100 feet into the air. Once up there, she can control the way she falls and lands perfectly on her legs, with no damage at all to herself.
Enhanced Hearing - She can hear for 2 miles away from where she is, and even listen, remember and comprehend up to 3 conversations at once. Even the tiniest whisper, is loud as she wants it to be if she's concentrating. She can control the level that she Hears things at and for how far, so very often she'll just have standard hearing. After all, the better the hearing, the more susceptible you are to sound.
Healing Touch - She can heal wounds bu laying the palm of her hand over it. However, while minor wounds are a simple task, the more Major ones are very draining to heal, not to mention it does take time as well. she can heal wounds that should be fatal, but only if almost right away, and it would drain her to the point she passes out, and that's if at full strength. If not, then depending on what she's done already, it may just be best for her to save her energy for someone she could actually help, not that there's all that many she'd want to.