Flandre Mistus
Theme: Dial Connected
(Lunar Clock ~ Luna Dial by ZUN)

Role: The Illusionist
Gender: Female
Nickname(s): Misty Flanders, Flan
Age: 16
Race: Human

Appearance: She is quite short compared to those around her, often having to look up much of the time. She has a very small figure, and she is very pale, though, not entirely pale. It's possible to tell in between when she is at normal state or when she is actually turning pale. Also, many would find her violet hair and deep violet eyes (or rather, eye) to be a bit strange.

Her hair is actually a bit longer than it looks, going down to a bit lower than shoulder length, though, you can't tell because she always has it tied up (and coincidentally looks like a fruit). Whether this is for fashion or for 'work' is unknown, however, she prefers having it tied up, even when she is at a formal event.

Despite having a slender figure, she isn't exactly a very fast runner, but she does have very strong hands, and strong arms as well, even though they don't seem that was. And also, a feature that only a strong reasoner would notice is that though she goes through a lot of dangerous work, and has taken otherwise fatal injuries before, there are no visible scars of any kind on her body (except for maybe the missing eye). Also, one would find her skin is only about two thirds as warm as a normal human being.

Preferred Clothing: She prefers wearing a short navy green vest and matching short skirt, and long black boots. This is her primary outfit. She'll rarely wear any type of protection, and only at formal events does she wear some type of formal clothing.

One of her many distinguishing features is that she's wearing an eye patch. It's kind of easy to remember anybody that is wearing an eye patch. On the eye patch is a skull, which is supposed to be intimidating, and she might use it as a factor while using illusionry magic. A habit that many people have when looking at people with eye patches is trying to decide which side to look at, and with Flandre, both sides are equally as interesting.

Height: 170cm (I'm Canadian)
Weight: 45kg (Yet again, I'm Canadian)
Hair Color: Violet
Eye Color: Violet


Personality: Flandre is a very dedicated person. She often looks down upon herself, but doesn't speak of it, and just shows it as simply being humble. It's true she is a humble person, but she looks down on people who can't show enough dedication to something, and to criminals, of course. She looks upon higher class people in high light, and due to this fact, is often blind to what is right and wrong, and always thinks that everything in the world is black and white.

She'd always wanted to be a Chevalier, but though she hadn't been accepted, she still thinks of herself to carry that kind of duty. She is very loyal to those she vows to protect, and is cold to any potential threat. She happens to put herself into a lot of danger, but in truth, is usually never in any true danger. She is willing to endanger herself, but yet she is afraid of dying, considering it'd be easy for it to happen to her.

Oddities: She's got a mysterious side to her, so, you can't really tell what parts of her are oddities and what parts of hers have reason.

Likes: Magic, Praise, Justice, Creativity, Birds, Artwork, Dedication,
Dislikes: Criminals of any kind, Werewolves, Pain, Cowardice, Black Horizon
Hobbies: Hunting down criminals, Among other various tasks

Phobia(s):
Thanatophobia – Death (But not pain)
Magasophobia – Magicians (Ironically)
Lupusphobia – Wolves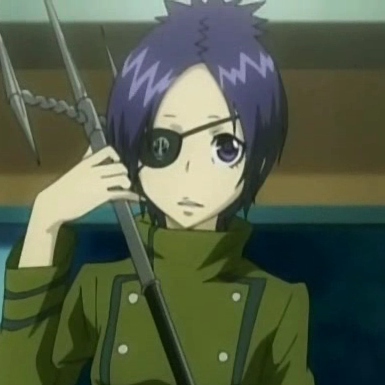 Skills: Flandre has the power to use Illusionry Magic. That is a skill she is first class in, a skill so well practiced, it can make people believe in them, like let's say she makes it look like it's snowing, people may actually feel cold. She also has rarely used skills that aren't as strong that are ones her brothers use, like Summoning, Substitution, and Grimore. She however, cannot use the skills of Possession or Mind Control yet.

Weapon: Flandre's weapon is an evil looking Trident, with a Black Wooden Shaft and Silver at the Fork. The silver tip can be detached and used as a weapon itself, or, can be used if the shaft is to break. The weapon is magically engineered and is used to constantly transfer Mana into Od. The weapon breaks down depending on the state of the user. The shaft will break when Flandre is at a critical state. The silver part would dissolve if she were to die. One of the big uses of the weapon, other than it's used to help her cast powerful magic or for fighting, is that it's power is the only thing that keeps her alive. The weapon originally belonged to her older brother Adrian.

Fighting Style: Flandre fights using her illusionry skills and her Trident. She'll attack relentlessly, often spinning her weapon to help her keep momentum in her strike, and often uses the air to help her fight as much as possible, so her weapon doesn't come in contact with the ground, and to have advantage over an enemy. She often uses Illusions that involve pillars of fire, multiplying herself, concealing herself, or freezing illusions. Items can be used to help illusions feel more realistic, which is why Flandre will take advantage of any objects lying around to make illusions seems real.

Abilities: Top-Class Illusionry Magic. She'll also, but uncommonly, uses Substitution Magic or Summoning Magic(for summoning creatures, spirits, or demons). She thinks she might be able to, but has yet to prove to be able to use Possession magic like her brother can.

Personal History: Flandre Mistus grew up in a large town, but live more on the outskirts of it. Her family is known to be top-class magicians. Her Father is a well known Wizard and Inventor, and is a Professor in teaching magic. His mother was a user of dark magic, but mostly used her skills to make peace and deal with spirits like Ghosts, Fairies, Demons, Djin, etc. Her brother Daemon, who's now at the age of 17, is actually a jewel theft known as Kamen Diamonte, who doesn't use actual magic. He uses Practical Magic, the kind the street performers use, and dresses like a Magician in white clothing, and often entertains an audience with his flawless disguises, riddles, and magic tricks.

Her eldest brother, Adrian, who's now at the age of 21, is a Black Mage, who often makes dealings with many spirits, like Azure, Demons, Ghosts, and other underworld spirits. He often says he despises humans, describing the human world as the ugliest. He was born with a magical gift, or more like a curse, where is right eye was red, with a symbol on it, that would change depending on what kind of magic he used. He has unnaturally high Od, where as humans are known to have very little Od, so they rely on magical items to let them use Mana or the power of other Spirits to preform magic. Flandre often looked up to him.

Flandre had a nice life. She learned magic, along with other educations, at home with her family, mostly that of her strongest skill, Illusionry Magic. However, at the age of 13, she had an accident. After practicing too much Illusionry Magic, she got something that is sometimes called "Illusionry Poison". Illusionry Magic works by directly effecting the brains of those you cast it on, to bend reality and create controlled hallucinations, however, when one's reality is bent too much, one starts to get a very bad headache. Flandre got effected by it, and in the midst of her headache, she somehow managed to wander outside, without her realizing it. At that time, it was just late at night, however, an unfortunate accident happened, where a person happened to have turned into a werewolf and went on a rampage trying to escape into the forest, however, the two, Flandre and the werewolf, crossed paths, causing Flandre to be attacked and take serious damage. She was found barely alive. Her parents tried any type of healing they possibly could, but they couldn't heal her.

It's unknown exactly how they did it. Some say a spirit took pity upon the family. Some say they found it in an old book. Some, like Flandre herself, believe that it was a miracle from the goddess herself. However it was done, Flandre's life was saved, with a limitation. Using a weapon that her older brother, Adrian, used, and it being magically modified in some way, it is now tied to Flandre's life force, using magic to, in a way, replace her damaged parts of her body. In a sense, she's replacing some of her organs with magic, in most likelihood, amazingly, the same type of illusionry magic Flandre uses which has the ability to trick the human mind into feeling it as if it was real. It is hard to understand how it works and a miracle it's even working at all, but if she were to release her grasp on her weapon, she'd immediately start to die, in many ways. Also, because of this, she heals close to twice as fast as a normal human would, but she can't heal naturally, it's only the magic doing that. She's also immune to most diseases, except for a couple common ones. Though, she obviously doesn't reveal the secret behind this verbally, and never intentionally hints it either, doing things she wouldn't be able to without hesitation.


When she finished learning the magical arts from her parents, bringing them to perfection, she decided to go her separate way from her parents, just as her two brothers did. Flandre has heard very little of Adrian, and so has Daemon, though, however, both can feel his presence occasionally, but he's good at hiding it. Adrian is a man that could be anywhere, being the most skilled out of the three of them, including in illusionry magic.

Daemon became the jewel theft Kamen Diamonte, stealing expensive jewelry from many different places, succeeding at it, but occasionally, he'd return the jewels. His intentions are mostly unknown.

As for Flandre, Flandre had wanted to apply to become a Chevalier, but sadly, was refused for her 'gifts and disabilities' (being a woman, being very young (15 at the time), being a magic user A.K.A. a witch. However, she had met a man who was vaguely familiar to her, that said he wanted to train her in the combat arts. He called himself Grigori Scarlet, who decided he would do it if she had sworn she would dedicate her life into protecting what she believes is right, no matter what the personal cost would be. That, and to bring down the shadow organization known as Black Horizon. Flandre had only later figured out the man was her eldest brother in disguise.

After that, Flandre dedicated her life into hunting down many well known criminals, hunting down every criminal that's made it onto the 'underground hit list'. Kamen Diamonte, however, was number four, and he was the only exception. It was only by coincidence that an unknown amount of them, likely very few, were involved with Black Horizon. Normally a shadow organization would eliminate somebody who learned of their very existence, nevermind had possibly gotten information from somebody involved with them. However, Black Horizon had seen a lot of potential in her as a perfect assassin, and have indirectly offered her to join. She, 'indirectly' refused, and so they are hunting her down.

Sometime recently, Flandre's brother Daemon had come to Flandre about Black Horizon, saying he's had to deal with them. They wanted him to find them and steal them a jewel that supposedly was the Sorcerer's Stone, something that only existed in legend, and so, they are trying to hunt him down as well. Daemon has sworn that'd he'd defeat Black Horizon, and find the Sorcerer's Stone to destroy it before Black Horizon had found it. So now, both of them have the same goal.

As of recently, Flandre had gotten a hint that somehow she'd find some clue about them at the Duke's son's wedding celebration, for she had found a message from one member to another mentioning it.