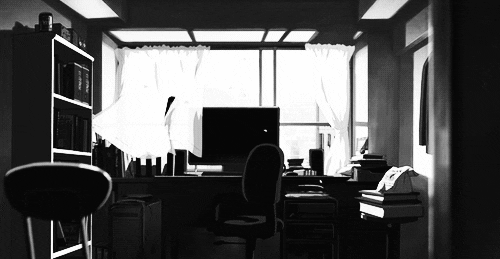 A famous hacker that had caused the nation issues for years finally was found and arrested. After quite a few years of dealing with the hacker attacking anything he could and gaining the fame he had, he was finally taken down. This hacker had taken credit for stealing money from some of the largest businesses in the world. He had shut down governmental systems and leaked information to the public. He had done many things that others were fascinated with, and that seemed like he was doing more good than harm. He was still seen as a criminal by the justice system and seen as one of the biggest targets in cyber crime. Once he made a mistake, every crime unit was out to get him. He didn't last long and even went willingly when they found him.
Though, to the surprise of the agents that found him, he was a young adult and still had exceptional computer skills. Someone in the agency decided to give this hacker a chance to redeem himself and had him become part of the agency as long as he was always monitored closely. Everything this hacker did was watched. Of course, this hacker couldn't be trusted to stay alone, so an agent was selected to keep this criminal in their home and make sure the hacker stayed within the rules that were set by the agency. Now, with the two live together, the hacker stays at the agent's home and helps the agent in his activities through the use of computers.
The two are seen as partners and don't really work with many other agents. The two get a case, and the agent does the ground work while the hacker works on anything digital. Occasionally that means that the hacker is gathering information, other times that means that the hacker is just keeping an eye on the agent through camera systems. They learn to work together and a love starts to blossom from this partnership.
Space travel is something that has been done by a select few, but it isn't something this planet is interested in, so it isn't done a whole lot. It's mainly something done for study and nobody plans to really use that power to colonize other planets. Those that do, are seen as crazy, since it's not a common interest or a solution to any of their problems. Outside of that, most people rely on mass transit to get from place to place. Planes, Boats and Trains are used to get to far off places, while buses are used for smaller distances. People may rent cars to get from place to place or hire a taxi service. Cars that are owned are generally owned by the rich and cars and buses drive themselves now.
In the world of health, there are robotic prosthetics for those that lose a limb. They move just like a regular limb, but do take some time for the technology to understand what the wearer wants, but after a while of having the new prosthetic the limb will move just as naturally as what it replaced and occasionally even better than that. Stem cells and cloning are used to replace damaged organs, on occasion something electronic used instead, but they are seen as just a cheaper option that will need to be replaced frequently and run with risks. There is also some human augmentation, those that want stronger limbs bur really have no medical need will get robotic prosthetics or those that want better eyesight that is better than that of a normal human might switch out for robotic eyes. This is also something done mainly by those that have a lot of money to spend and not done by the average person. These objects are also made to keep the wearer looking human, so it does cost a lot more than some of the other options that don't require synthetic skin or natural looks.
In a more domestic place, homes are all smart houses. Sensors are everywhere that sense when someone is home, lights will turn on in rooms where people are and will turn off when people leave. Refrigerators are able to tell you what you have in stock and suggest recipes for what's available and also give a grocery list for those that plan meals ahead of time. Rooms are kept at temperatures to what the person prefers. The wealthy have humanoid robots that will clean their homes, take care of their laundry and have personal assistants. Some of these robots are even trusted to watch and care for children. In a more normal family a person may have a automated vacuum cleaner that takes care of cleaning the carpets daily and a robot that mops up floors. There might be an AI assistant built into the house that is just a voice over a speaker system.
As for how everything is powered, solar power is the preferred method. Most things run on electricity and most things use solar power, usually gathered from more desert like areas and then transported around the world, but more sunny areas may still have solar panels on their roof tops. People have also found a way to harvest energy from magically imbued objects, so those may be used to power a system as well and would run kind of like a battery that can be recharged.
I want this rp to be an MxM romance and I want to play the hacker character
I can write up from 2 to 5 paragraphs, of course I can manage to do more or less depending on what I'm given, but my preferred minimum is 2 paragraphs.
I'm still a college student and will be still taking classes through the summer, so I may get busy from time to time. I should still be available to post at least once a week, but I will probably post way more than just once a week.
So I know you've read this please tell me your favorite animal in the OOC thread
I'm 22 and female for those that care about the age of the person that rp with.
I don't mind OOC talk, and would actually love to encourage it! Even if we're just talking about our characters in the rp and planning for what to do next, either way I'd like to keep some kind of communication up.
Please ask me any questions you have!
Please be open to have romance in our rp!
Be able to match my posting length. I set a minimum of 2 paragraphs per present character, but understand the occasional small post.
So I know you've read this section, tell me your favorite color in the OOC thread
Understand that OOC talk is going to be really important for this RP so please be cool with OOC chat and keeping up with it
If you have any other questions on what I'm asking for, please ask.
Font Headers found at
Fontmeme
Taking place in...
14 posts here • Page 1 of 1
14 posts here • Page 1 of 1
Arcs are bundles of posts that you can organize on your own. They're useful for telling a story that might span long periods of time or space.
There are no arcs in this roleplay.
There are no quests in this roleplay.
Here's the current leaderboard.
There are no groups in this roleplay!
Welcome home, Promethean. Here, you can manage your universe.
Arcs are bundles of posts from any location, allowing you to easily capture sub-plots which might be spread out across multiple locations.
You can create Quests with various rewards, encouraging your players to engage with specific plot lines.
Settings are the backdrop for the characters in your universe, giving meaning and context to their existence. By creating a number of well-written locations, you can organize your universe into areas and regions.
Navigation
While not required, locations can be organized onto a map. More information soon!
There are no groups in this roleplay!
By creating Collectibles, you can reward your players with unique items that accentuate their character sheets.
Once an Item has been created, it can be spawned in the IC using /spawn Item Name (case-sensitive, as usual) — this can be followed with /take Item Name to retrieve the item into the current character's inventory.
Give your Universe life by adding a Mob, which are auto-replenishing NPCs your players can interact with. Useful for some quick hack-and-slash fun!
Mobs can be automated spawns, like rats and bats, or full-on NPCs complete with conversation menus. Use them to enhance your player experience!
Current Mobs
No mobs have been created yet.
Locations where Mobs and Items might appear.
You can schedule events for your players to create notifications and schedule times for everyone to plan around.
Add and remove other people from your Universe.
The Forge
Use your INK to craft new artifacts in A Quiet Guardian. Once created, Items cannot be changed, but they can be bought and sold in the marketplace.
Notable Items
No items have been created yet!
The Market
Buy, sell, and even craft your own items in this universe.
Market Data

Market conditions are unknown. Use caution when trading.

Quick Buy (Items Most Recently Listed for Sale)
Newest
Trending
Most Followed
None
Discussions
Most recent OOC posts in A Quiet Guardian