---
---
---
---
---
---
█
█
█
█
█
█
█
█
█
█
█
█
█
█
█
▌

▌
▌
▌
▌
▌
▌
▌
▌
▌
▌
▌
▌
▌
▌

█
█
█
█
█
█
█
█
█
█
█
█
█
█
█
▌

▌
▌
▌
▌
▌
▌
▌
▌
▌
▌
▌
▌
▌
▌

N A M E
Harley Mikael
N I C K N A M E
Har, Mikael
G E N D E R
Male.
A G E
Twenty.
N A T I O N A L I T Y
100% American.
S E X U A L I T Y
Homosexual
---
---
---
---
█
█
█
█
█
█
█
█
█
█
█
█
█
█
█
█
█
█
█
█
█
█
█
█
█
█
▌

▌
▌
▌
▌
▌
▌
▌
▌
▌
▌
▌
▌
▌
▌
▌
▌
▌
▌
▌
▌
▌
▌
▌
▌
▌

H E I G H T
5'8".
W E I G H T
121 lbs.
H A I R C O L O U R
Grey/White.
E Y E C O L O U R
Purple.
S K I N T O N E
Pale.
G E N E R A L

__

A P P E A R A N C E
His most shocking feature is his hair, which is a natural greyish white color with tiny slivers in the back dyed pink and cyan, almost unnoticeable. When he joined the band it wasn't like that, was a dark enough brown that most people assumed it was black, but within a year it slowly turned grey and now is transitioning to white. He has a slim, pale body that almost makes him look underweight, bones sticking out more than they should, but he's perfectly healthy (doesn't stop their manager from trying to force feed him though).

He likes to wear a lot of 'fun' clothes. Bright, eye-catching colors paired with black coats of undershirts, splashes of color against the dark. He almost always has a silver-gold necklace on that has a little skull charm, the only time he's without it is when he's showering. Favoring tighter jeans and slim-fit vnecks, you'll rarely catch him wearing shorts or baggy clothes.
---
---
---
---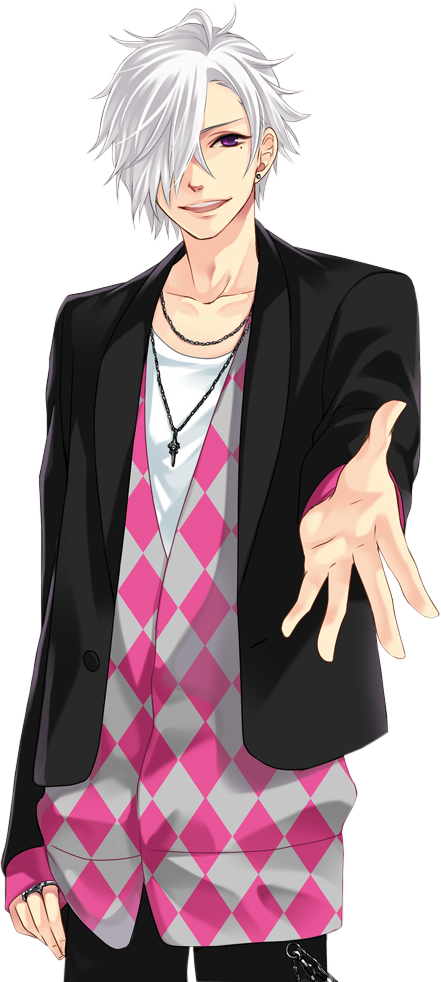 P E R S O N A L I T Y
Harley is easy-going. A completely laid-back guy, happy to let the world around him do its thing and he'll do his thing. His only true passion is music, and when you get him on the subject of it or see him in concert, it's quite plainly obvious that singing is his one true love. He rarely lets things bother him, preferring to just brush what he doesn't like off, move on with his life rather than dwelling on something and making a situation worse. Sometimes he tries to play peacemaker, not liking conflict, but most of the time it just puts him in the middle of it and both parties ended up disliking him, so he rarely does it anymore. Instead he sits back and relax, focusing on what he loves and letting everyone else take care of the rest.

Though Harley does have a playful side, and that's when his name really owns up. He's mischievous, always sneaking around behind the scenes, spinning his webs and connecting people. Things as simple as asking one person to go get him something of someone elses, and telling that someone else that he thinks something of his is going to be taken. Or things that take months, even years to unfold. It's pleasing to him, to see all these plans of his come to light, especially since they're very rarely found out until he's ready for them to be. Though he doesn't act childish, there is a part of him that enjoys laughing and joking around, and if he feels comfortable around you then that might be a side of him you get to see.

Overall though, Harley is very calm and collected, never one to rock the boat. He doesn't like being a trouble, it's his biggest fear, so he does his best to stay out of everyone's way and take care of himself. When someone needs something he is more than willing to help, but he'll never ask the same in fear of becoming a bother. Harley doesn't say much, and when he does it's because it's important to him, or he likes you enough to potentially waste his words on you. He easily fades into the background.
█
█
█
█
█
█
█
█
█
█
█
█
█
█
█
█
█
█
█
█
█
▌

▌
▌
▌
▌
▌
▌
▌
▌
▌
▌
▌
▌
▌
▌
▌
▌
▌
▌
▌
▌

█
█
█
█
█
█
█
█
█
█
█
█
█
█
█
█
█
█
█
█
█
▌

▌
▌
▌
▌
▌
▌
▌
▌
▌
▌
▌
▌
▌
▌
▌
▌
▌
▌
▌
▌

L I K E S
▲ Rain storms ▲ Cuddling ▲ Music ▲ Traveling ▲ Sweets ▲ Massages ▲ Getting to relax ▲ Long car rides ▲ Listening to others (conversations) ▲ Forehead kisses ▲ Spontaneity ▲ Fires ▲ Snowy weather ▲ His hair ▲ Body art ▲ Movies ▲ Dancing ▲ Sweet nothings ▲ Dogs ▲ Cheesecake ▲ Cuddling up under warm blankets ▲ Staying in bed all day ▲ Not having to deal with people ▲
D I S L I K E S
▼ The water ▼ Silence ▼ Being required to talk a lot ▼ Eating in front of people ▼ Crowds ▼ Waking up early ▼ Sand ▼ Violence ▼ Elitists ▼ Rude people in general ▼ Being so damn sexy that it hurts ▼ Being micromanaged ▼ Staying in one place ▼ Being restricted ▼ Chilly weather ▼ Wearing coats ▼ Cats ▼ Liars ▼ Religion ▼ Messes ▼ Being taken care of ▼
Q U I R K S
▪ Seems to have an insane fear of the water ▪ Tugs at his hair a lot ▪ Communicates better with touch/facial expressions than words ▪ Will spend days in his room at a time ▪ Never eats in front of people ▪ Cuddly with friends ▪ Often look conflicted, like he's trying to make a decision ▪ Gets agitated when people try to help him or give him things ▪ Talks most when the subject is music, otherwise speaks a handful of words at a day at best ▪
---
---
"I bet I can make you fall in love with me in ten days."
---
---
Dialogue Colour
#3EDBD4.
Face Claim
Asahina Tsubaki.
Writer
Gentlemiss.
---
---
---
---