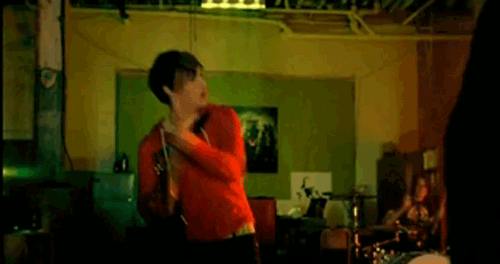 Full Name
Damian Xander Ackerman
Nick Names
He's always just gone by Damian.
Age
Damian is twenty years of age.
Role
Paris Residents 3
Love Interest
Friend 3
---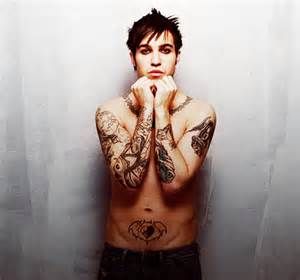 Distinct Markings
Damian has a a variety of tattoos covering his arms and chest, along with gauges in both ears.
Appearance
See photos∞
Damian is, to say the least, the exact definition of that of a bad boy. He has the "scene" styled black hair, with dark brown, easily mistaken for black, eyes, and isn't afraid to stand out, which is obvious.
He stands at around 5"8, but it doesn't bother him that he's on the short side. He's far from looking anorexic, and has just enough muscle to fill him out, but no more than just that. His dressing style is another thing that causes him to stand out around the people in Paris. This usually consists of anything that is black. Very low-cut V-necks make up the majority of his shirts, and darker colours for his pants. As for his feet, he usually wears Vans, Converses, and his prized black combat boots, for those "special" occasions.
Likes
∞Monster Energy Drinks∞
"These are pretty much what keeps me going…well, that and alcohol, of course. Green, Blue, Rehab, Lemonade flavour, I'm not picky. I drink all of it."
∞Alcohol∞
"I'm not addicted to the taste of alcohol, but hell, I have to admit, it takes off the stress that reality brings; so if you can take away that stress for an evening or two, why wouldn't you?"
∞My Drum Set∞
"Ahh, my most prized possession…more than any one of my instruments, and I do have a variety, this is my most prized. I protect it with my life. No sarcasm."
∞Sweet Guys∞
"You rarely ever find a bisexual guy that is just…well, sweet. Someone who isn't so sure of themselves for whatever the reason may be; it's a total turn on for me, probably considering that I am the exact opposite. Opposites attract, right?"
∞Writing Music∞
"I adore writing music. It is everything I am, and for a moment, everything that I feel is on a sheet of paper; a paper that will be heard by everyone. It really is an unexplainable feeling."
Dislikes
∞The Colour Yellow∞
"I don't why this colour bothers me as much as it does, but I just can't stand it. It's so happy and…cheery. Something that honestly annoys me."
∞Religion∞
"Religion completely goes against everything I am. I'm open about who I am, and I am damn proud of that person. If you can't accept that, well, look at how many fucks I give. None."
∞Peppy girls∞
"Ehh…I don't really know what to say about this. I simply can't stand girls that are so upbeat and positive about everything. Just because you've had a silver spoon shoved up your ass for years, doesn't mean everyone else has."
∞Ignorance∞
"Ignorance is bliss? I don't believe that at all. If you have no idea what is going on in the real world, well, that's just too bad, then."
∞Rap Music∞
"This should come to no surprise to anyone that knows me, or even sees me on the street. Alternative is my style for life. No exceptions."
Secrets
I| Damian never truly 'lost his virginity' with a woman.
II| Damian is secretly suffering from depression, though he pushes it aside as best as he can.
III| Underneath his dark, seductive outer personality lies a guy who's not at all what people expect, and most off all, he is lonely.
IV| Damian has never told anyone that he loves them. Ever.
---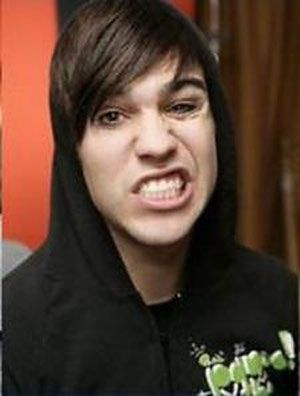 Personality
Damian is a very complex individual. He certainly has the character traits like that of a leader. He wants things to go a certain way, and if they do not…well, you don't want to see that side of him. Don't go thinking he's a complete control freak, though, because when he isn't playing with his band, and trying to keep things perfect, he can be a lot of fun…that is, if you consider fun that isn't always legal, you catch my drift.
Damian can be a trouble maker, and it's no surprise to anyone around Paris. He is known for just that. But, really, it's all in good fun. At least, that is the way that he sees it. He's never hurt anyone, nor would he ever. He's been exposed to this kind of lifestyle from a young age, and it doesn't faze him. Since joining the band that he now puts everything into, he's doing better about acting out; but there are still those times when he just wants to have "fun."
In addition to his "acting out," Damian is known to have a temper. Not necessarily a violent one, he's just the type of person that isn't afraid to act out on his emotions. Especially when it has to do with his band. You can usually find him yelling at one of their many band practices, or complaining when things don't go his way…this also brings me to my next topic: relationships. Damian's temper tends to follow him into the few relationships that he's been in. He's extremely protective, and wants that person with him at all times. It can be a lot to take it for someone who's been in a lot of relationships, and the fact that he likes inexperienced guys, doesn't help. This has been the reason for the break-ups in just about all of his relationships.
History
Being born and raised in Paris, Damian has always wanted more out of life. He hates where he is, and would love nothing more than to find an escape away. But the truth is, since coming out to his parents at the age of sixteen; his lack of funds has always kept him here. He spent the majority of his late teen years staying with boyfriends, older than him of course that had their own place, or even just friends that had a place for him to take refuge in.
At the age of seventeen, he found himself playing the drums for an unheard of band,
Darkness in Refuge
. It really changed him to some extent for the better. He stopped getting into trouble as much, and put everything he had into the band. He quickly made his way up to the leader of the band, and now composes all of their work, and people actually know who they are. They play gigs at pubs all around Paris, and have even opened for a few famous bands, in the hopes of getting signed.
Unfortunately, no matter how much he puts into the band, there's still a sadness that lurks inside of him, just waiting to burst through. He no longer wants to stay in Paris, which is, undeniably a big part of why he wants to get signed. He wants to explore the world…only, he'd rather not do it alone.
---
Theme Song
Welcome to my Life||Simple Plan
Do you ever feel like breaking down?
Do you ever feel out of place,
Like somehow you just don't belong
And no one understands you?
Do you ever wanna run away?
Do you lock yourself in your room
With the radio on turned up so loud
That no one hears you're screaming?
No, you don't know what it's like
When nothing feels all right
You don't know what it's like
To be like me
To be hurt
To feel lost
To be left out in the dark
To be kicked when you're down
To feel like you've been pushed around
To be on the edge of breaking down
And no one's there to save you
No, you don't know what it's like
Welcome to my life
Do you wanna be somebody else?
Are you sick of feeling so left out?
Are you desperate to find something more
Before your life is over?
Are you stuck inside a world you hate?
Are you sick of everyone around?
With their big fake smiles and stupid lies
While deep inside you're bleeding
No, you don't know what it's like
When nothing feels all right
You don't know what it's like
To be like me
To be hurt
To feel lost
To be left out in the dark
To be kicked when you're down
To feel like you've been pushed around
To be on the edge of breaking down
And no one's there to save you
No you don't know what it's like
Welcome to my life
No one ever lied straight to your face
And no one ever stabbed you in the back
You might think I'm happy but I'm not gonna be okay
Everybody always gave you what you wanted
You never had to work it was always there
You don't know what it's like, what it's like
To be hurt
To feel lost
To be left out in the dark
To be kicked when you're down
To feel like you've been pushed around
To be on the edge of breaking down
And no one's there to save you
No, you don't know what it's like (What it's like)
To be hurt
To feel lost
To be left out in the dark
To be kicked when you're down
To feel like you've been pushed around
To be on the edge of breaking down
And no one's there to save you
No, you don't know what it's like
Welcome to my life
Welcome to my life
Welcome to my life