Name:
Julia Crow

Age:
Appears 21 / Is Actually 237

Gender:
Female

Sexuality:
Heterosexual

Role:
Hunter

Species:
Elf (in disguise)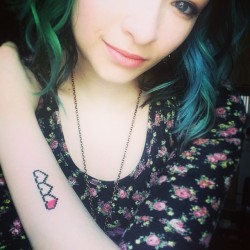 Special Skills:
Longevity - Though not immortal, elves have a lifespan lasting much longer than humans. Because of this, they age much slower than humans. They are resistant but not immune to illness.
Superhuman Abilities - Being an elf, Julia's senses are much better than a human's. She also has increased strength and speed.
Healing - She is able to heal herself or others, but at the cost of her energy. She cannot revive someone.
Hair Colour:
It is naturally a dark brown, but she has changed it to be teal with a few pink-purple streaks.
Eye Colour:
Blue
Height/Weight:
5'2" / 104 lbs.
Ethnicity:
French, British, and Austrian
General Appearance:
Standing at 5'2' and weighing only 104 lbs, Julia appears to be of little threat. Her porcelain skin and delicate features add to this. However, anyone who has gone head to head with her knows that underneath the appearance of a thin, little girl is a surprising amount of strength. Of course, this is due to both years of training and being an elf.
To hide the pointy tips of her ears, she uses a few different techniques. First, she generally just doesn't let them show. She rarely pulls back her naturally wavy hair (though she will curl it), allowing it to fall over her ears. Second, she wears a special
ear cuff
on each of her ears. Each is enchanted and able to disguise her ears. Finally, if all else fails she has an enchanted
ring.
The ring has the same ability as her ear cuffs, however it will not last as long as the ear cuffs. Julia wears the ring on the ring finger of her left hand, under the guise of it being a purity ring. (If she is receiving unwanted male attention, she may say it is an engagement ring.)
Julia prefers function over fashion when it comes to her clothing. After all, it's hard to chase after Supernaturals while wearing stilettos and a skirt. (It's also hard to run away.) That being said, her style can be quite eclectic. At times she'll wear an outfit that shouldn't look good given the combination, but somehow she'll pull it off. Other times she opts for a simpler look. It really depends on her mood. Most of the time she wears a leather jacket and black combat boots.
Likes:
+Witches and Warlocks
She lived in a community which included witches and warlocks. She is intrigued by their magical abilities and happy that they appreciate nature as she does.
+Faeries
She finds that they are generally similar to elves. She also lived with a few at one point in her life.
+Music
She likes almost all music, especially rock and classical.
+Nature
Being an elf, she has a strong affinity for nature. She really likes birds and flowers.
+Tea
It's very soothing to drink and warms her whole body.
+Guns
They get the job done quickly, especially if you can aim.
+Reading
It's relaxing, entertaining, and can give insight..

Dislikes:
-Lycanthropes
Most find vampires to be disturbing, but she thinks it's weird that lycanthropes can change physical form.
-Hunter's Dogma
They're terrible people who want to kill what they don't understand. Some may have legitimate reasons for wanting them gone, but she's fairly certain these humans are acting out of fear due to the stereotypes of Supernaturals. Also, this is the organization that (unknowingly) made her kill her own father.
-Humans
She thinks that humans are weak and has a general dislike for them. She's met some nice ones, but almost all humans don't like Supernaturals.
-Chocolate
She ate way too much of it once...
-Spiders
They're creepy looking and can be really big.
-Loud and Unexpected Noises
Since her hearing is better than a human's, it hurts her ears. If there is an unexpected and loud noise she will do anything from grimace to physically jumping.

Strengths:
+Using Guns, Especially a Sniper Rifle
Julia has been trained to use various guns, though she excels at using a sniper rifle.
+Quiet
She is very light on her feet, often able to sneak up behind people. However she rarely uses this in combat, as she is usually away from the fighting.
+Singing
Most elves have very beautiful voices. Julia is no exception.
+Intelligent
She is naturally intelligent and giiven how many years she's been alive, she has learned a lot. However, that doesn't mean she knows everything.

Weaknesses:
-Sense of Smell
Strangely enough for an elf, Julia was born without a sense of smell. So if something is burning she will have to rely on her other senses to tell her it's there.
- Melee Weapons
Her father decided not to train her with melee weapons, so she has no experience using them.
-Her Family
If you ask her about her family, she will either shut down or react violently.
-Height
Despite her speed and strength, she is still only 5' 2". She will never be able to reach anything up high without getting help from an object or person.

Fears:
-Hunter's Dogma
The amount of followers, power, training, organization, and hatred against Supernaturals that they have is terrifying. She wasn't scared when she joined but she sure is now.
-Being Found Out
She knows that if Hunter's Dogma knew she was an elf, she'd have quite a few bullet holes in her before she could run.
-Emetophobia
She has a fear of vomit. If she sees it, she will head in the other direction. Just the idea of people vomiting causes her anxiety.
-Becoming Close to Anyone
She's afraid that they will end up dead because of her or that she will kill them like she did her father.
-Falling to Her Death
To her, it seems like a very unpleasant way to die.

Personality:
Julia is normally very quiet and reserved. Years of being on this Earth have taught her that it's better to observe those around her before interacting with them. This way, she can learn a little bit about them and how they act. She also believes that exercising caution is the best route. If she does talk to someone she will come across as a no nonsense type of person. While this is true of her demeanor, she is able to let loose and have fun. It's just a bit hard to enjoy herself after her father's death.

She fears becoming close to anyone due to her parents' deaths. She doesn't want to lose another person she cares about or have to target them due to being in Hunter's Dogma. Because of this fear she tries to distance herself from others. If she has to she'll be extremely rude to someone to deter them from trying to be friends with her. Despite her fear, she longs to have someone she can trust. After her father's death Julia had no shoulder to cry on. To have someone to talk to about her life, about the emotions she's been forced to keep inside of her, and about the thoughts running through her head would be a dream come true.
Hunting Equipment:
+A Black Accuracy International Arctic Warfare Rifle
Attachments:
+A biopod
+Supressor
+Night sight scope
+Variable zoom scope
She doesn't tote her sniper rifle everywhere due to the impracticality of it. She leaves it at Hunter's Dogma's base or somewhere else secure when she doesn't need to use it.
+A Stainless SIG Sauer P226 Pistol
She almost always carries this with her.
+Ammunition
Because you need something to fire out of your gun.
+Earpiece
For communication with others.
Other Equipment:
+Cell Phone
In case she gets bored or wants to get away from social interaction.
+Water Bottle
She will sometimes carry a water bottle with her to stay hydrated and avoid having to pay for overpriced water.
+Money
In case she needs to buy something.
+Her Earcuffs and Ring
As mentioned before, these two items make sure her ears don't appear pointy.
+Her
Amulet
Made of crystal, her amulet was given to her by her mother. It is supposed to help with Julia's healing abilities. She also considers it lucky and a representation of her family due to there being three crystals.
History:
Julia was born in 1849 in a small town in Canada. She is the only child of Vincent and Maria Crow. Due to being an elf, she remained physically a child for a little under a century. Because of their slowed aging, the family often moved around. They never stayed in a place for more than a year. Then young elf was able to see much of Canada and the United States during this prolonged stage of childhood.
Not having many friends her age (or species for that matter), Julia relied heavily on her imagination and her mother to keep her occupied. One of her favourite games was to imagine a world where there were other elven children to play with and compete against. Elves have a natural affinity for nature and so she spent many days running through the woods and observing the animals. On many occasions she would seem to disappear into the woods, which worried Maria. Though her daughter was never in any true danger she couldn't help but worry.
Maria's Death:
When Julia was physically 16, her family decided to move into a small community of other Supernaturals. This community included elves, witches, warlocks, and faeries. Vampires, Lycanthropes, and Succubi/Incubuses were generally not welcomed by the community. Her family lived here for a few decades until her mother's murder. Though humans normally posed little threat to the community, a small group of them had managed to poison Maria. The group was quickly exterminated by the community, but fears of a repeat attack led to many of the Supernatural families leaving. Julia and Vincent were one of the families to leave.
Julia was devastated by the death of her mother, who she considered her best friend. Her mother had always been there for her and had been willing to teach her the ancient way of healing passed down through generations of elves. Without her mother, Julia felt lost. It didn't help that her father refused to talk about Maria after her death, as if she had never existed at all. He became a different man, one that was much darker than the father she knew.
He was hellbent on stopping any more groups of humans from killing Supernaturals. He began to train Julia relentlessly, making her practice her already superior strength and speed. Though he knew the Elven ways of fighting, which was typically with a bow and arrow or sword, he chose to teach her how to use guns. This decision ultimately decided what weapon(s) Julia would excel with and what ones she would be completely left in the dark about. The elf found that she was able to work with various guns, but preferred using a sniper rifle. While she mastered the art of stealth, patience, and aiming, her basic understanding of other weapons slipped somewhere into the farthest reaches of her mind. Because of this, she has very little idea how to properly use knives, swords, or a bow and arrow.
Julia never complained about the training, but wished her father would have told her that he was proud of her. He would nod his head in approval as she trained, but never outright told her he was proud of her. He also never told her that he loved her following her mother's death. This too caused the elf distress, as she only wanted to please and be loved by her father. She knew that he did love her, but for whatever reason he would never tell her this and it hurt.
The father and daughter eventually moved to New Zealand after eliminating a few small Hunting groups in Northern America.. Not very long after their arrival, rumours of a group of Hunters surfaced. Curious about this new group and what they were capable of, as many previous had been weak or ill planned, Vincent convinced Julia to join Hunter's Dogma. She agreed, though she had no idea just how powerful they were. Once she was in, she realized that she agreed to more than she had bargained for. The group was trained, well guided, and many had a fierce passion for eliminating Supernaturals. Knowing that leaving the group would put her and her father at risk, she continued to follow them as they continued to gain followers.
Vincent's Death:
The group grew at an alarming rate. Soon, they were ready to put some of the members to the test. She was chosen for a small group tasked with eliminating a couple of Supernaturals who had been spotted living in a nearby town. The team made their way into the town, breaking into an apartment complex which was all too familiar to Julia. It was where her father was currently residing. She had seen him a few days prior, telling him of the size and danger of Hunter's Dogma. He had been confident that they could find other Supernaturals willing to fight back.
Atop an adjacent building, Julia watched helplessly as her father and a few other Supernaturals were attacked by the small team. Two of the Hunters worked quickly to take down a warlock before he could fight back, while another two were busy taking care of a Lycanthrope. Finally, another Hunter had been assigned to take out her father while the elf in disguise stood ready in case any of the Hunters needed assistance. Vincent, being an elf, managed to evade quite a few of the Hunter's attacks. He was hit here and there but never went down with any of the blows. Julia continued to watch through the windows, hoping that her father could manage to escape. She could hear the Hunters who had taken down the Warlock getting ready to assist with the remaining two targets.
Vincent climbed out of a window, standing on the ledge. The Hunter was close behind him, though he was nowhere near as nimble. Julia knew that her father wouldn't be able to jump down from the building without badly hurting himself. His options were to fight the Hunter or attempt to jump to a balcony. He chose to engage the Hunter in combat, likely due to a mix of anger and pride. He was unaware of Julia's presence. That is, until the Hunter desperately cried out her name as he almost fell off of the ledge. For a single moment, the two elves made eye contact. In her father's eyes Julia could see a mix of sadness and determination, just as he could see fear in hers. The two had a mutual understanding, an acknowledgement that this group was as dangerous as she had told him. Eventually, the Hunters would kill him. They wouldn't stop until they knew for sure he was dead.
There was a howl, prompting Vincent back into action. The Hunter fighting him had advanced, knives at the ready. However, the human was still no match for her father. He soon found himself at the end of the ledge, one step away from falling. "Shoot him!" the Hunter told her through an earpiece. "Just shoot!" Julia hesitated, knowing that there was little chance of her missing. Why wouldn't her father just leave the fight? She knew he wanted to kill all the Hunters he could, but leaving one alive wasn't going to make a difference at this point. Perhaps he had the same thought, as he started to back up on the ledge in a bid to either return to the apartment or jump to the closest balcony.
However, one of the other Hunters had made their way onto the scene. The impulsive human leaped through the window tackling her father. The two fell in what seemed to be slow motion. Julia didn't have time to aim, she just shot. Though she had intended for the bullet to be for the human Hunter, it had found its way into her father's body. The two crashed onto the street below. The Hunter had landed on her father. He rolled over on the ground, trying to right himself. Vincent wasn't moving. Though Julia wants to believe that it was the impact of the fall that killed him, she somehow knows that it was her who killed him.
Since her father's death, Julia has had little hope of any resistance against Hunter's Dogma. She also knows that her chances of being able to leave/flee the group and find somewhere safe to live are slim.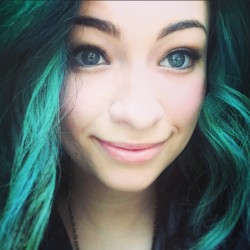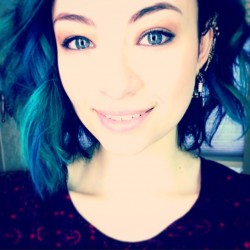 Other:
In addition to singing she can play the violin and the viola.

Hex Colour:
#089c91

Face Claim:
Jodelle Ferland